« previous post | next post »
Zeyao Wu found this photograph on Weibo (a Twitter-like microblogging website in China):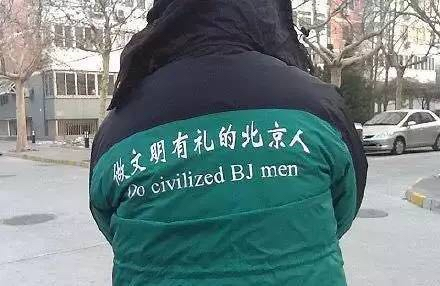 Zuò wénmíng yǒulǐ de Běijīng rén
做文明有礼的北京人
Be a civilized and polite Beijinger
The mistranslation arose because the verb zuò 做 can mean either "do; make" or "be" (in the sense of "act / serve as", as well as having many other meanings ("become; perform; give [a party]; play [a role]; produce; etc.").
The situation becomes even more complicated because there are several other verbs that mean "do; make" and "be", and they all have specific functions.  This multiplicity of basic verbs for "do; make" and "be" causes great confusion for learners and translators of Mandarin.
I won't list all of these "do; make" and "be" verbs here, because they take up several days or even weeks in a Mandarin course and several chapters in a Mandarin textbook.  I will only mention the other important verb "be" beside zuò 做, namely, shì 是.  This is the copulative or equational verb "be".  Distinguishing between zuò 做 and shì 是 is one of the biggest challenges facing the beginning student of Mandarin, not to mention resisting the urge to use shì 是 with stative verbs / adjectives like hóng 红 ("[be] red").
Similarly, if you want to encourage someone to be a polite and civilized Beijinger, it would be incorrect to use equational / copulative shì 是 as the verb.  Conversely, although it is correct to use the verb zuò 做 ("do; make; be") in this case, it is quite wrong to translate it as "do" or "make", as happened with the translation in the above photograph.
---