« previous post | next post »
Earlier today, AFP photographer Alex Ogle posted on Twitter what looked like an outrageous typo in a column by Lisa de Moraes of the Washington Post: the name of Benedict Cumberbatch, star of the BBC/PBS show Sherlock, got transmogrified into "Bandersnatch Cummerbund" on second mention.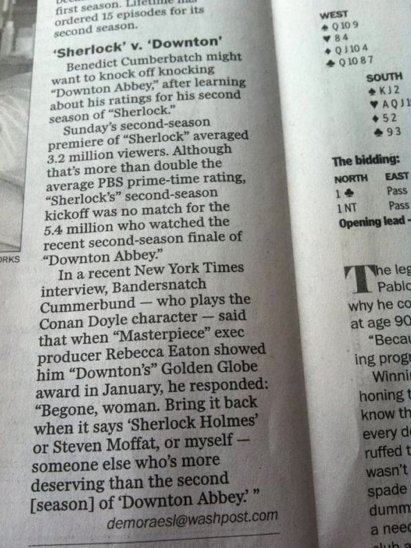 The shot of the column got plenty of attention when Craig Silverman of Poynter's Regret the Error posted it, speculating that it was the result of a spellcheck error (what we call a cupertino in these parts). The Huffington Post also picked it up, and pretty soon it was getting spread all over Twitter and Facebook.
On Twitter, however, Alex Johnson, a reporter at MSNBC.com and ex-Post staffer, told Silverman he was "almost certain" that this was merely a joke by his former colleague de Moraes — along the lines of her nickname for American Idol's Ryan Seacrest, "Seabiscuit." And soon enough, de Moraes cleared up the matter in an update to the online version of the column. It was indeed a gag, and she credited the nickname to a participant in one of her weekly online chats about TV. (She also tipped her hat to the originator of the "frumious Bandersnatch," Lewis Carroll.) Her regular readers probably got the joke without the need for an extra wink, but that was lost on those who merely saw a howler in the pages of a distinguished newspaper.
Moral of the story: before indulging in viral schadenfreude, consider whether the joke might be on you.
---