« previous post | next post »
John Barth is visiting Penn, and so I took the opportunity to catch up on his most recent meta-fictions, specifically The Development and Every Third Thought.  I read the second one first, and will make no comment on it here, except to note that (while suitably Barthian) it lacked the feature that struck me so forcefully in reading the first one.
What struck me about The Development was the transformation of every single instance of the singular inanimate possessive pronoun "its" into (the orthographically regular but culturally deprecated form) "it's". Here are some examples from the first couple of  pages, starting with the book's second sentence (emphasis added, here and throughout):
My projected history of our Oyster Cove community, and specifically the season of it's Peeping Tom, is barely past the note-gathering stage, …
… HBE's golf course, whose Ecological Sensitivity consists of using recycled "gray water" on it's greens and fairways …
Spartina Pointe (a couple dozen upscale McMansions, not unhandsome, whose obvious newness so belies the fake-vintage spelling of their reeded land-spit that we mockingly sound it's terminal e: "Spartina Pointey," or "Ye Oldey Spartina Pointey") …
… the whole structure, which anyhow some residents like for it's ornamental (or prestige-suggesting) value.
Since "its" is common, and Barth writes in a periodic and parenthetical style, it's common to find three or more examples of possessive "it's" in one  of his sentences:
But then, it's only we who remember, for better or worse and as best some of us can, when the neighborhood was in it's prime: "built out," as they say, after it's raw early years of construction and new planting, it's trees and shrubbery and flower beds mature, the villas comfortably settled into their sites but not yet showing signs of "deferred maintenance" despite the Association's best efforts to keep things shipshape.
The book's last sentence boasts no fewer than five instances of its characteristic typo:
Nothing very momentous or consequential in the larger scheme of things: one small tree-leaf in the historical forest, it's particular spring-summer-and-fall no doubt to be lost in Father Time's vast, ongoing deciduosity. But just as, now and then, one such leaf may happen against all odds to be noticed, picked up, and at least for some while preserved—between the leaves of a book, say—and may with luck outlast it's picker-upper as the book may outlast it's author and even it's serial possessors, so may this verbal approximation of the residential development called Heron Bay Estates and of sundry of it's inhabitants survive, by some fluke, that now-gone place and it's fast-going former denizens—whether or not it and they in some fashion "rebegin," and even if this feeble re-imagining them of, like the afore-invoked leaf-pressed leaf, itself sits pressed and scarcely noted in Papa T's endless, ever-growing library—
Or, more likely, his recycling bin.
The experience of reading this work left me with the familiar problem of attributional abduction: trying to find the most likely explanation for some puzzling aspect of a published work.  Could Barth have done this on purpose, perhaps to make a point about the arbitrariness of writing's cultural conventions? Did he mean to insert one apostrophe into a mis-typed "its" and mistakenly change every similar string in the whole manuscript? Or was the error (if it was an error) introduced by a copy editor or someone further along the chain of production?
None of the 12 people who reviewed The Development on amazon.com remarked on this striking feature of (my copy of?) the book. So I checked the print edition, and found its "its" apparently intact, from the beginning

to the end: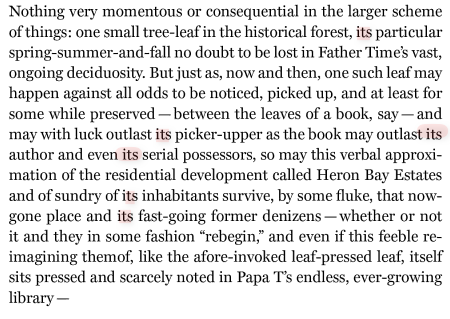 One of the amazon reviewers did note that
I read this on a Kindle. I do not know if the paper versions of the book had the same editing problems, but there were so many places where "off" was spelled "of." Considering Barth's interesting and literary writing style, it is possible, but I do not think so, that he intended "of" to be used where "off" is the only word that would make sense. There were other errors as well, but do not recall those.
I also read the Kindle edition, but my copy apparently lacked these transmutations of spatial displacement into prepositional possession. Or, at least, I didn't register them in reading it. So I checked again, and found just two examples:
I was tempted to explain and laugh it of, but held my tongue lest anyone get the wrong idea.
… the old ex-professor would most likely have kicked it of with one of those lefty-liberal rants that he used to lay on his Heron Bay friends and neighbors at the drop of any hat.
Elsewhere in (my copy of?) the book, however, there are nearly a hundred instances of off rendered conventionally as "off".  Could that Kindle-reading amazon reviewer have caught a couple of missing f's, but missed hundreds of added apostrophes?
Or could different digital copies of The Development have been mischievously seeded with different typographical transductions?
The fact that I can semi-seriously entertain such questions, I think, reflects the temporary influence of  (and thus is a kind of commentary on)  John Barth's approach to creative writing. Or, as he sometimes puts it, "creative rotting".
---