« previous post | next post »
We were recently introduced to the delicacy known as "Braised Enterovirus in Clay Pot", which led to an edifying discussion about the possible role of viruses in food processing. I never would have imagined that, just a few days later, Ori Tavor would send me a photograph of a menu offering "Sautéed Wild Bacteria."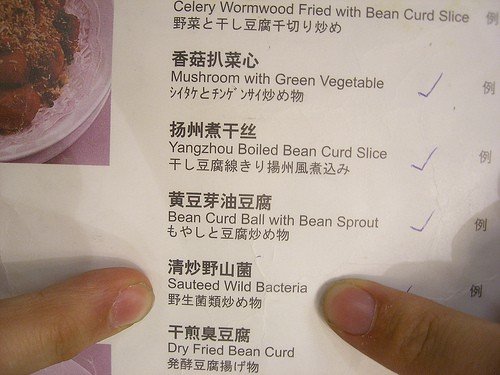 The genesis of this mistranslation is easy to explain, since JUN1 菌 can refer both to bacteria, as in XI1JUN1 细菌 ("germ, bacterium"), and to fungi, as in YE3JUN1 野菌 ("wild mushrooms"), for which we have a nice, clear Cantonese recipe here.
We all eat plenty of foods that are produced through the action of bacteria, and our health depends on the presence of beneficial bacteria in the gut. Still, the idea of "Sautéed Wild Bacteria" does not sound very appetizing!
Appetizing or not, I'd rather eat some bacteria and take my chances than consume a virus, much less ingest arsenic. Yet precisely the latter is suggested on this menu from Changchun in the northeast of China (Jilin Province), where we read: "Mix Arsenic into a Pot of Curry."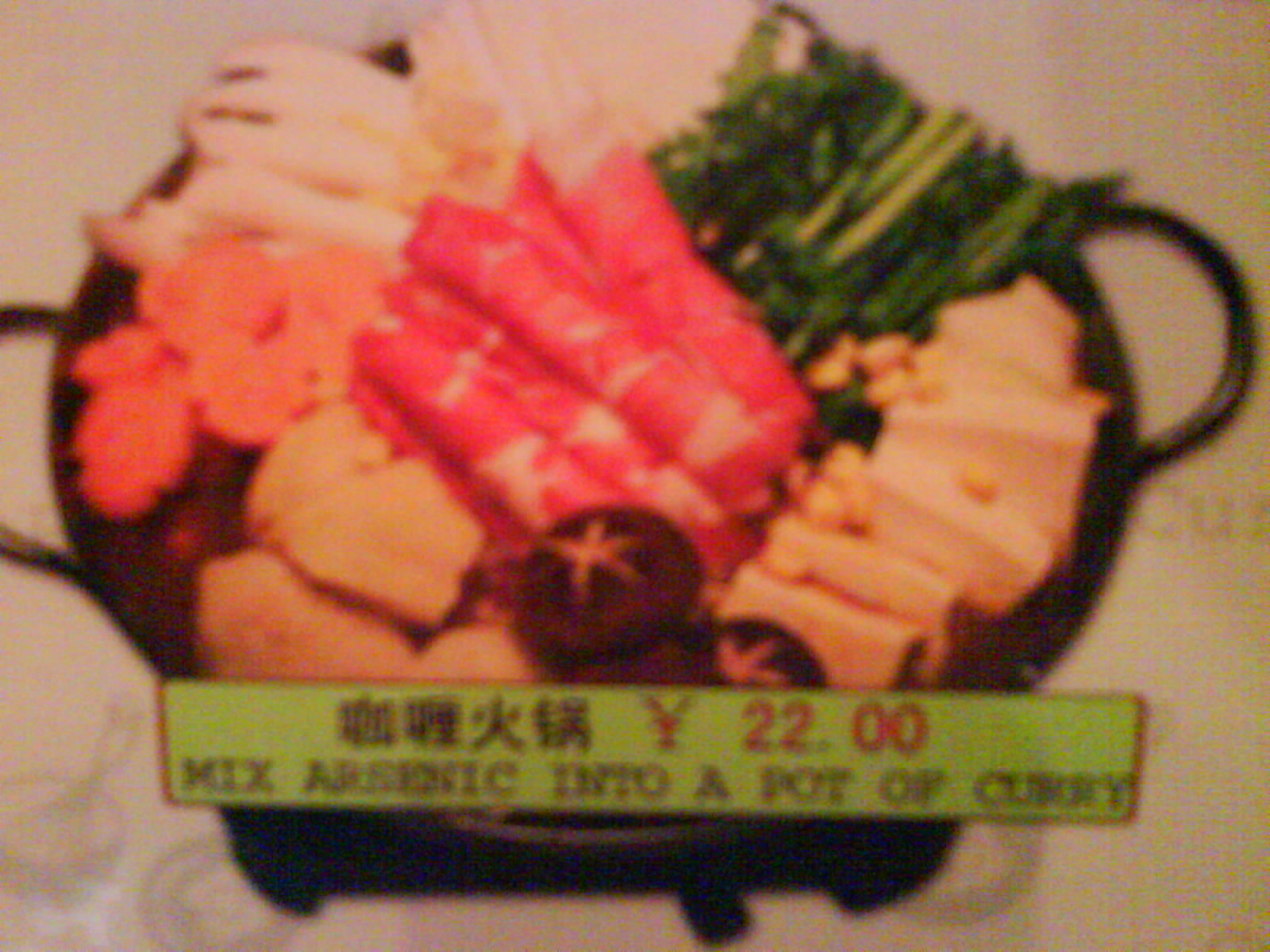 The photograph (kindly supplied by Randy Alexander) is blurred, but I think that the corresponding Chinese probably says GA1LI2 HUO3GUO1 咖喱火锅 ("Curry Hotpot"). The only connection I can think of between curry and arsenic is the horrendous poisoning that took place in Wakayama, Japan back in 1998. Notable as that incident was, it is hard to see how it could account for the suggestion made on this menu. Randy tells me that this was the only strange translation on the menu and that it was the first item on the first page. If anyone happens to be in Changchun, you might ask the owners of the restaurant near Renmin Guangchang (People's Square) what gives.
Finally, in these two shots of a menu taken at an eatery in Shanghai (click on pictures for larger versions),
the art of mistranslation is taken to new heights. If my life depended on it, I could probably explicate every single item on the menu, but I'll limit myself to a few of the most brilliant gems.
Wherever you see "sauced justice," that is for JIANG4ZHI1 ("sauce-juice," i.e., "sauce"). One that threw me for a loop at first is "and for sand's rice sheep but vinegars" for BA1SHA1MI3KE3CU4 巴沙米可醋, until I simply read it out quickly and realized that it must stand for "balsamic vinegar." The "wind" of Europe signifies European "style." But the ne plus ultra of this extraordinarily creative menu must go to "Buddhass human relatlons roast heef them" FO2LUO2LUN2SI1 KAO3NIU2ROU4 佛羅倫斯烤牛肉 for Bistecca alla Fiorentina. The rest of the items may, if you wish, be read as a new kind of loopy, daffy (SHABULENGDENGDE) poetry.
---