« previous post | next post »
Making the rounds today, from Andrew Bloch's Twitter feed: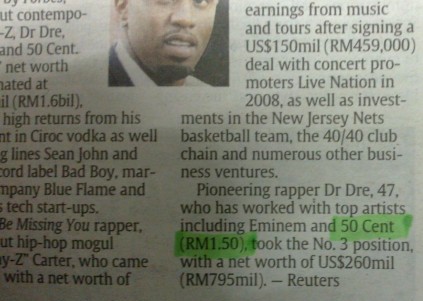 Bloch's comment: "Reuters applies foreign exchange rate to 50 Cent. He is now known as RM1.50 in Malaysia."

Of course, it's not really Reuters' fault, since the original story doesn't bother with local currency conversion rates. But whoever was editing the article for inclusion in a Malaysian newspaper (it's not clear which one it is) went a little overboard searching for any mentions of U.S. currency that needed to be expressed in Malaysian ringgit.
Fans of such automated editorial mishaps may enjoy my previous posts on the topic: "Incorrections in the newsroom: Cupertino and beyond" (Feb. 1, 2008), "U.S. sprinter undergoes search-and-replace" (July 1, 2008), and "Walter Leland Mr. Cronkite" (July 17, 2009). I also talked about several examples from these posts in the 2010 Radiolab episode "Oops" (my listening guide here).
(Hat tip, Jesse Sheidlower.)
---