« previous post | next post »
In "Larkin v. the Gray Lady," Mark Liberman credits a Language Log reader with pointing out that "the NYT printed asshole for the first time a couple of weeks ago" ("Race, Tragedy and Outrage Collide After a Shot in Florida", 4/1/2012):
Mr. Zimmerman told the dispatcher that this "suspicious guy" was in his late teens, with something in his hands. He asked how long it would be before an officer arrived, because "these assholes, they always get away."
But this wasn't, in fact, the first time that asshole graced the pages of the Times. That verbal transgression was pioneered, like so many others, by Richard Nixon in the Watergate tapes.

As I discussed in the 2006 post "Taking shit from the president," New York Times editor Abe Rosenthal decided that Nixon's swearing in the transcripts of the Watergate tapes was newsworthy enough for the Times to lift its ban on certain obscenities — most notably shit, which appeared in the paper on July 10, 1974 (in a transcript of a conversation Nixon had with his aides on March 22, 1973: "I don't give a shit what happens, I want you all to stonewall it"). About a month later, the Times printed the transcript of another conversation, this one dating to June 23, 1972, between Nixon and H.R. Haldeman. (This would come to be known as the "smoking gun tape" — transcript and audio here.) At one point, Nixon says to Haldeman: "He didn't know how it was going to be handled though — with Dahlberg and the Texans and so forth? Well who was the asshole that did? Is it Liddy? Is that the fellow? He must be a little nuts." ("Dahlberg" is GOP fundraiser Kenneth Dahlberg, whose check to the Nixon campaign had ended up paying off the Watergate burglars. "Liddy," of course, is G. Gordon Liddy.) Here's how it appeared on page 14 of the Aug. 6, 1974 issue of the Times: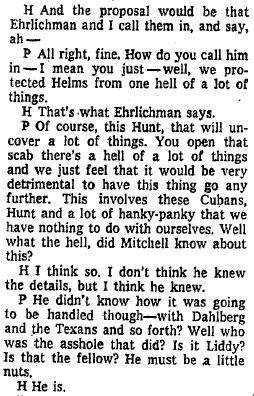 As Geoff Nunberg noted in a 2008 post, the Times opted against printing asshole when it was used by George W. Bush in a live-mike moment to describe their own reporter, Adam Clymer (actually, Bush called him a "major-league asshole"). I'm looking forward to Geoff's forthcoming book, Ascent of the A-Word: Assholism, the First Sixty Years, for further illuminations on asshole usage and journalistic proscriptions against it.
---