« previous post | next post »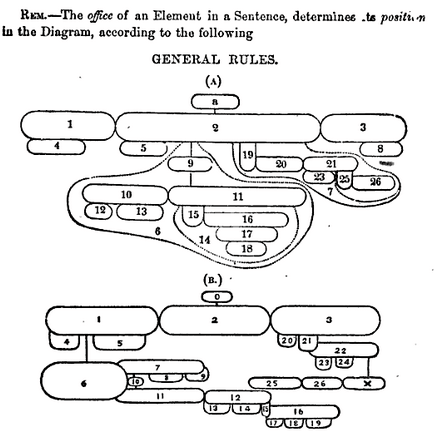 An interesting Op-Ed in the NYT today by Kitty Burns Florey — "A Picture of Language", about the history of sentence diagramming:
The curious art of diagramming sentences was invented 165 years ago by S.W. Clark, a schoolmaster in Homer, N.Y.  His book, published in 1847, was called "A Practical Grammar: In which Words, Phrases, and Sentences Are Classified According to Their Offices and Their Various Relations to One Another." His goal was to simplify the teaching of English grammar. It was more than 300 pages long, contained information on such things as unipersonal verbs and "rhetorico-grammatical figures," and provided a long section on Prosody, which he defined as "that part of the Science of Language which treats of utterance."
The 1863 edition is available here from Google Books. I haven't read it before now, but a quick skim confirms my previous impression that grammar-school children of the 19th century learned more about linguistic analysis than most graduate students in English departments do today. (See e.g. "The child or the savage orator…", 6/1/2004.
Almost eight years ago, Bill Poser and I noted with pleasure an earlier nostalgic essay by Ms. Florey ("Diagramming sentences", 10/11/2004; "Personal and intellectual history of sentence diagramming", 10/12/2004), though I don't think that any of  us would go as far as Gertrude Stein, who famously remarked that "I really do not know that anything has ever been more exciting than diagramming sentences".
---