« previous post | next post »
"Chinese cooking fat heads for Holland", DutchNews.nl 3/27/2012.
Neil Bardhan, who sent in the link, writes: "Needless to say, I was disappointed that the Chinese people are not boiling chubby noggins for my adopted countrymen."
I figured the story was about how Dutch frites would soon be fried in imported Chinese lard or soybean oil; but no, it's about airplane fuel: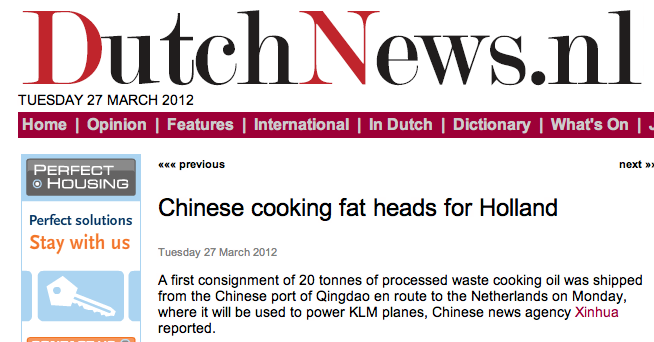 That shipment won't power very many KLM planes. The internet tells me that a 747 holds 183,380 liters of fuel; the specific gravity of cooking oils is about 0.92; 183380*0.92 = about 168710 kg or 168.7 metric tonnes. So 20 metric tonnes will be a bit less than 1/8 of a 747's fuel capacity.
---