« previous post | next post »
From my hotel bathroom in Miyazaki: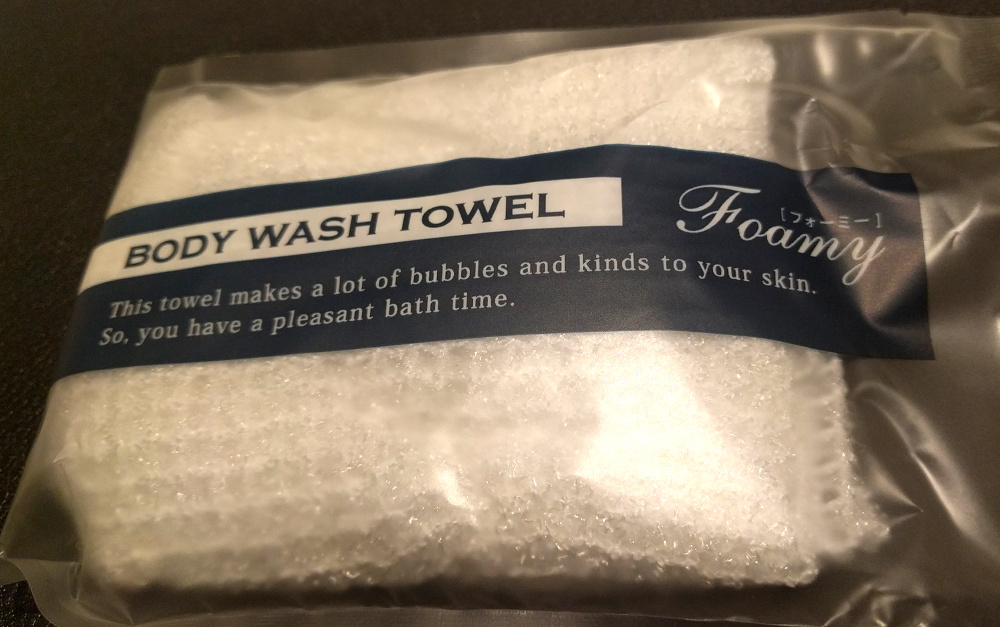 This towel makes a lot of bubbles and kinds to your skin.
So, you have a pleasant bath time.
The OED actually has
kind, v., Etymology < kind, n., Obs. rare,
1. trans. To treat kindly or with good will.
with a single citation:
?c1450   tr. Bk. Knight of La Tour Landry (1906) 112   The hynde..whanne the moder of other bestis be slaine, yet woll[e] she gladly, of her gentill[e] nature, norisshe the yonge..and kindithe hem till[e] they may susteine hem selff.
But I doubt that the author of the Foamy blurb consulted any dictionary.
It's interesting that modern English allows nouns to be verbed quite freely, and verbs to be nouned with reasonable facility, but more strongly resists turning adjectives into verbs. It wasn't always so — for example, the OED has these (obsolete and/or regional) citations for good as a (intransive or transitive) verb:
a1794   M. Palmer Dialogue Devonshire Dial. (1837) ii. 16   Her, poor homan, took by upon the death of her husband, and never gooded arter.
1865   R. Hunt Pop. Romances West Eng. 224   Weakly children—'children that wouldn't goode', or thrive—were sometimes drawn through the cleft ash-tree.
1567   G. Turberville Epitaphes, Epigrams f. 49v   Whose filed tongue with sugred talke would good a simple case.
1636   J. Henshaw Horæ Succisivæ (ed. 4) i. Ep. Ded. 2   The end of divine reading is to good our knowledge.
1712   R. Blackmore Creation vii. 339   To Ill her Hate, to Good her Appetite, To shun the first, the latter to procure.
1875   'S. Beauchamp' Nelly Hamilton II. ii. 24   Ween han some hops, that flood it gooded them.
And these for soft:
1527   L. Andrewe tr. H. Brunschwig Vertuose Boke Distyllacyon sig. Civ   It softeth the goute podagra in the fete.
1669   Hist. Sir Eger 52   Then the most wound that did him dear, My stones of vertue stemd the blood, I made him salve both fine and good, They softed him, and made him sleep.
1477   Caxton tr. R. Le Fèvre Hist. Jason (1913) 63   Ther is no herte of lady so hard, but by the vertu of youre requestes muste nedes be softed & molefied.
1664   R. Flecknoe Love's Kingdom iv. 49   Thou who the hardest bosom softs; Soften Bellinda's heart.
1830   C. Bury Jrnl. of Heart 43   Some shillings softed his heart, and obtained for me admission.
1888   W. S. Gilbert Brantinghame Hall i. 8   We're a roughish lot, but there ain't one of us as she ain't softed.
1922   C. Guernon Titans ix. 244   So she's softed him up to that, has she, wi' her fears an' her tears an' her tremblin's?
a1500  (▸c1340)    R. Rolle Psalter (Univ. Oxf. 64) (1884) lxxxiii. §2. 306   My hert softid in swetnes of luf.
a1600  (▸?c1535)    tr. H. Boece Hist. Scotl. f. 263v, in Dict. Older Sc. Tongue at Soft  Eftir the tempest of weddir sum parte was softit;
c1650  (▸a1500)    Eger & Grime (Percy) (1933) 412   Your wounds..will soft and sober soon.
Jane Austen seems to have indulged in occasional verbalization of adjectives:
[From Sanditon] The Sea air & Sea Bathing together were nearly infallible, one or the other of them being a match for every Disorder, of the Stomach, the Lungs or the Blood; They were anti-spasmodic, anti-pulmonary, anti-sceptic, anti-bilious & anti-rheumatic. Nobody could catch cold by the Sea, Nobody wanted appetite by the Sea, Nobody wanted Spirits, Nobody wanted Strength.—They were healing, softing, relaxing— fortifying & bracing—seemingly just as was wanted—sometimes one, sometimes the other.
And some contemporary poets feel free to do so:
it was half-overheard, a wisp of talk:
escape flight free soil
softing past her shoulder
-Adrienne Rich, "Harper's Ferry"
So what happened, syntactically speaking, to deprive the rest of us of this option?
Update — As Sally Thomason points out in the comments, there's a relevant Calvin & Hobbes strip:

which has been cited a few times here, for example in "Faith, Hope and Charity — All verbs?", 12/15/2004.
---