« previous post | next post »
Or does it? Bret Stephens, "Bush 41, Trump, and American Decline", NYT 4/26/2018:
These contrasts don't mean that Bush was without blemish: As Meacham notes, there were political misjudgments and calculated concessions to ambition on the long path to power. Nor does it mean that Trump doesn't lack his own kind of strengths, not the least of which is his loudly declared indifference to elite opinion.
My semantic interpreter dies  of negation poisoning after about the eighth word of that last sentence. But I think there's one too many negatives in it, since a version with one negative removed seem to mean what Mr. Stephens had in mind to communicate:
Nor does it mean that Trump lacks his own kind of strengths
The obligatory screenshot: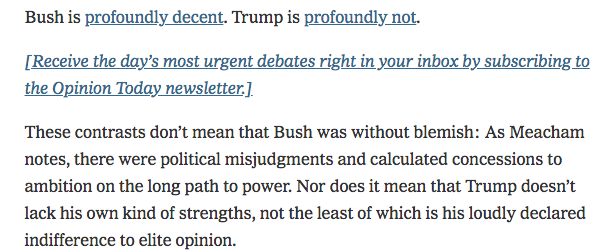 For more than you could possibly care to read about similar issues, see "No post too obscure to escape notice", 11/27/2009.
[h/t David Russinoff]
---