« previous post | next post »
One of the most effective intellectual memes of the past century has been deconstruction — déconstruction in the original French. It recently occurred to me to wonder whether the word, as well as its interpretation, was created by Jacques Derrida, who introduced the contemporary usage in three works published in 1967: twice in La voix et le phénomène (along with two examples of the infinitive déconstruire), three times in L'écriture et la différance, and 14 times in De la grammatologie (along with six instances of déconstruire).
The French word déconstruction appears not to be found in the 8th edition of the Dictionnaire de l'Académie française (1932-1935), nor in the 9th edition (in progress). Nor is there any entry for the related verb déconstruire.
The OED has a single citation for the English word deconstruction, from 1882, for the sense "The action of undoing the construction of a thing":
1882   McCarthy in 19th Cent. 859   A reform the beginnings of which must be a work of deconstruction.
…and then nothing else until 1973, with the gloss "A strategy of critical analysis associated with the French philosopher Jacques Derrida (1930–2004), directed towards exposing unquestioned metaphysical assumptions and internal contradictions in philosophical and literary language":
1973   D. B. Allison tr. J. Derrida Speech & Phenomena vi. 74   The prerogative of being cannot withstand the deconstruction of the word.
…or in the original context
Mais comme son sens ne désigne rien, aucune chose, aucun étant ni détermination antique, comme on ne le rencontre nulle part hors du mot, son irréductibilité est celle du verbum ou du legein, de l'unité de la pensée et de la voix dans le logos. Le privilège de l'être ne peut pas résister à la déconstruction du mot. Être est le premier ou le dernier mot à résister à la déconstruction d'un langage de mots.
According to Wikipedia,
Le terme de déconstruction apparaît chez Jacques Derrida pour la première fois dans l'œuvre De la grammatologie sans traduire explicitement des termes heideggeriens. Derrida expliqua qu'il souhaitait « entre autres choses » proposer une traduction pour les termes allemands de Destruktion et Abbau, que Heidegger emploie dans Être et Temps ; Jacques Derrida estime cette traduction plus pertinente que la traduction classique par destruction, dans la mesure où il ne s'agit pas tant, dans la déconstruction de la métaphysique, de la réduire au néant, que de montrer comment elle s'est bâtie.
« Tous les deux signifiaient dans ce contexte une opération portant sur la structure ou l'architecture traditionnelle des concepts fondateurs de l'ontologie ou de la métaphysique occidentale. Mais en français le terme « destruction » impliquait trop visiblement une annihilation, une réduction négative plus proche de la « démolition » nietzschéenne, peut-être, que de l'interprétation heideggerienne ou du type de lecture que je proposais. Je l'ai donc écarté. Je me rappelle avoir cherché si ce mot « déconstruction » (venu à moi de façon apparemment très spontanée) était bien français. » — Derrida, Psyché. Inventions de l'autre, p. 338
En réalité, le mot déconstruction est apparu dès 1955 dans le contexte de la philosophie française à l'occasion de la traduction du texte de Heidegger Contributions à la question de l'être (Zur Seinsfrage). Gérard Granel a choisi ce terme pour traduire le mot allemand Abbau qu'il voulait distinguer du mot « destruction » (traduction de Zerstörung).
---
The term deconstruction appears in Jacques Derrida's work for the first time in Of Grammatology without explicitly translating Heideggerean terms. Derrida explains that he wanted "among other things" to suggest a translation for the German terms Destruktion and Abbau, which Heidegger uses in Being and Time; Jacques Derrida finds this translation more appropriate than the classic translation destruction, in the sense that the deconstruction of metaphysics is not reducing it to nothingness, but rather showing how it is built.
"In this context both mean an operation bearing on the structure or traditional architecture of foundational concepts of western ontology and metaphysics. But in French the term "destruction" implies too clearly an annihilation, a negative reduction more like Nietzschean "demolition", perhaps, than like the Heideggerean interpretation or the type of reading that I was suggesting. Therefore I removed it. I recall having investigated whether this word "deconstruction" (which came to me in an apparently very spontaneous fashion) was actually French." — Derrida, Psyché. Inventions de l'autre, p. 338
In fact, the word deconstruction has appeared since 1955 in the context of French philosophy due to the translation of Heidegger's text Contributions to the Question of Being (Zur Seinsfrage). Gérard Granel chose this term to translate the German word Abbau, which he wanted to distinguish from the word "destruction" (translation of Zerstörung).
So either Derrida elided his debt to Granel, or followed the same path independently to the same end.
The BNF digital library Gallica has no (genuine) instances of déconstruction earlier than this 1965 architectural reference in the Revue de la Haute-Auvergne:
… leurs voûtes ont beaucoup souffert, non seulement parce que les toits on été endommageés par les « déconstructions » de flèches ou clochers, mais encore parce que la charpente a été ruinée par défaut d'entretien, …
… their vaults have suffered greatly, not only because the roofs have been damaged by the "deconstructions" of spires or bell towers, but also because the framework has been ruined by lack of maintenance, …

It's not clear why the author chose to use this neologism in scare quotes — perhaps this was a person who had attended some of the structuralism/phenomenology debates of the 1960s, in which Derrida might have tried out his invention/borrowing?
After 1967, Gallica finds several unquoted uses in psychoanalytic writings:

And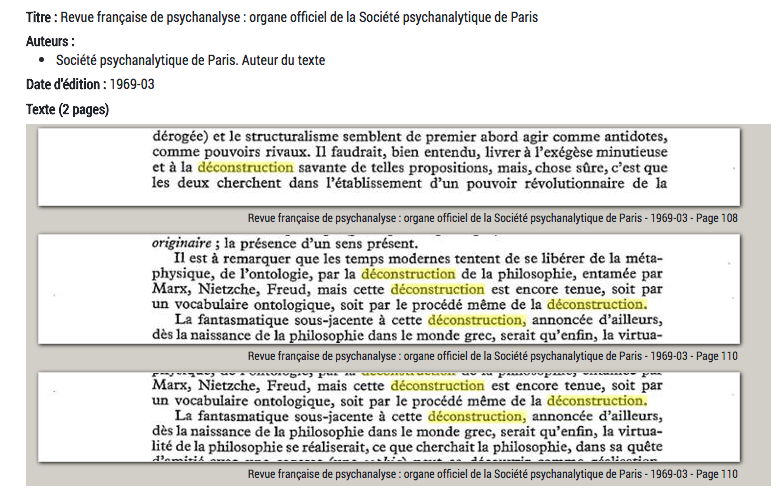 What about in English? Google Books doesn't have the OED's 1882 citation "A reform the beginnings of which must be a work of deconstruction", other than in works on literary theory quoting the OED entry. Nor does Google Books have any instances of deconstruction before 1967 (other than a dozen quotes from periodicals that are misdated, as Google Books so often does, to the first publication date of the series).
But newspapers.com has quite a few examples of apparently genuine older instances of the word deconstruction. Some are apparently typographical errors or malapropisms for "reconstruction", e.g. this example from the St. Cloud (Minnesota) Times, 1/29/1932, which is evidently a reference to the "Reconstruction Finance Corporation":

However, there are a number of other examples that are clearly witting neologisms, like this passage from the Wichita (Kansas) Beacon, 12/9/1922: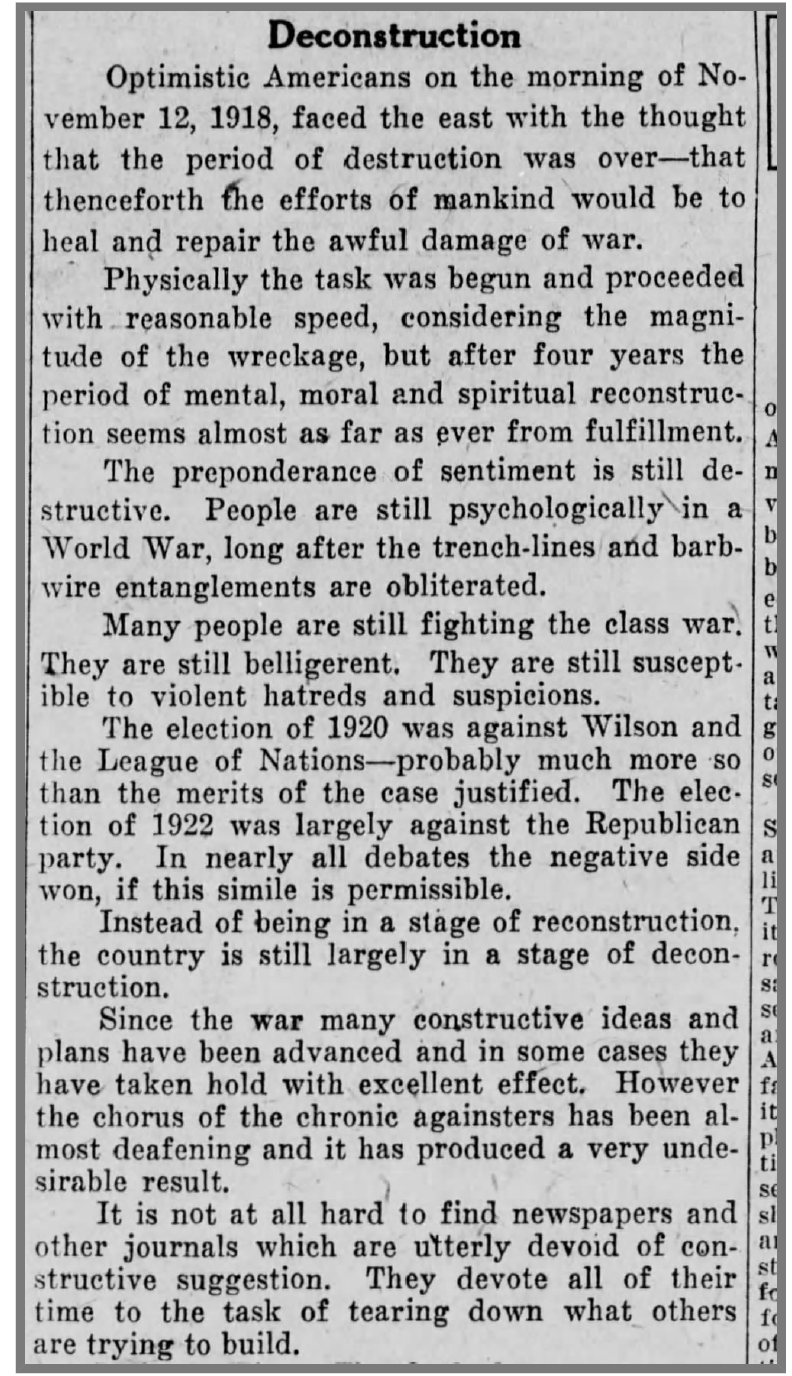 So the creation of a new word by combining the latinate morphemes de- and construction has clearly happened more than once, and perhaps we should declare Derrida innocent of failure to cite prior work. (Though his ideas about citation seem to imply that no one can really be guilty of this offense…)
---