« previous post | next post »
Last spring, I took a look ("Phonemic diversity decays 'out of Africa'?", 4/16/2011) at an interesting paper by Quentin Atkinson ("Phonemic Diversity Supports a Serial Founder Effect Model of Language Expansion from Africa", Science 4/15/2011). Atkinson argued that a survey of sound systems around the world supports the so-called serial founder effect (SFE) "in which successive population bottlenecks during range expansion progressively reduce diversity", just as a similar survey of human genetic and phenotypic diversity does. He also argued that the phonemic-diversity evidence points to an origin in Africa, again just like the genetic evidence.
I expressed some skepticism about this argument, mainly based on some of the choices that Atkinson made in quantifying "phonemic diversity". One choice that I considered in detail was the critical role played by a few features such as tone, which (on the time scale of human global migration) are at least as likely to result from innovation and areal spread as from survival.
Now Keith Hunley, Claire Bowern, and Meghan Healy ("Rejection of a serial founder effects model of genetic and linguistic coevolution", Proceedings of the Royal Society B, 2/1/2012) have taken another look at the genomic and phonemic predictions of the SFE.  They chose a very different way of coding the distribution of phonemes — formally analogous to the way that they coded genetic variation — and this time, the phonemic data gave very different results.
Their abstract:
Recent genetic studies attribute the negative correlation between population genetic diversity and distance from Africa to a serial founder effects (SFE) evolutionary process. A recent linguistic study concluded that a similar decay in phoneme inventories in human languages was also the product of the SFE process. However, the SFE process makes additional predictions for patterns of neutral genetic diversity, both within and between groups, that have not yet been tested on phonemic data. In this study, we describe these predictions and test them on linguistic and genetic samples. The linguistic sample consists of 725 widespread languages, which together contain 908 distinct phonemes. The genetic sample consists of 614 autosomal microsatellite loci in 100 widespread populations. All aspects of the genetic pattern are consistent with the predictions of SFE. In contrast, most of the predictions of SFE are violated for the phonemic data. We show that phoneme inventories provide information about recent contacts between languages. However, because phonemes change rapidly, they cannot provide information about more ancient evolutionary processes.
Here's their graph of between-population heretozygosity versus geographic distance, for their genetic data: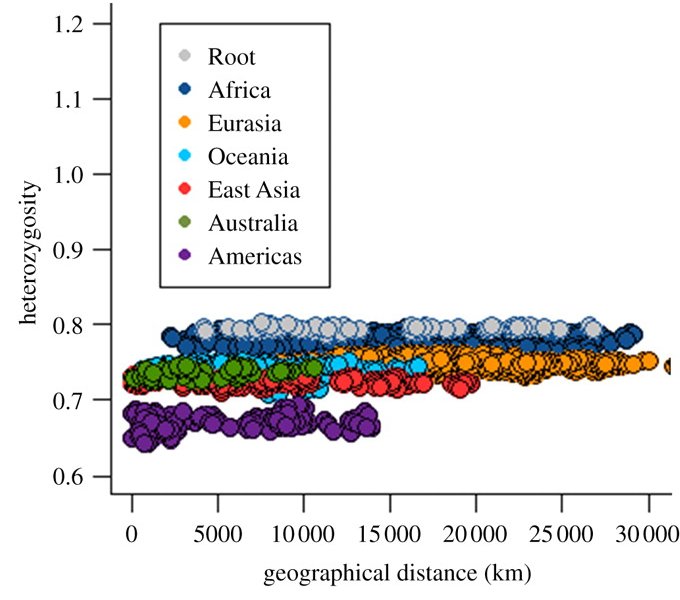 They note that
The top, grey-coloured points show the heterozygosity between the African San and the other 99 populations […]. The level of heterozygosity is roughly uniform whether populations are located nearby in Africa, or thousands of kilometres away. This uniformity reflects (i) a single African origin for all humans, (ii) a split between the population that would become the San and the founder of the remaining 99 populations, and (iii) relative subsequent isolation between these two groups.
The next tier of dark blue points shows the heterozygosity between the remaining 19 African populations and the 80 non-African populations. The level of heterozygosity is again uniform over thousands of kilometres. This uniformity reflects common ancestry for all non-African populations associated with an ancient out-of-Africa founder event. The remaining tiers are the product of subsequent splits and founder effects associated with the peopling of major geographical regions[…].
The corresponding rooted neighbor-joining tree: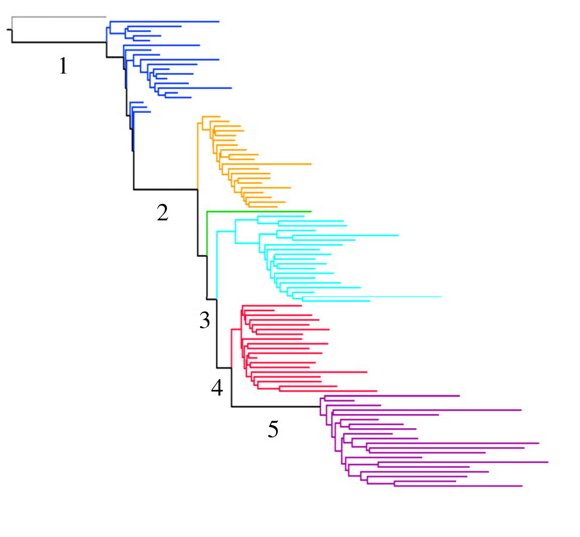 They comment that
The test of treeness […] indicates that the tree is a good representation of the pattern of genetic variation, and that geographical distance explains little of the pattern of among-population genetic distance independent of the tree. All trees rooted on an African branch of the tree fit better than all trees rooted on a non-African branch of the tree. The best-fitting of all possible rooted trees separates the African San from the remaining 99 populations, and the level of variation within populations decreases steadily away from this node (signified by ever-increasing terminal branch lengths).
Here's their graph of between-language phonemic difference versus geographical distance: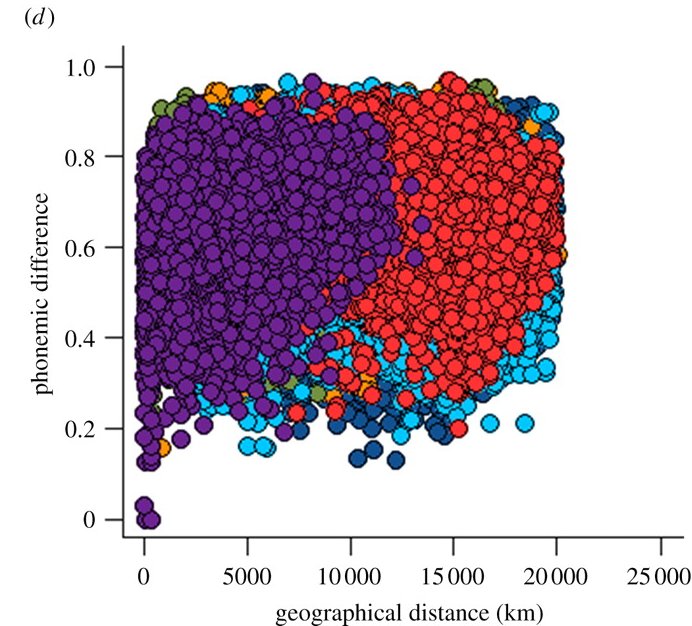 They observe that
… the among-region pattern of phonemic variation is not tiered, but there is some evidence of a correlation between phonemic difference and the geographical distance in the plot. The correlation could be a by-product of SFE (i.e. it could reflect the tendency of phylogenetically related languages to be located near to one another). Alternatively, it could reflect sustained phonemic exchange (borrowing) between geographical neighbours, in which case it is inconsistent with SFE.
This pattern is not very consistent with any particular tree-structured hypothesis:
Several methods were used to construct a phoneme tree. Each produced a different topology; none were similar in topology to the microsatellite NJ tree and diagnostic output from each method strongly implies that phonemic variation is not tree-like. Figure 4c shows a midpoint-rooted phoneme tree produced using a Bayesian approach. Though there is some regional clustering, it contains considerably less geographical structure than the microsatellite NJ tree in figure 4a. Though the midpoint root does separate an African language from the remaining languages, African languages are dispersed throughout the tree.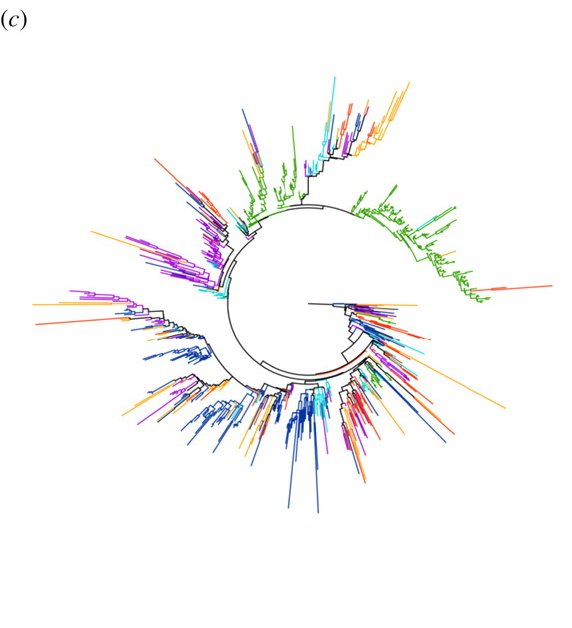 In order to distinguish geographical patterns due to SFE from geographical patterns due to areal borrowing, they
… examined (i) the correlation between phonemic difference and geographical distance within the five best-sampled language families in our sample and within each geographical region, and (ii) partial correlations between phonemic difference and geographical distance within each region controlling language family membership.
Their overall conclusion is that "phonemic diversity has not been moulded at the global level by the same evolutionary processes that shaped neutral genetic diversity", and they note that these results are expected on common-sense grounds:
The genetic signature of founder effects persists in human populations in part because they accumulate variation slowly. In language, however, even if founder effects initially eliminated phonemes, rates of phonemic change are so high that the signal of loss would quickly disappear. While we reject the SFE process for phonemic data on both empirical and theoretical grounds, these data do provide information about recent contacts between languages.
And although their method of comparing phoneme inventories is arguably more appropriate than Atkinson's method of using a single numerical "diversity index", they argue that a comparison of allophones would be even better:
Phonemes are the sound categories that signal a difference in meaning between two words. For example, /d/ and /t/ are distinct phonemes in English because they contrast in the words <bad> and <bat>. But both /d/ and /t/ have a range of sub-phonemic allophones that are conditioned by both location within the word and non-linguistic demographic factors such as social class. For example, /d/ has voicing when it occurs between vowels, but it is partially or fully devoiced for most English speakers in word-final position. Variation in allophones is found in all languages and is a major driver of language change. In contrast, the level of phonemic variation within a language is small. Thus, if an SFE model does apply to language, it is more likely to affect allophonic variation. A daughter population would contain a subset of the allophonic diversity found in the parent, and the daughter would then be subject to processes of allophonic change, drift and selection that lead to sound change. Crucially, such changes are largely neutral with respect to phoneme inventory size. Unfortunately, there currently exist no databases of allophonic variation that would allow this hypothesis to be tested. In contrast, borrowing effects would be expected to be revealed in phonemic inventories as neighbouring languages converge on similar inventories due to contact.
I'm not entirely convinced by this argument. Genomic variation remains digital down to the level of single-nucleotide polymorphisms, but (as their phrase "partially or fully" hints) much allophonic variation doesn't naturally fall into qualitatively-distinct classes. Instead, we often need to describe such variation in terms of quantitative changes in complexly-conditioned distributions of continuously-valued measurements. As a result, the question of how to quantify comparisons becomes a complex one.
In the genomic case, we can count substitutions, deletions, translocations, etc. There may sometimes be questions about what "edit distance" to use, but I think (perhaps out of ignorance) that plausible, useful, and consensual answers are available. In the phonetic ("phonomic"?) case, we'd have to decide (for example) how to weigh X milliseconds of change in average aspiration duration in context A, against Y Hz of formant change in average vowel height in context B. (And after we settled that one, it would start to get really complicated…)
One plausible approach would be to define a metric in terms of the variances and covariances of the measurements involved, the relative frequency of the contexts, etc. But this would rely on a body of cross-language data that's REALLY different from anything that now exists.
---