« previous post | next post »
Jeff Goodman, "Dan Hurley, front-runner for UConn job, hasn't thought about openings 'for a second'", ESPN 3/18/2018:
"Listen, I could give a crap about who's got an opening anywhere," Hurley said. "I haven't thought about it for a second. I could care less what any other school in the country that's looking for a coach or talks about me on social media — I could give two craps about that. My heart, my mind is with this program and these players that just lost a brutal game after having an amazing last couple seasons, and for me it's easy."
Mr. Hurley give us two generalizations by analogy of the idiom could care less: "could give a crap" and "could give two craps".  (He might have gone one to say that he's out of craps to give — see e.g. "Expletive deficits", 7/18/2015.)
In 2010, Jan Freeman documented 50 years of peeving about could care less: "Half a century of (not) caring less". And in 2005, Ben Zimmer antedated the controversial phrase itself to 1955 — "Wrong for so long" — and today's larger newspaper archives show a flowering of slightly earlier mid-1950s examples, such as this example from The Chilliwack Progress (Chilliwack, British Columbia) for 1/6/1954: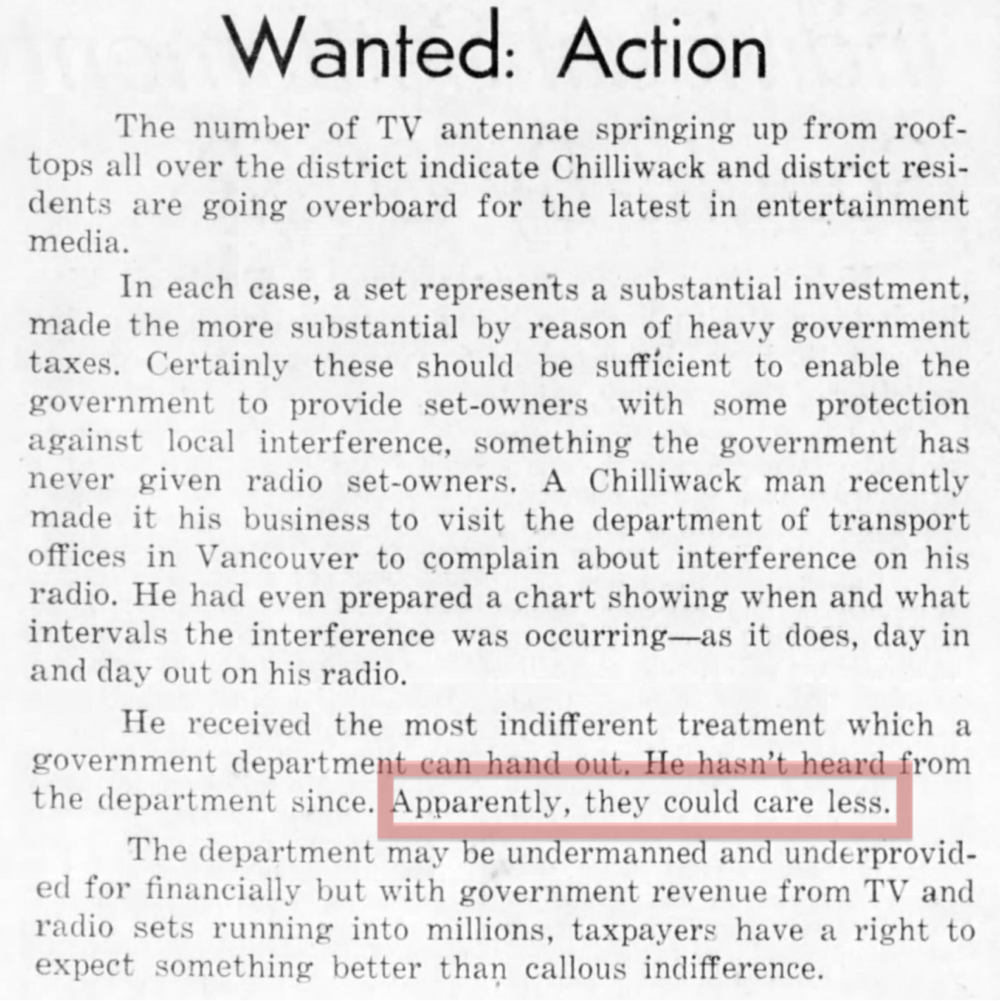 I've previously argued against Steve Pinker's theory that could care less is just ironic ("Caring less with stress", 7/8/2004, and "Speaking sarcastically", 7/13/2004), and instead agreed with John Lawler's theory that it's "Negation by association", 7/13/2004. Here's John's explanation:
Give a damn is a member of the open Minimal Direct Object class of NPI's, like lift a finger, drink a drop, do a thing, eat a bite, etc. The implication of all of them is that, if one can't even Verb a Minimal Direct Object, why, then, one couldn't Verb any Direct Object at all. Thus it's an idiomatic intensification of a negative. But it does usually require a negative to intensify.
However, there apparently is such a thing as negation by association. Like what happened to French pas from ne…pas, which is now usable as a negative in its own right, from long association in the discontinuous morpheme with the overt negative ne, give a damn and could care less have, in American usage at least, come to have their own quasi-independent negative force.
But we don't have a clear picture of which instantiations of the pattern "could <negative-polarity-verb-phrase>" exhibit negation by association — most of John Lawler's examples of the Minimal Direct Object class  don't, for example. The answer might just be that idiom formation is irregular, but I suspect that there's more to say about this.
Some other relevant LLOG posts:
"'Could care less' occurs more" (7/13/2004)
"Lederer should care less" (7/8/2004)
"(Auto)biography of a blog thread" (7/16/2004)
"Most of the people in the world could care less (7/16/2004)
"Caring less all the time: A variant of the etymological fallacy, and some cautions about the pragmatics-phonetics connection (7/24/2004)
"The future of the history of usage (4/16/2005)
"The care less train has left the station (6/20/2005)
"Caring more or less (6/29/2005)
"Ask Language Log: More or less?", 6/30/2008
---