« previous post | next post »
Everybody's talking about the eye-roll of the century, the eye-roll that has gone wildly viral in China.  It's undoubtedly the most exciting thing that happened at the Two Sessions of the National People's Congress (NPC) that began on March 5 and will most likely end soon.  It was a foregone conclusion that President Xi Jinping would be crowned de facto Emperor for Life and that his "thought" would be enshrined in the constitution.  What was not expected was a brief but epochal roll of the eyes on the part of one female reporter, Liang Xiangyi 梁相宜 (dressed in blue — I'll call her Ms. Blue or [Ms.] Liang), when another female reporter, Zhang Huijun 张慧君 (dressed in red — I'll call her Ms. Red or [Ms.] Zhang), went on too long and too effusively with her fawning question to a high-ranking CCP official.
You see, everything at the NPC is supposed to be scripted and orchestrated.  There aren't supposed to be any surprises.  Yet, as you can see for yourself, Ms. Liang could not hide her true emotions, which are painfully evident at 0:36 in the following 0:44 video — with an increasingly dramatic buildup to the moment of her monumental recoil:


So what was Zhang Huijun saying that caused Liang Xiangyi to roll her eyes with revulsion?  Here's a transcription and translation of Zhang's logorrheic question (I've bolded the crucial part):
Wǒ shì Měiguó quánměi diànshì[tái] zhíxíng tái zhǎng Zhāng Huìjūn. Wǒ de wèntí shì:  yǐ guǎn zīběn wéi zhǔ zhuǎnbiàn, guózī jiānguǎn zhínéng shì dāngxià dàjiā dōu pǔbiàn guānzhù de yīgè huàtí. Nàme zuòwéi guózī wěi zhǔrèn, 2018 nián zài zhè yī lǐngyù nín jiāng huì tuīchū nǎxiē xīn de jǔcuò? Jīnnián zhèng zhí gǎigé kāifàng 40 zhōunián, wǒmen guójiā yào jìnyībù kuòdà duìwài kāifàng. Xí zǒng shūjì chàngdǎo 'Yīdài Yīlù' de chàngyì, guóqǐ duì 'Yīdài Yīlù' yánxiàn guójiā de tóuzī lìdù jiā dà. Nàme guóyǒu qǐyè dì hǎiwài zīchǎn jiàng rúhé dédào yǒuxiào de jiānguǎn yǐ fángzhǐ guóyǒu qǐyè zīběn de liúshī? Wǒmen tuīchūle nǎxiē jiānguǎn jīzhì? Jiānguǎn de xiàoguǒ yòu rúhé? Qǐng nín wèi dàjiā zuò yīxià jièshào. Xièxiè.
我是美国全美电视[台]执行台长张慧君。我的问题是:以管资本为主转变,国资监管职能是当下大家都普遍关注的一个话题。那么作为国资委主任,2018年在这一领域您将会推出哪些新的举措?今年正值改革开放40周年,我们国家要进一步扩大对外开放。习总书记倡导一带一路的倡议,国企对一带一路沿线国家的投资力度加大。那么国有企业的海外资产将如何的[sic]得到有效的监管以防止国有企业资本的流失?我们推出了哪些监管机制?监管的效果又如何?请您为大家做一下介绍。谢谢。
I am Zhang Huijun, executive director of American Multimedia Television USA (AMTV). My question is this:  in the changeover where control of assets / capital is the priority, the supervision of state-owned assets function is immediately a topic that everyone is generally concerned about. So, as the Director of the State-owned Assets Supervision and Administration Commission of the State Council (SASAC), what new measures will you introduce in this sphere during 2018? This year coincides with the 40th anniversary of reform and opening up. Our country must further expand its opening to the outside world. General Secretary Xi advocated the One Belt One Road initiative, and state-owned enterprises invested more heavily in countries along the Belt and Road. So, how can the overseas assets of state-owned enterprises be effectively supervised to prevent the loss of state-owned enterprise capital? What regulatory mechanisms have we introduced? What about the effect of supervision? Please give us a brief introduction. Thank you.
The phrase that triggered Ms. Blue's sensational eye-roll leading to a head-roll is marked in bold.  Is it a particularly cringe-worthy phrase, or was Ms. Blue's double roll simply a response to the overall length and banality of Ms. Red's question?
Here's my analysis.  I don't think that "the loss of state-owned enterprise capital" was particularly egregious in and of itself.  The immediate trigger that set off Ms. Blue's explosive eye-roll cum head-roll was the sheer ostentatiousness and repetitiousness of "the loss of state-owned enterprise capital" coupled with "how can the overseas assets of state-owned enterprises be effectively supervised" in the first half of the same sentence.  More than that, though, what primed Ms. Blue for her spectacular eye-cum-head-roll was the cumulative effect of so much pretentious, yet somehow empty, verbiage on the part of Ms. Red right from the start.

You can see that Ms. Blue was uncomfortable almost from the very beginning of Ms. Red's long question.  Ms. Red was a known, and not well-liked, quantity before this incendiary encounter at the NPC.  Indeed, she used to work for China Central Television (CCTV) and was fond of boasting of her stellar appearance and overall quality. She calls herself "Liǎnghuì qìzhí jiě 两会气质姐" ("Miss Elegant of the Two Sessions").
Ms. Blue works (probably "worked" as of two days ago) for Shànghǎi dì yī cáijīng 上海第一财经 (China Business Network).  In the Chinese Wikipedia article about CBN, Ms. Liang is listed as a famous reporter for the network.  Ms. Liang was fully aware that Ms. Red was a fake foreigner in the employ of the Chinese government and that her softball questions were worthless for stimulating useful discussion with the official to whom they were addressed.  Ms. Zhang's allegiance is obvious from her reference to "our country".  Moreover, Ms. Liang clearly felt extremely uncomfortable with the unprofessional, zuòzuo 做作 ("affected") manner of Ms. Zhang.
Here are some observations about Ms. Red's long-winded question from mainland graduate students:
I cannot understand it if I only listen to it once.
The first sentence she said was hard to hear clearly since she paused at a weird place. I had to listen to it several times.  [VHM:  I also had to listen to that sentence many times before I could begin to make any sense of it, and I'm still not sure that I fully grasp what she was trying to say.  Not to mention that most of the time she speaks quickly, as though rattling off a prepared, mostly memorized statement.]
I can understand, but she seems quite verbose. The punctuation is a little strange because she often stops in the middle of a sentence.
Zhang's over-articulation and over-composure may well have betrayed the possibility that she is reciting a prepared text. Given her fake position, I think she is in fact a "tuōr 托儿" ("shill; plant; stooge; tool" — one syllable Pekingese word) of the Chinese government.
I have watched this video before. To be honest, I have no idea what Miss Red wants to say in the first and second time.
Incidentally, Ms. Blue and the students from the mainland who find Ms. Red's obsequious babbling to be less than readily comprehensible are not alone.  The gentleman whose head is sandwiched between Red and Blue seems to be concentrating very hard to make sense of what Ms. Red is saying, though some wags say he is squinting at her cleavage.
This (Liang Xiangyi's unforgettable demonstration of reflexive disgust) may not be "the face that launched a thousand ships", but it might just be "the eye-roll that toppled a communist state".
Media reports
"A Reporter Rolled Her Eyes, and China's Internet Broke", by Paul Mozur, NYT (3/13/18)
"In China, a reporter's dramatic eye-roll went viral. Then searches of it were censored."  By Simon Denyer, WaPo (3/13/18)
"One Woman Rolls Her Eyes and Captivates a Nation:  The big take-away from the National People's Congress in China: a disdainful look that flashed through the internet", formerly titled:  "As far as eye-rolls go, this one may be a '10'", by Te-Ping Chen and Chun Han Wong, WSJ (3/14/18), by Tom Phillips (3/14/18)
"The Eye Roll That Upstaged Xi Jinping", by Rob Schmitz, CNN (3/14/18)
"Chinese reporter's spectacular eye-roll sparks viral memes and censorship:  Liang Xiangyi showed theatrical disdain for a colleague's soft-ball question to a minister at a press conference", by Tom Phillips, The Guardian (3/14/18)
"Reporter's viral eye roll causes trouble with Chinese censors ", by Steven Jiang, CNN (3/15/18)
The following censorship instructions, issued to the media by government authorities, have been leaked and distributed online. The name of the issuing body has been omitted to protect the source.
Urgent notice: all media personnel are prohibited from discussing the Two Sessions blue-clothed reporter incident on social media. Anything already posted must be deleted. Without exception, websites must not hype the episode. (March 13) [Chinese]
[h.t. Ben Zimmer and John Lagerwey; thanks to Mark Liberman, Jinyi Cai, Zeyao Wu, Fangyi Cheng, and Jing Wen]
Update: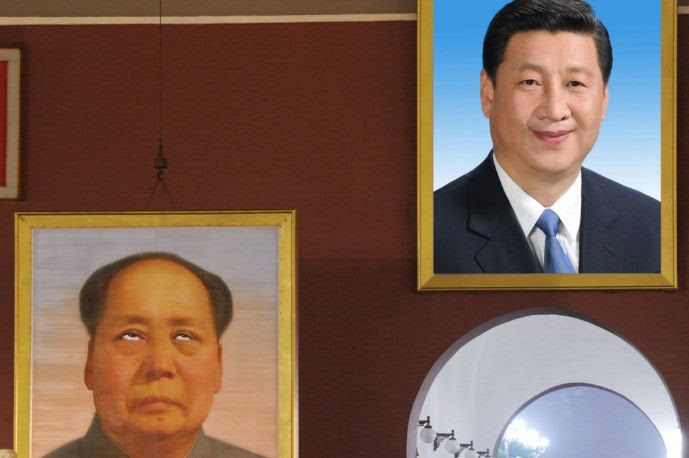 ---