« previous post | next post »
Daniel Drezner, "Five thoughts about the firing of Rex Tillerson", WaPo 3/13/2018 [emphasis added]:
There is no signature idea or doctrine or accomplishment that Tillerson can point to as part of his legacy. He was woefully unprepared for the job on Day One and barely moved down the learning curve. His incompetence undercut his ability to advance any worthwhile policy instinct.
My reaction on reading this passage was that Drezner should have written that Tillerson "barely moved up the learning curve". As we'll see, this opposition in directional metaphors is apparently a cultural difference between psychology and economics, or maybe among a more complicated set of academic subgroups.  And while I was looking into this issue of directionality, I was reminded of another curious quirk of learning-curve metaphors that I've been meaning to write about for a while, namely the inverted meaning of "steep".
Let's start with what a "learning curve" is, and why someone might be said to move "up" or "down" one.
The Wikipedia entry for learning curve defines it as "a graphical representation of how an increase in learning (measured on the vertical axis) comes from greater experience (the horizontal axis); or how the more someone (or thing) does something, the better they get at it," and shows this schematic plot (among others) as an example: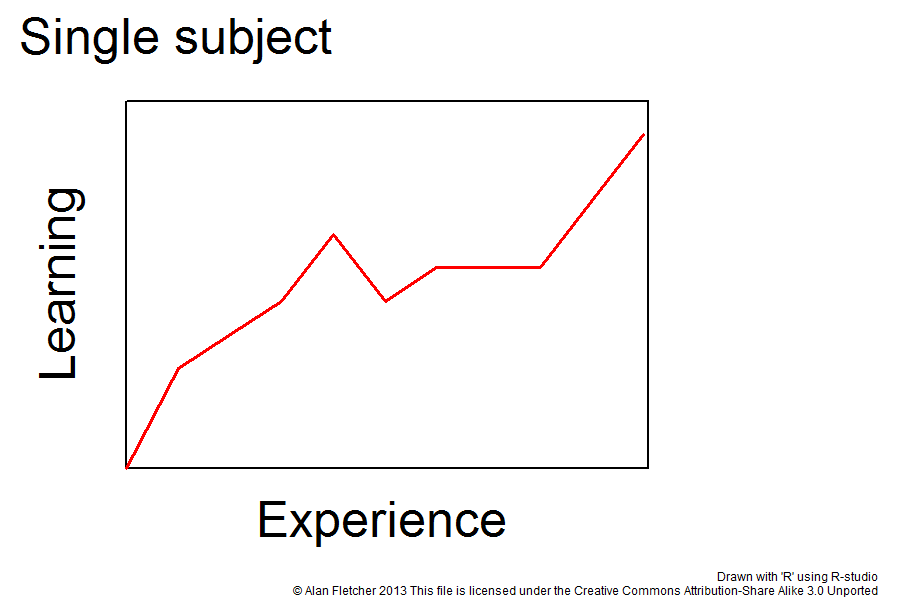 The OED defines learning curve as "a graph showing progress in learning", and gives citations from psychologists starting in 1922:
1922   R. S. Woodworth Psychol. xiii. 307   Learning curve for the rat in the maze.
1924   R. M. Ogden tr. K. Koffka Growth of Mind iv. 168   All these facts..would naturally operate to shorten the learning-curve.
1967   J. M. Argyle Psychol. Interpersonal Behaviour x. 183   In fact some manual operatives also learn by doing, and learning curves can be plotted which show their rate of progress.
1968   H. Johannsen & A. Robertson Managem. Gloss. 74   Learning curves indicate how the rate of learning changes with increased practice and are used to predict labour productivity.
In fact psychologists were using the phrase for several decades before 1922, and always with the orientation that I've always assumed, namely that higher values of the "learning" measure are better.  Thus Edgar Swift,  "Studies in the Psychology and Physiology of Learning", The American Journal of Psychology, 1903, uses the term several times:
We shall return to these personal differences later in discussing the individual features of the learning curves.
It is altogether probable that all of the curves would in the end sweep more rapidly to the right and show a stage of slow progress as the physiological limit of skill in such matters was reached, but none of my subjects approached that limit. Bryan and Harter (6) found in their study of the acquisition of the telegraphic language a learning curve which had the rapid rise at the beginning followed by a period of retardation, and was thus convex to the vertical axis. The difference in form is very probably partly due to the difference in the type of learning involved, though it may also rest upon differences in the method of carrying out the test.
And all of the many graphical learning curves in that article show what the OED calls "progress in learning" as increases in some vertical-axis measure, so that progress involves moving up the learning curve. Here's an example from Swift 1903, where the measure of performance is the number of shorthand "lines" written in a timed test: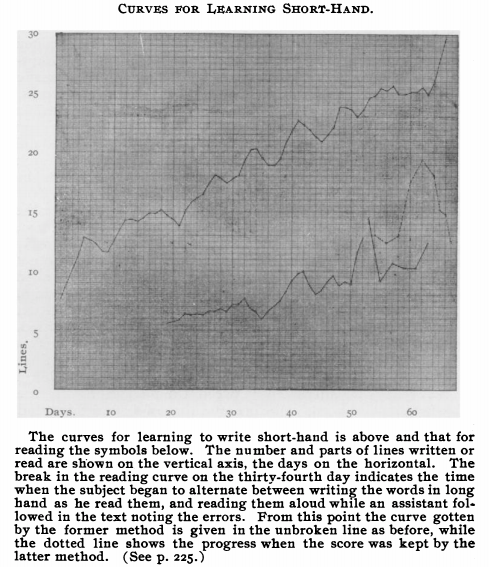 Swift's citation to Bryan and Harter refers to William Bryan and Noble Harter, "Studies in the physiology and psychology of the telegraphic language", Psychological Review 1897.  Bryan and Harter don't use the term "learning curve", but they focus is the process of "learning telegraphy", and they frequently reference things like "the curve of improvement in sending and receiving" and "the practice curves", with many illustrations of "practice curves" like this one: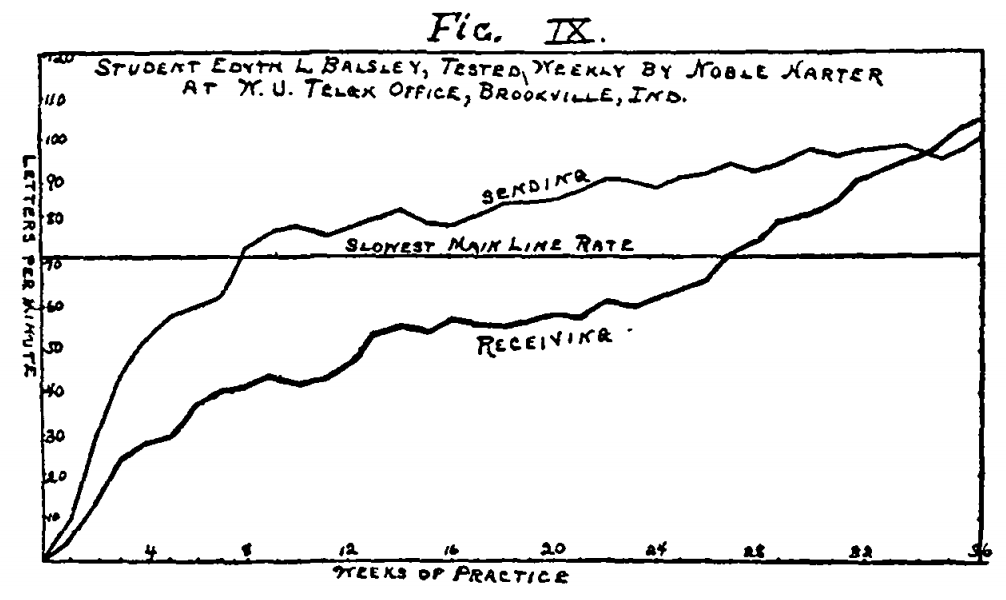 By 1919, Louis Thurstone was writing about the general mathematical psychology of the issue, in "The learning curve equation" ,Psychological Monographs, 1919. And again, in all of his examples, the "learning curve" goes up the vertical axis as learning progresses.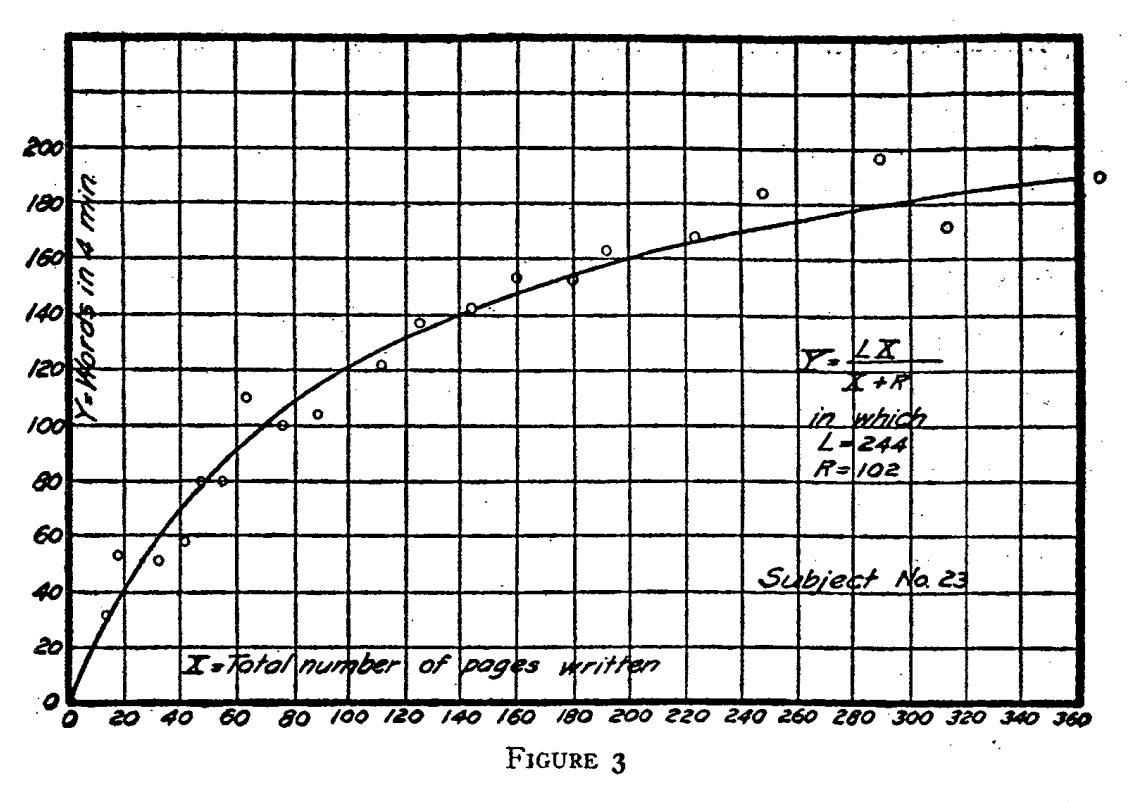 But even among psychologists, there are some tasks where performance might naturally be measured in terms of error counts or error rates — and in that case, of course, "progress in learning" means that the "learning curve" goes down. Thus Hugh Blodgett and Kenneth McCutchan, "Place versus response learning in the simple T-maze", Journal of experimental psychology, 1947: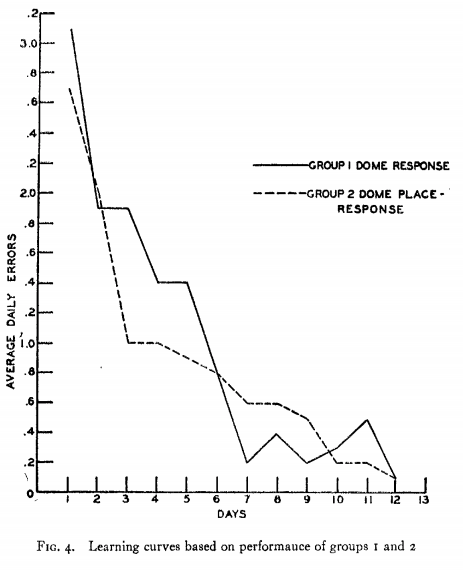 And when economists come into the picture, they naturally tend to define "progress in learning" in terms of measures of productivity, where progress is movement down, — e.g. this graph of "direct labor hours per unit" from Louis Yelle, "The learning curve: Historical review and comprehensive survey", Decision sciences 1979: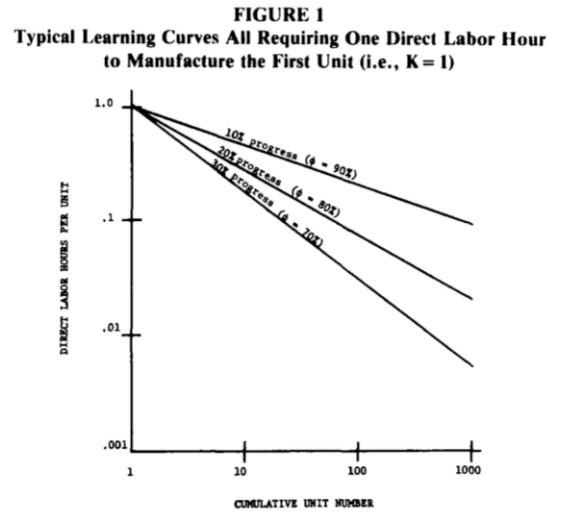 So someone who starts out unskilled, and then fails almost completely to learn from experience, can logically be said to have failed to move either "up the learning curve" or "down the learning curve", depending on whether our metaphorical learning curve is measuring benefits or costs.
But whether the learning curve is rising or falling, a steeper curve ought to mean that learning goes faster, and therefore is easier. If a task is harder to learn, or more resistant to practice, it should have a shallow learning curve (or maybe a gentle learning curve?), not a steep one.
Even in elite publications, however, a steep learning curve is taken to mean a difficult task, not necessarily a rapid rate of improvement:
[link] Trump's aspirations in North Korea might reflect more than a bit of naive ambition and misdirected effort. Trump's goal for the meeting — a denuclearized North Korea — is laudable. Still, is a meeting, now, the best way to accomplish it? With a turnover in key personnel, including the secretary of state, the learning curve promises to be steep.
[link] "Going online and selling online was for me hitting a brick wall. The technological aspect of selling art online was foreign to me," said Ms. Massion, who had a steep learning curve, starting with learning how to upload digital images.
[link] As you know from the calendar, this week's drills will focus on following rules, sportsmanship skills, and not using game time to sell people on your new diet system. Clearly, we've got a steep learning curve. We can't all have the natural ability to sit passively while our children kick a ball around on a beautiful spring day. We have to work at it!
[link] Every president faces a steep learning curve when he enters the presidency. There is, as John F. Kennedy reportedly said, no school for commanders in chief. Yet even by that standard, recent interviews show a Donald Trump who is genuinely surprised by the size of his duties, the interests he must balance, and the methods required to get that done.
Presumably, this is because the metaphor of learning as climbing a mountain — gradus ad parnassum — is overwhelming the metaphor of documenting progress by plotting a measure of performance as a function of time. If the mountain is steeper, the task is obviously harder — though if measured progress is expected to be more rapid, the task is obviously easier.
The two metaphors can be made consistent, if initial performance is very low, but rapid improvement can be expected — so there's a lot to learn, but it's easy to learn it.  My impression is that this is not very often what people mean by talking about steep learning curves, but maybe sometimes they do.
Update, just to clarify — "a steep learning curve" has clearly become an idiomatic way to say that something is difficult to learn, not (as the technical origin of the phrase implies) that something can be learned quickly, with relatively little time and/or effort. I suspect that most people who use the currently-common meaning have no idea what a "learning curve" actually is, or in any case are not thinking about whatever they may know about learning curves when they use the phrase.
Thus in some ways this is like the "raise the question" meaning of "beg the question", with the difference that very few people are annoyed by the eggcorn-ish overlaid meaning of "steep learning curve". And I'm not trying to tell people not to use the new meaning, just explaining what has happened.
---