« previous post | next post »
Every year around this time, I write about the relevant Chinese zodiacal animal.  Here are some recent posts:
2012 is the year of the dragon, which in Modern Standard Mandarin is lóng (simplified 龙 traditional / complicated 龍).

Here is an ambigram designed by by Eric Pelzl, professor at Wisconsin Lutheran College, which simultaneously writes 龍 and "Year of the Dragon":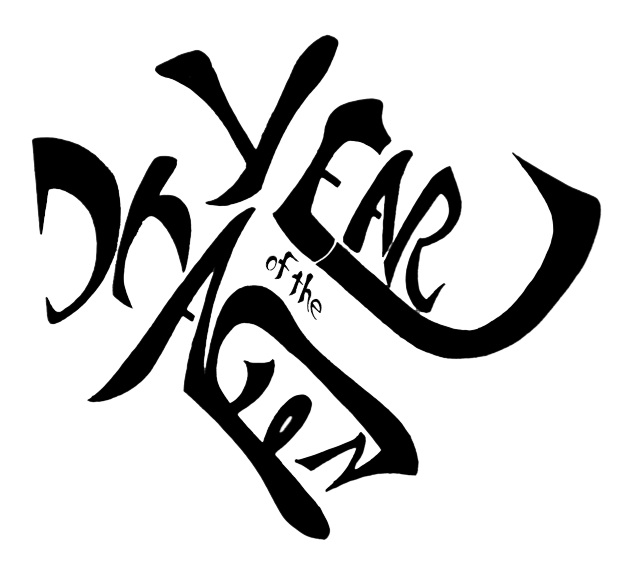 Now, even dragons have to eat, and it would appear that one of their favorite foods is pizza.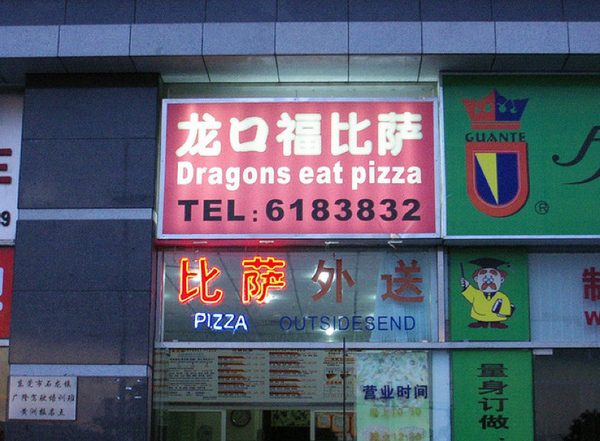 The sign at the top says "lóng kǒufú bǐsà" 龙口福比萨, which does not mean, as the Chinglish translation provided mistakenly declares, "Dragons eat pizza", but rather roughly (though not literally) something like "delicious pizza for dragons".
The sign at the bottom announces "bǐsà wài sòng" 比萨外送 ("pizza delivery"), for which the Chinglish translation given is "PIZZA OUTSIDESEND".
A note on the Chinese transcription of "pizza" (bǐsà 比萨): bǐ 比 by itself means "compare", but here it is being used strictly for its sound, while sà 萨 by itself means nothing, since it normally is used solely to indicate the second syllable of the abbreviated Chinese transcription of the Sanskrit word "bodhisattva", viz., púsà 菩萨.
A couple of dragon year quips:
May the New Year be LÓNG but not drag-on!
Happy Year of the Dragon, "long" time no see!
Incidentally, it is said by some that the second, widely used clause of the above greeting may be based on Chinese grammar, as in Mandarin hǎo/hěnjiǔ bùjiàn 好/很久不见 (lit., "very long not see") or perhaps more likely Cantonese hou2 noi6 mou5 gin3 好耐冇見 // hou2 noi6 m4 gin3 好耐唔見 (both of which mean "very long time not see").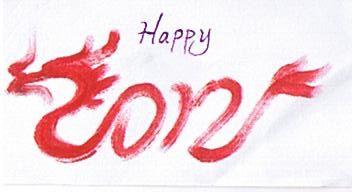 [A tip of the hat to Toni Tan, David Moser, Mark Swofford, Hoong Teik Toh, and Nick Kaldis]
---