« previous post | next post »
There's an interesting and understudied way that typing errors and speaking errors are different. From Gary Dell, "Speaking and Misspeaking", Ch. 7 in Introduction to Cognitive Science: Language, 1995:
One of the most striking facts about word slips, such as exchanges, anticipations, perseverations, and noncontextual substitutions, is that they obey a syntactic category rule. When one word erroneously replaces another, most of the time the target and substituting word are of the same syntactic category. Nouns slip with nouns, verbs with verbs, and so on.
In other words, we're NOT likely to say something like "When one word erroneously replacement another, …" or "exchanges, anticipation, perseverations, and noncontextual substituted […] obey a syntactic category rule".
But errors of this type are fairly common in typing. They seem to be cases where we've started to type the right thing, but as our attention shifts to the following material, our fingers follow a familiar but incorrect path.
Here's (what I take to be) a recent example — Christina Cabrera, "Trump Taps Dow Chemical Lawyer To Lead EPA's Response To Toxic Spills", TPM 2/3/2018:
The White House announced on Friday President Donald Trump's chosen nominee to run the Environmental Protection Agency's Office of Solid Waste: Peter C. Wright, a corporate lawyer from The Down Chemical Company.
My own errors of this type are generally toward the ends of longer words, but I can see myself typing "The Down Chemical Company".
The obligatory screenshot: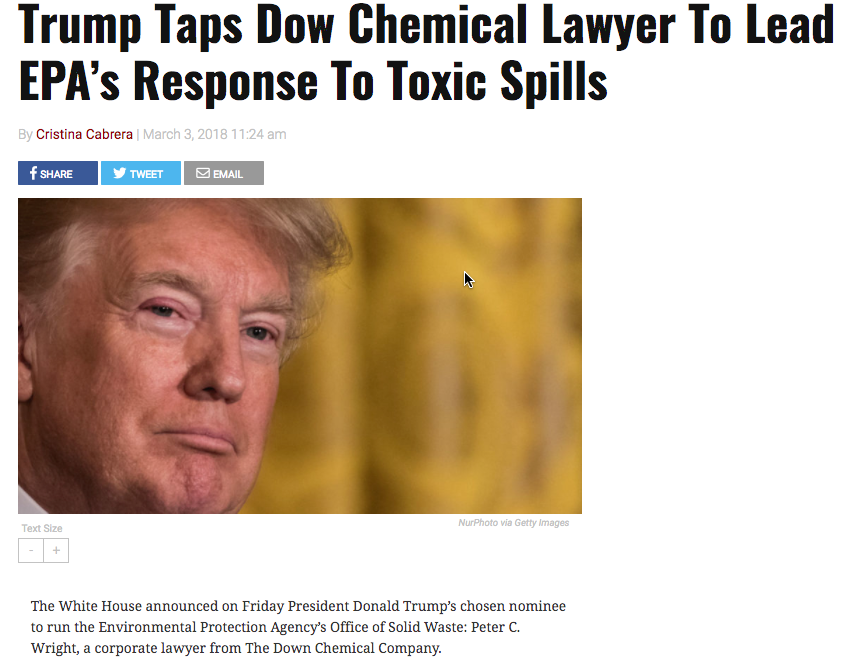 My ad hoc explanation ("our fingers follow a familiar but incorrect path") makes sense, and is broadly similar to more explicit and better grounded explanations that have been offered for slips of the tongue. But why do our tongue's familiar but incorrect paths generally obey the syntactic category rule, while our fingers' familiar but incorrect paths don't? (At least their keyboard paths — I would predict that sign language errors are  more like speech errors.)
I haven't been able to find any discussion (or empirical evaluation) of this point in the psycholinguistic literature. And in the course of exploring the question, and hoping to present a Breakfast Experiment™ rather than merely a hypothesis, I discovered something else that surprised me — none of the many collections of speech and typing errors are apparently available. There's a (rather antique) search interface at MPI for a collection of speech error datasets, but the interface is useless for exploring this question, and there's apparently no way to get the underlying data.
Update — DM wrote with a link to "The correctly spelled wrong word", 3/4/2018, explaining that "Quite coincidentally, I posted a less academic discussion of pretty much the same thing, a few hours before you did", and noting that "While typing this brief email, I typed 'academy' instead of 'academic'".
---