« previous post | next post »
The following full-page ad was published in a Chinese daily in Malaysia: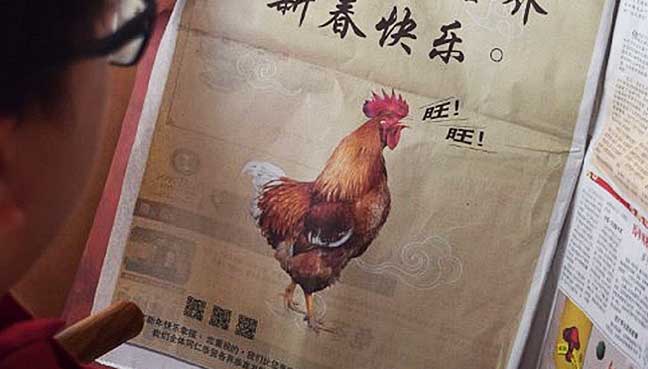 It shows a rooster barking to welcome in the Chinese New Year (CNY).
The picture comes from this article:
"Only in Malaysia do absurdities like a CNY 'barking' rooster thrive", by Mariam Mokhtar (Free Malaysia Today [February 18, 2018]).
The article begins:
Our institutions are either gripped by a tide of Islamic conservatism, or are paralysed by supervisors who are lazy, and do not believe in proofreading.
The latest public show of incompetence occurred when a ministry decided to omit the dog from the Chinese New Year (CNY) advertisement, which they published in a Chinese daily. Such glaring mistakes are simply unacceptable.
For those who are unaware, this Lunar New Year waves goodbye to the Year of the Rooster, and ushers in the Year of the Dog.
As the dog is considered "haram" [VHM: forbidden or proscribed] in some Islamic circles, it is possible that a decision had been made to air-brush all photos and references to the animal, in the Domestic Trade, Cooperatives and Consumerism Ministry (KPDNKK) adverts. The ministry published a picture of a rooster, barking "Wang! Wang!"
The rooster in the advertisement is crowing "wàng! wàng! 旺! 旺!"
Wait a minute!  They've used the wrong character.
They should have written "wāngwāng 汪汪", which is the sound of a dog's bark in Chinese, and it has been written that way since the Yuan period (1271-1368).

When not used onomatopoetically for the sound of a dog barking, wāngwāng 汪汪 can indicate "profuse (tears)" or "vast (water)".
Wàng 旺, on the other hand, means "flourishing; prosperous; vigorous".
Here's what a live barking rooster looks and sounds like ("Ronnie the barking rooster"):
And here's a crowing dog:
This dog tries very hard to say "cock-a-doodle-doo!":
Now, after all that fun, I'll have to serve up a more philologically serious post on the words for dog in Sinitic, which I will do within a day or two.
[h.t. Jichang Lulu]
---