« previous post | next post »
Josh Marshall, "The Murdoch Primary, Let's Call It", 12/30/2011:
Taken together the Murdoch media is a huge, huge voice in the US political conversation. But it's an overpowering voice in intra-Republican questions. So who gets the Murdoch, Ailes and company nod, is a big big deal in a GOP primary race. Thus, the Murdoch primary.
So who won? It sort of slipped by in all the Newt craziness. But looking back over the last month we can see pretty clearly what happened. In late November the Fox at folks pretty clearly said WTF in response to the Newt surge, called it for Romney and got to work big time.
A nice example of lapsus calami (though I guess it should really be called lapsus digitorum): two phonologically-similar nouns swapping places.  Unless it's a joke that went over my head.

The obligatory screenshot: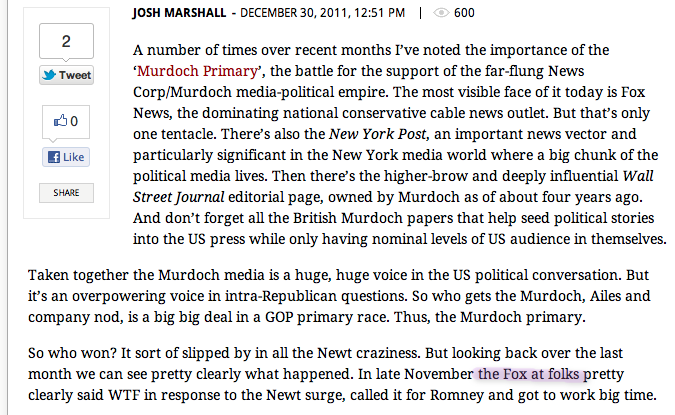 ---