« previous post | next post »
You've probably noticed that how people talk depends on who they're talking with. And for 40 years or so, linguists and psychologists and sociologists have referred to this process as "speech accommodation" or "communication accommodation" — or, for short, just plain "accommodation".  This morning's Breakfast Experiment™  explores a version of the speech accommodation effect as applied to groups rather than individuals — some ways that men and women talk differently in same-sex vs. mixed-sex conversations.
I got the idea of doing this a couple of days ago, as I was indexing some conversational transcripts in order to find material for an experiment on a completely different topic. The transcripts in question come from a large collection of telephone conversations known as the "Fisher English" corpus, collected at the LDC in 2003 and published in 2004 and 2005.  These two publications together comprise 11,699 two-person conversations, involving a diverse collection of speakers. While the sample is not demographically balanced in a strict sense, there is a good representation of speakers from all over the United States, across a wide range of ages, educational levels, occupations, and so forth.
As the documentation explains,
Under the Fisher protocol, a very large number of participants each make a few calls of short duration speaking to other participants, whom they typically do not know, about assigned topics. This maximizes inter-speaker variation and vocabulary breadth although it also increases formality. […]
To encourage a broad range of vocabulary, Fisher participants are asked to speak on an assigned topic which is selected at random from a list.
You can see a sample transcript here.  In that case, the randomly-assigned topic was
If an unknown benefactor offered each of you a million dollars – with the only stipulation being that you could never speak to your best friend again – would you take the million dollars?
You can see one of the lists of topics used here.  The language of these conversations is typical of small-talk among strangers, as you would expect from the way the conversations were set up.
Anyhow, there were 3,143 male/male conversations, comprising 6,322,608 words; 4,736 female/female conversations, comprising 9,330,364; and 3,820 mixed-sex conversations, comprising 7,496,547 words, of which 3,840,493 came from the male participants, and 3,656,054 came from the female participants.
This is enough material to get decent estimates for the rate of use of many words, not only overall but also in variously-defined slices of the collection. In particular, it occurred to me, we can look at how often certain words are used by men and women in same-sex vs. mixed-sex collections.
Same Sex
Mixed Sex
M (count)
F (count)
M (count)
F (count)
daughter
380
3043
410
696
son
581
2014
442
872
engineering
166
39
70
42
actor
218
73
76
56
These raw counts are hard to compare, since the overall number of words varies from cell to cell, e.g. from 3.7 million in the case of women in mixed-sex conversations, to 9.3 million for the case of women in same-sex conversations. The obvious thing to do is to normalize the counts to proportional frequencies, dividing them by the total number of words for the cell in question. The resulting numbers will have a lot of zeros after the decimal point, e.g.  (for female uses of son in mixed-sex conversations)
872/3656054 = 0.0002385085,
so it's convenient to express the frequency in terms of the expected incidence per million words, which in this case is
1000000*872/2545054 = 238.509,
or a frequency of 239 per million words if we round to a reasonable number of digits.
Hwre's the same table with the counts expressed as frequencies per million words:
Same Sex
Mixed Sex
M (per MW)
F  (per MW)
M (per MW)
F (per MW)
daughter
60
326
107
190
son
92
302
115
239
engineering
26
4
18
11
actor
34
8
20
15
We can see a sort of accommodation going on in this table — the frequencies in the mixed-sex case are clearly more similar than they are in the same-sex case.
How can we quantify this similarity? One possibility is to compare ratios (of male and female frequencies) in the two cases.  The greatest possible similarity would be a ratio of 1. But in this approach, a frequency difference of 1,000 vs. 100 gives a ratio of 10, whereas a frequency difference of 100 vs. 1,000 gives a ratio of 0.1.   In the way we naturally think of numbers — and certainly the way our visual system naturally interprets graphs — 10 seems a lot farther from 1 than 0.1 does.
We can eliminate this asymmetry by taking the log of the ratios. Now perfect similarity is 0, and increasingly dissimilar ratios are symmetrically positive and negative. And again, for presentational convenience, we can scale the results into a convenient range of integers, in this case multiplying by 100 and rounding to the nearest integer.
Adding a column for these scaled log ratios to the table above, we get:
Same Sex
Mixed Sex
Male
Female
100*log(M/F)
Male
Female
100*log(M/F)
daughter
60
326
-169
107
190
-58
son
32
302
-119
115
239
-73
engineering
26
4
184
18
11
46
actor
34
8
148
20
15
26
In each row, we can see that the log ratio in the mixed-sex conversations is closer to zero (i.e. the usage frequencies are more similar) than in the same-sex conversations.
Although these counts are plenty high enough to give us statistically-significant results, the data for such words come from a small to moderate proportion of conversations. Thus it's plausible that men use the word engineering more than women do — but this word was used in only 210 of 11,699 conversations. One way to make a more convincing case for the reality of this group accommodation effect would be to look at the patterns for a lot of words — but another would be to look sex differences in very frequent words.
And as James Pennbaker and others have repeatedly shown over the years, such differences do exist. (For a review, see Matthew Newman et al., "Gender Differences in Language Use: An Analysis of 14,000 Text Samples", Discourse Processes 2008.) In particular, there are modest but significant differences in the relative frequency with which men and women use some pronouns, including some very common ones.
So here's a table, showing pronoun frequency (per million words) for men and women in same-sex vs. mixed-sex conversations from the Fisher English collection, along with the scaled log ratios. I've included less common as well as more common pronouns.
Same Sex
Mixed Sex
Male
Female
100*log(M/F)
Male
Female
100*log(M/F)
I
42035
43758
-4
42549
43176
-1
me
2441
2929
-18
2544
2779
-9
my
4435
6763
-42
4899
5839
-18
mine
134
245
-60
150
165
-46
you
34967
30579
13
32958
32379
2
your
2082
2118
-2
2164
2226
-3
yours
29
42
-36
35
33
8
he
3363
4521
-30
3230
3984
-21
him
665
982
-39
650
847
-27
his
581
723
-22
571
659
-14
she
1589
2992
-63
1889
2242
-17
her
593
1223
-72
687
908
-28
hers
4
10
-98
4
8
-58
it
25158
24712
2
24569
24336
1
its
78
63
20
67
66
1
we
5209
7177
-32
5615
6343
-12
us
563
775
-32
621
718
-14
our
767
1088
-35
819
962
-16
ours
20
39
-67
22
30
-29
they
11860
12933
-9
12535
12741
-2
them
1834
2233
-20
1944
2150
-10
their
1292
1445
-11
1377
1460
-6
theirs
7
11
-40
8
9
-20
In 22 out of 23 cases, the frequencies in the mixed-sex cases are more similar (log ratio closer to zero) than in the same-sex cases. Here's a graphical presentation of the same data: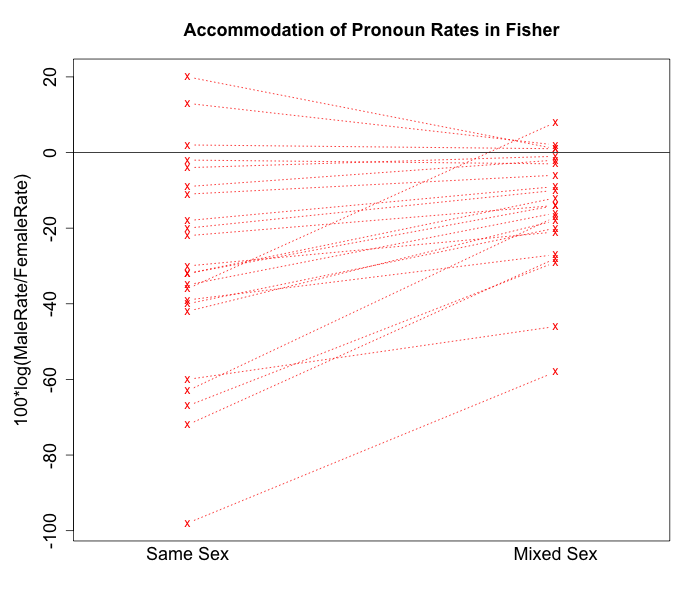 Since these are relatively short conversations, most likely this effect represents speakers taking a different approach to the topic, rather than speakers adjusting their vocabulary based on their interlocutor's word usage. (We could  explore this by looking at rates in the first and second halves of the conversations — but that's an experiment for some other breakfast hour…)
Another area where there are well-documented sex differences in word frequency is cussing. Some examples from the same data set:
Same Sex
Mixed Sex
Male
Female
100*log(M/F)
Male
Female
100*log(M/F)
gosh
42
267
-184
77
184
-87
goodness
22
186
-216
43
124
-104
shit
135
11
251
37
25
39
hell
106
24
149
58
47
22
damn
63
12
167
29
26
13
fucking
39
2
302
8
8
5
ass
32
4
205
11
11
2
jesus
21
7
105
26
20
43
pissed
21
5
149
15
11
36
fuck
21
1
309
7
5
32
christ
12
5
89
9
8
8
piss
6
2
121
3
4
-31
And again, the results in graphical form: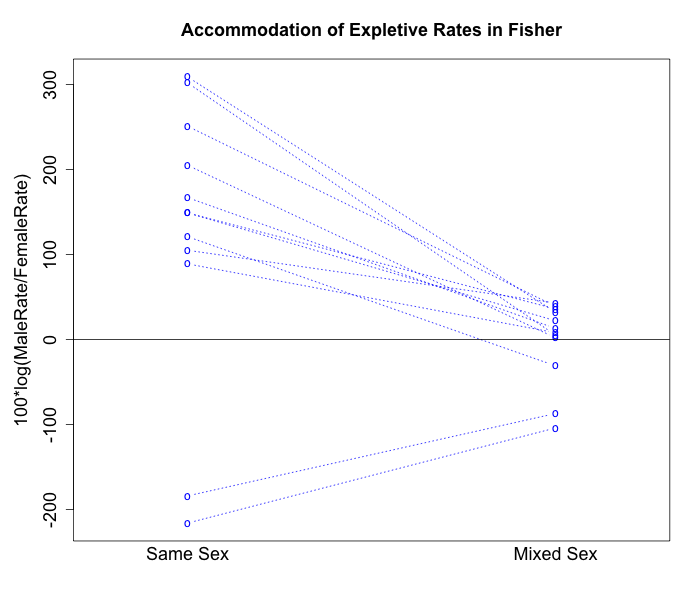 ---