« previous post | next post »
Joel Martinsen writes:
Here's a comment I came across on Sina's microblog service today from someone reading various terms used by the Chinese, Korean, and Japanese media to report Kim Jong-il's death and inferring politeness based on the Chinese usage of the terms. Is there a name for this sort of phenomenon?

兄:同样是"死",韩国媒体用"死亡"(사망);日本媒体用"死亡"、"死去"或者 "急死";而与朝鲜没有友好关系的台湾,其媒体用的是"去世"、"病逝"或"猝逝"。从台湾对待金老师去世的态度,足见台湾媒体的修养与礼 教。 http://www.weibo.com/1402828774/xCL52egDC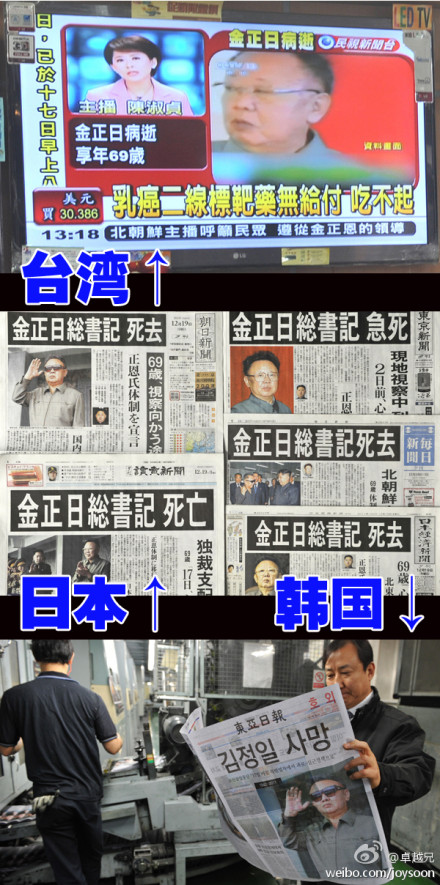 Also: 卓越兄 回复@顧景中:没有说"死"不中性,但 无论用什么语,"逝"至少比"死"更人文一点吧? //@顧景中:而日语里的死亡、急死, 只是中性词,新闻媒体常用  http://www.weibo.com/1402828774/xCLaO5CyH
Trying to track attitudes toward Kim Jong Il's death according to the vocabulary used in Taiwan, Korea, and in Japan, it would seem that at least one blogger has come to the conclusion that Taiwan is more polite and cultivated because it uses words that mean something like "passed away" instead of just saying that he "died" (sǐ 死, or some expression employing that term).
Before turning to the subtle semantics of dying in CJK (Chinese, Japanese, and Korean), I should first note that, when I posed Joel's question ("Is there a name for this sort of phenomenon?") to my colleagues gathered in the coffee and tea nook at Language Log Plaza, one of them replied archly, "Yeah, pettifoggery." Another astutely observed, "There's some overlap between this sort of evaluation and what goes under the name of 'sentiment analysis'. I guess that you could call this 'amateur sentiment analysis'".
Whatever we decide to call this phenomenon, there are real differences in the implications of words we use to say that someone has died. It is not surprising that, in the case of the recently deceased North Korean dictator, considerable attention will be paid to the choice of words used to describe his death, simply because he was such an enormously controversial figure.
The blogger cites three terms used by the media on Taiwan to announce Kim Jong Il's demise: qùshì 去世 ("departed from this world")、bìngshì 病逝 ("passed away due to illness"), cù shì 猝逝 ("suddenly passed away"). It is obvious that they all carefully avoid the most direct word for dying, sǐ 死.
For Japanese, the blogger also cites three terms, and here it is equally obvious that they all include the morphosyllable shi 死: shibō 死亡 ("died off; deceased")、shikyo 死去 ("died away"), and kyūshi 急死 ("suddenly died"). To tell the truth, I do not envy the Japanese newspaper editor who has to choose the appropriate expression to state that someone has died. Here are some valuable notes on the vocabulary of dying in Japanese from Nathan Hopson:
死亡 shibou – most general word for die (in print), combining 死ぬ (shinu = die) w/ 亡くなる (nakunaru = die, for humans only*)
死去 shikyo – slightly more sadness for the deceased's passing
Of the two, 死亡 seems to be the more common this time around, which is interesting in itself…
Staid NHK uses the latter: キム・ジョンイル総書記死去
Left-leaning Asahi = 金総書記死亡で平壌市民は悲しみに…
Right-leaning Yomiuri = 金正日総書記死去
Lunatic right fringe (=FOX Japan-ish) Sankei = both (perhaps Yomiuri/Asahi as well but I didn't do a thorough check)
急死 kyuushi – "sudden death"
Other words used in the J media for KJI's death:
逝去 seikyo – as a translation of KCTV's coverage. Highly respectful term nobody would choose in Japanese for the Dear Leader
過労死 karoushi – "death from overwork" (an official term used for insurance claims, etc. now); used in a blog, not the mass media
* 亡くなる should be only for people, but recently it's being extended to pets. Two years ago or so, a debate took place between media outlets in Japan about whether to extend the term to the Ueno Zoo pandas, since they were known and loved by millions. This anthropomorphism has been accepted in the media, but I don't think it's used much for animals other than dogs, cats, and pandas (yet) except by insurance companies offering ペット保険 (pet life insurance; petto hoken)
Cecilia Segawa Seigle adds the following refined remarks:
死亡(shibou -しぼう)in the Japanese heading is slightly less respectful than 死去(しきょ、shikyo). They are both "death" all right. For much more euphonious expressions, there are 永眠(えいみん、eimin)or 他界(たかい、takai)、and several Buddhist terms like 入寂(にゅうじゃく, nyujaku)、寂滅(じゃくめつ, jakumetsu)、or honorific terms like 逝去(せいきょ, seikyo: death of a person who should be very much respected, but usually you don't use it in an ordinary conversation); 薨去(こうきょ, kokyo:death of a high-ranking aristocrat, above 3rd degree in the old system), 崩御(ほうぎょ; death of an emperor), etc., etc.
急死(きゅうし、kyushi) is just a sudden death; there is no special nuance, but it's less polite than 死去.
It's interesting that Asahi, Mainichi, and Nihon Keizai Shinbun use 死去, but Tokyo Shinbun uses 急死, very blunt, and Yomiuri Shinbun says 死亡. 死亡is the death of a very, very ordinary person. But 死亡 and 急死 aren't specially disrespectful. They are just plain and straightforward expressions for death.
To summarize the flood of information on terms for dying in Japanese insofar as it pertains to the three words cited by the blogger:
死去:shikyo
Death of someone toward whom the speaker / writer has some reflection of feelings or respect.
"He is gone / He has left us."
死亡:shibō
Biological / physiological death — neutral in feelings.
"He died / He is dead."
急死:kyūshi
Sudden / unexpected death — neutral in feelings.
"He died suddenly."
Finally, we come to South Korea, where the blogger quotes the media as using the noun samang 사망, which is derived from the Sinitic word sǐwáng 死亡 ("died off; deceased; demise; death"). They could have used the indigenous word chukda 죽다 (for which there are no Sinitic roots), but that would have been even less polite. If the South Korean newspapers were reporting the death of a president or eminent politician, they would use neither samang 사망 nor chukda. Instead, they would use the word sŏgŏ 서거 (逝去) ("pass away"), which — in Kim Jong Il's case — they have studiously avoided.
So much for the nuances (ニュアンス) of dying in Taiwan, Japan, and South Korea — at least so far as the media go. I leave it to others to tell us how Kim Jong Il's death was announced elsewhere. I will say no more than that, emblazoned across the top of the China Daily today in the biggest headline I've ever seen for this newspaper are these three words: "A FRIEND'S DEPARTURE".
[Thanks to William C. Hannas, S. Robert Ramsey, Cecilia Segawa Seigle, Hiroko Kimura Sherry, Nathan Hopson, Daniel Sou, Soon-ja Yang, and Minkyung Ji]
---