« previous post | next post »
In a series of posts over the last few years, I've documented gradual declines in the frequency of the English definite determiner "the" in a wide variety of text sources: State of the Union addresses, Medline abstracts, the Corpus of Historical American English, Google Books (from both American and British sources), and so on. Both in conversational speech and in informal writing, we see the kind of correlation with sex and age that we expect for a language change in progress; and there are surprisingly systematic geographical differences. (See the links below for details.)
For reasons discussed in a couple of recent posts ("Proportion of dialogue in novels", 12/29/2017; "Ross Macdonald: lexical diversity over the lifespan", 1/13/2018), Yves Schabes and I have been analyzing variation over time in the writing of some prolific 20th-century authors, so this morning I thought I'd take the opportunity to look at longitudinal changes in "the" usage in the two authors whose books I've processed so far, Agatha Christie and Ross Macdonald.
Given previous work on language change across the lifespan, we might see several different patterns:
Longitudinal studies of individuals and groups reveal three trajectory types postadolescence: stability (the most common), adopting (to some degree) a change led by younger people (the next most common trajectory), or swimming against the community current by reverting to an older pattern in later life (the least common trajectory).
What we do see: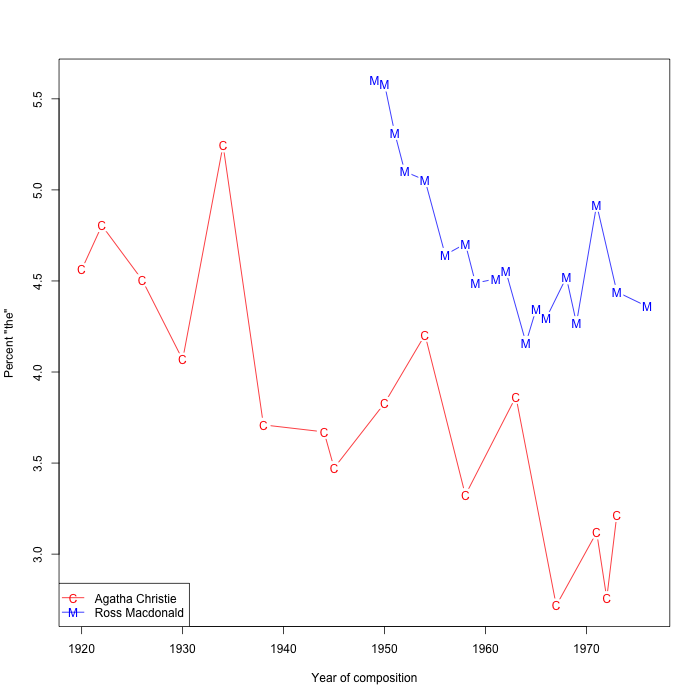 So
Both authors show some evidence of adaptation to the on-going change;
Ross Macdonald's rates of "the" usage are well above Agatha Christie's, which is consistent with the previously-mentioned gender difference;
Ross Macdonald seems to have stabilized or even reverted a bit in the last ten years of his writing career, from 1965 to 1975.
Previous LLOG posts on the general topic of decreases in definiteness:
"SOTU evolution", 1/26/2014
"Decreasing definiteness", 1/8/2015
"Why definiteness is decreasing, part 1", 1/9/2015
"Why definiteness is decreasing, part 2", 1/10/2015
"Why definiteness is decreasing, part 3", 1/18/2015
"Positivity?", 12/21/2015
"Normalizing", 12/31/2015
"The case of the disappearing determiners", 1/3/2016
"Dutch DE", 1/4/2016
"The determiner of the turtle is heard in our land", 1/7/2016
"Correlated lexicometrical decay", 1/9/2016
"Style or artefact or both?", 1/12/2016
"Geolexicography", 1/27/2016
---