« previous post | next post »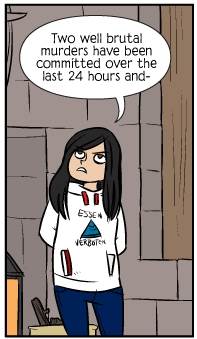 Today's installment of John Allison's web-comic short story "Murder She Writes" features the youthful amateur detective Charlotte Grote ("Lottie") using well as an intensifier of the adjective brutal.
This is a traditional usage — the OED's sense 16.a. for well, "With adjectives. Formerly in common use, the sense varying from 'fully, completely' to 'fairly, considerably, rather'", has citations going back to the 9th century:
c888 Ælfred tr. Boethius De Consol. Philos. xxv,   Seo leo, þeah hio wel tam se,‥heo forgit sona hire niwan taman.
c900 tr. Bede Eccl. Hist. iv. ii. 258   Wæron her stronge cyningas and wel cristene.
But now well ADJ is rare except in the cases listed in sense 16.b. "In modern use esp. in well able, well aware, well worth, well worthy", a list that obviously doesn't include "well brutal". (Well is freely used as a modifier on past participles, as in "a well-cooked egg", but that's another matter.)

Searching Google Books for recent uses turns up other example of well as a general intensifier of adjectives, but all (as far as I can tell) in non-standard British varieties:
"The lyrics are just disgusting. It is well brutal and extremely sick, which is what we set out to do. We set out to do the sickest thing possible, and in my opinion we achieved it." [Offie, vocals/rhythm guitar in the "Welsh death metal band" Desecration, quoted in Joel McIver, Extreme Metal II, 2010.]
A well rough doxy, with streaks of red smeared across her cheeks and eyes, pulls at Lilo's shoulder. [Emily Diamand, Raiders' Ransom, 2011.
Charlotte is from West Yorkshire — I don't know how widespread this use of well is in English dialects, or when and why it dropped out of the standard language. I don't think that I've ever seen or heard it in the U.S.
---