« previous post | next post »
According to Andrew Higgins ("Kazakhstan Cheers New Alphabet, Except for All Those Apostrophes", NYT 1/15/2018), the pending turn to a Latin alphabet for Kazakh has run into a pothole: the 77-year-old dictator Nursultan A. Nazarbayev, who apparently has not yet been informed about Unicode, or the possibility of varied computer keyboard layouts.
Mr. Higgins also seems to be in the dark about such arcana — he refers to characters (or maybe diacritics) as "markers", for some reason, and apparently thinks that the Latin alphabet is nothing but good old US ASCII, with none of those furrin umlauts and accents and cedillas and such:
Because Kazakh features many sounds that are not easily rendered into either the Cyrillic or Latin alphabets without additional markers, a decision needed to be made whether to follow Turkish, which uses the Latin script but includes cedillas, tildes, breves, dots and other markers to clarify pronunciation, or invent alternative phonetic pointers.
In August, the linguists proposed using an alphabet that largely followed the Turkish model.
The president's office, however, declared this a nonstarter because Turkish-style markers do not feature on a standard keyboard.
The scholars on the language commission, led by Erden Kazhybek, the head of the Institute of Linguistics in Almaty, then suggested using digraphs, or several letters to indicate a single sound, like "ch" in English.
This approach initially got a warmer reception from the president's entourage but was then banished when Mr. Nazarbayev suddenly issued a decree on Oct. 27 ordering that apostrophes be used instead of Turkish-style markers.
The modified Latin alphabet put forward by Mr. Nazarbayev uses apostrophes to elongate or modify the sounds of certain letters.
The article gives this explanation for the president's choice:
The only reason publicly cited by Mr. Nazarbayev to explain why he did not want Turkish-style phonetic markers is that "there should not be any hooks or superfluous dots that cannot be put straight into a computer," he said in September.
Because dog forbid that folks might have to use something like a Turkish keyboard layout:
Or maybe this is the reason:
But others saw another possible motivation: Mr. Nazarbayev may be eager to avoid any suggestion that Kazakhstan is turning its back on Russia and embracing pan-Turkic unity, a bugbear for Russian officials in both czarist and Soviet times.
Or maybe it's this:
Also likely playing a role in the president's active involvement has been his advancing age and the question of how he will be remembered when he eventually steps down or dies.
"The president is thinking about his legacy and wants to go down in history as the man who created a new alphabet," said Mr. Satpayev, who supports the switch to Latin script but not the president's version. "The problem is that our president is not a philologist."
Interestingly, the Oct. 27 decree is in Russian. The proposed new alphabet is given by this table: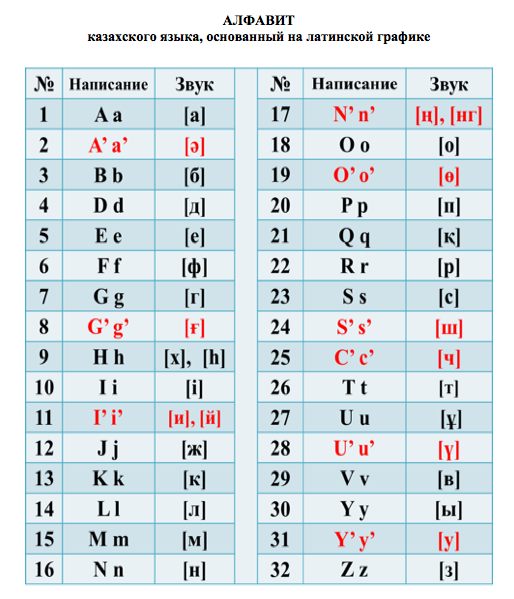 The NYT article cites "a storm of mockery and protest on social media", including this music video:
All in all, a fitting continuation of the shenanigans described by Thomas Pynchon in the section of Gravity's Rainbow dealing with the planning for the New Turkic Alphabet in the Soviet Union of the 1920s ("How alphabetic is the nature of molecules", 9/27/2004). For the politico-linguistic history behind the fiction, see "Birlashdirilmish Yangi Turk Alifbesi", 9/27/2004.
[h/t Francois Lang]
---