« previous post | next post »
Louise Radnofsky, "White House Disputes Trump Quote in Journal Interview: The Wall Street Journal stands by what it reported and releases audio of disputed portion of interview", WSJ 1/14/2018:
The White House disputed that President Donald Trump told The Wall Street Journal in an interview Thursday that "I probably have a very good relationship with Kim Jong Un of North Korea," saying that Mr. Trump had instead said "I'd probably have a very good relationship" with the North Korean leader.
The Journal stands by what it reported. The Journal and White House agreed before the interview that audiotape taken by White House officials and reporters would be used for transcription purposes only. After the White House challenged the Journal's transcription and accuracy of the quote in a story, The Journal decided to release the relevant portion of the audio. The White House then released its audio version of the contested segment.
Here's the relevant audio:
Zeroing in on the crucial region:
And a spectrogram: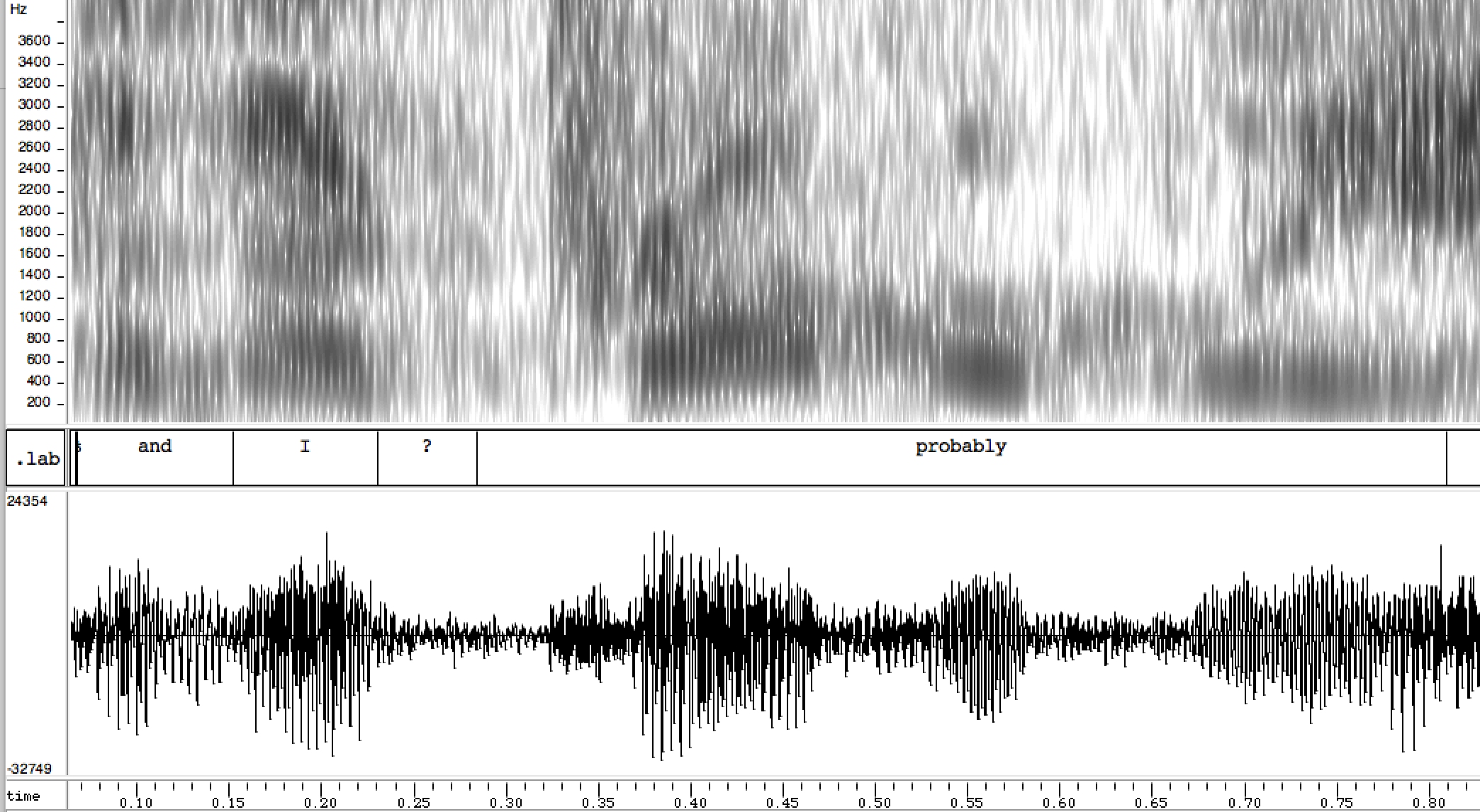 The "phoneme restoration effect" means that I (like many people) can hear this passage either way, if I start from one preconception or the other.
Susan Lin's acoustic-phonetic analysis that Mr. Trump probably said "I'd" is plausible.
The main acoustic cues for the place of articulation of a stop consonant following a vowel are the formant transitions into the closure. In particular, at the end of a vowel, the classical analysis says that we should see F2 falling into the closure if the following consonant were the labial /p/. But in this case, we see it rising, perhaps toward the "locus" of about 1800 or 1900 Hz. that we classically expect for a following coronal /d/: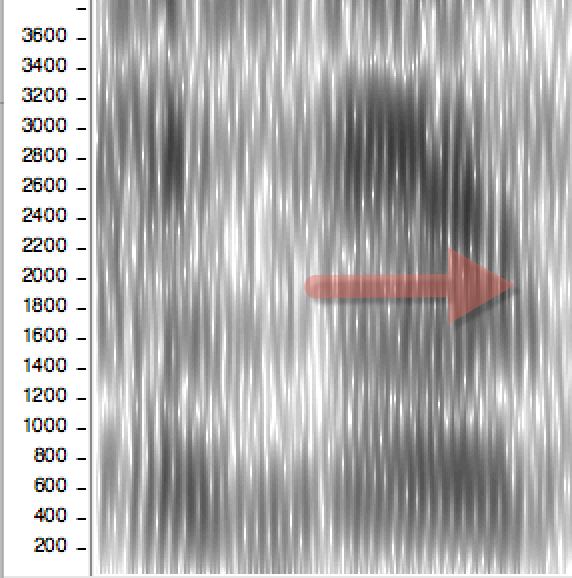 Lin's sketch of the F2 transition in Trump's "I ? probably" is in green on the right: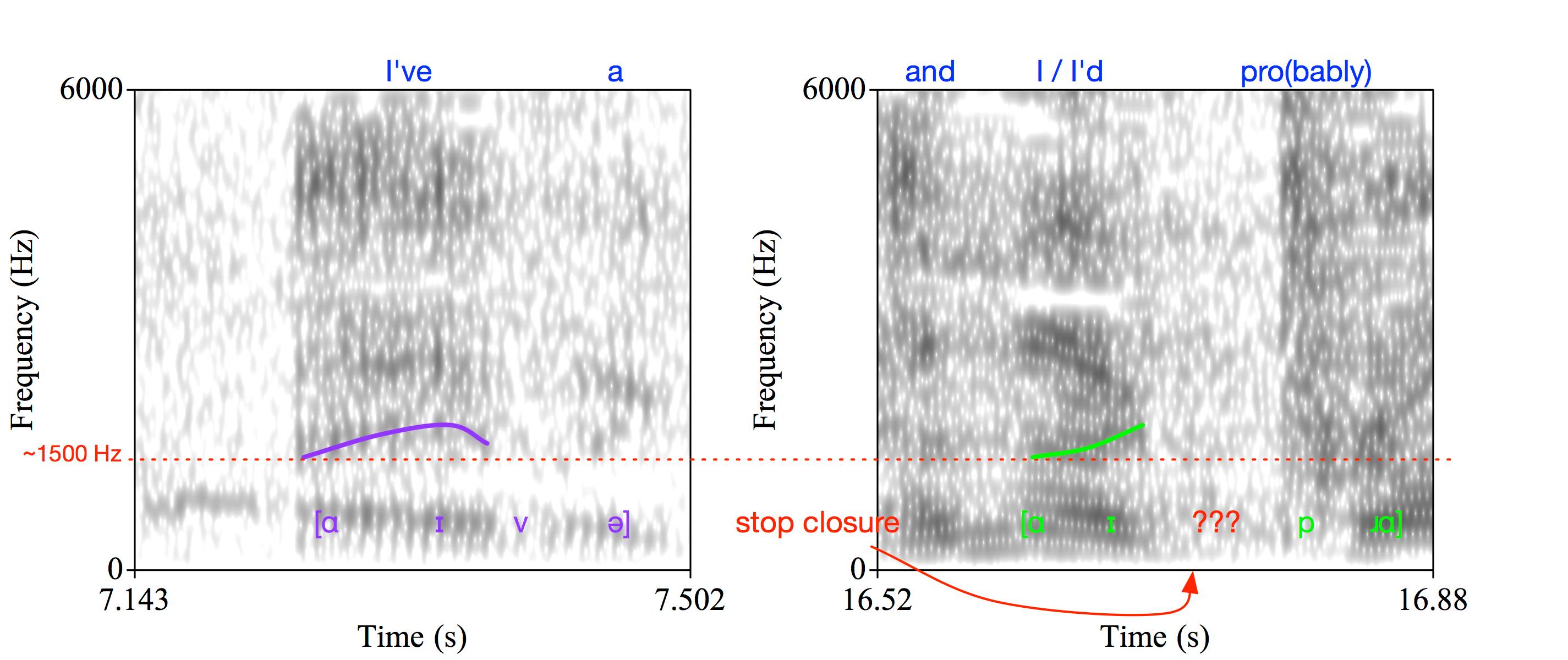 However, there's a problem here.
Trump's pronunciation of the pronoun "I" in general is a rising diphthong something like [ɐɪ], and thus will tend to have a rising F2 anyhow. And everything in this example goes by pretty fast. The whole of the [ɐɪ], from the release of the final /n/ in "and" to the following closure, whether of /d/ or of /p/, is just about 82 milliseconds long. This is not much time for opening transitions, a diphthongal vowel, and closing transitions all to play out, as we might see in a careful citation-form pronunciation of (say) "tie Paul" vs. "tied Paul".
Everything here is heavily co-articulated — much more so than in Lin's example of "I've" on the left, where the open portion of "I" is about 137 milliseconds.
And the recording SNR is low enough that it's hard to tell how long voicing continues into the 85 milliseconds or so of stop gap between the closure of "I" and the release of the /p/ in "probably".
So I don't think that the acoustic (or perceptual) analysis of this one passage is determinative.
We might be able to do better by looking at a collection of examples of  Mr. Trump saying comparable things, and examining spectral variation at the ends of his first person singular pronouns, the durations of stop gaps in relevant instances of /dp/ vs. /p/, etc. His extensive archive of interviews and speeches will offer plenty of examples. But I don't have time for that right now — I'm in the middle of a journey from Bangalore to Philadelphia, temporarily stranded in London after my BLR to LHR flight was six hours late.
Update — a correspondent observes:
To my mind the most important piece of disambiguating evidence isn't phonetic, but what he says after the quoted segment:
And I ('d) probably have a very good relationship
with Kim Jong Un of North Korea.
I would-
I have relationships with people,
I think you people are surprised.
Indeed it's clear that he starts to repeat himself, but breaks off after clearly articulating "I would-". This certainly makes it seem more plausible that he intended a similar irrealis modal in the previous phrase.
---