« previous post | next post »
This post is an initial progress report on some joint work with Mark Liberman. It's part of a larger effort to replicate and extend Xuan Le, Ian Lancashire, Graeme Hirst, & Regina Jokel, "Longitudinal detection of dementia through lexical and syntactic changes in writing: a case study of three British novelists", Literary and Linguistic Computing 2011. Their abstract:
We present a large-scale longitudinal study of lexical and syntactic changes in language in Alzheimer's disease using complete, fully parsed texts and a large number of measures, using as our subjects the British novelists Iris Murdoch (who died with Alzheimer's), Agatha Christie (who was suspected of it), and P.D. James (who has aged healthily). […] Our results support the hypothesis that signs of dementia can be found in diachronic analyses of patients' writings, and in addition lead to new understanding of the work of the individual authors whom we studied. In particular, we show that it is probable that Agatha Christie indeed suffered from the onset of Alzheimer's while writing her last novels, and that Iris Murdoch exhibited a 'trough' of relatively impoverished vocabulary and syntax in her writing in her late 40s and 50s that presaged her later dementia.
We're looking at some additional measures, but most important, we're looking at a larger number of authors, including some others known to have died of Alzheimer's disease as well as those who didn't. In this post, we'll look at a simple measure of lexical diversity, namely the mean number of distinct lemmas (essentially, base forms of words) in 10,000-word spans of text, in a series of novels by Kenneth Millar, writing under the pseudonym of Ross Macdonald, who died of Alzheimer's disease in 1983 at the age of 67. Between 1949 and 1976, he wrote 18 novels featuring the detective Lew Archer:
YEAR AGE  TITLE
1949 34  The Moving Target
1950 35  The Drowning Pool
1951 36  How some people die
1952 37  The Ivory Grin
1954 39  Find a victim
1956 41  The barbarous coast
1958 43  The doomsters
1959 44  The Galton case
1961 46  The Wycherly woman
1962 47  The zebra striped hearse
1964 49  The chill
1965 50  The far side of the dollar
1966 51  Black money
1968 53  The instant enemy
1969 54  The goodbye look
1971 56  The underground man
1973 58  Sleeping beauty
1976 61  The blue hammer

And this simple measure does indeed show the same sort of trend across these novels that Le et al. observed in Agatha Christie's works: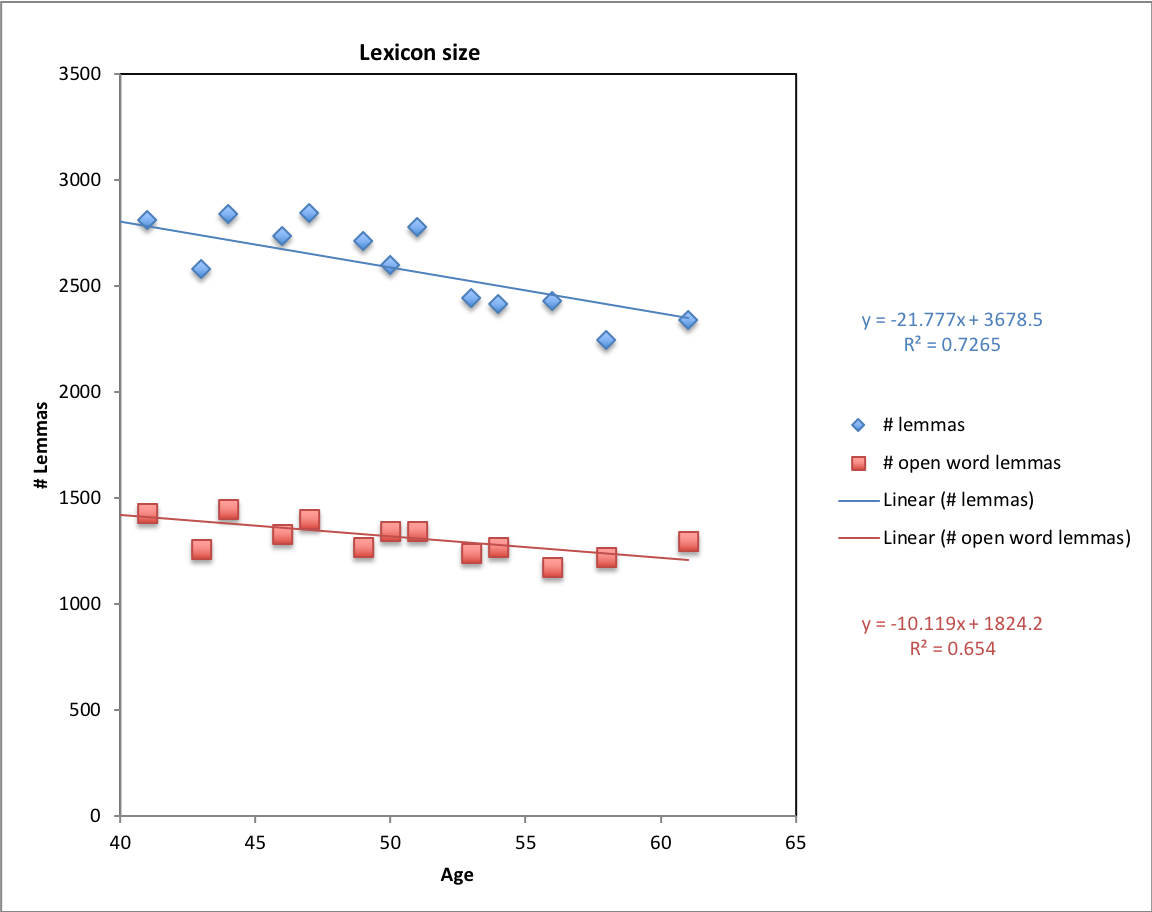 It remains to be seen how consistent this pattern is. There are some other authors known to have died of Alzheimer's, such as A.E. van Vogt and E.B. White, as well as many more who didn't, such as Rex Stout and Elmore Leonard. But so far, the basic idea checks out.
Of course there are also many other measures to look at, including some more sophisticated ones than measures of overall lexical diversity. And of greater clinical interest is the question of how such trends are reflected in the speech and writing of a broader population.
Some other relevant posts:
"Writing style and dementia", 12/3/2004
"Nun Study update", 8/27/2009
"Literary Alzheimer's", 12/13/2009
"Authorial Alzheimer's again", 12/15/2009
"Early Alzheimer's signs in Reagan's speech", 4/12/2015
"'Project Talent' adds to long-range dementia predictions", 10/1/2018
---