« previous post | next post »
This sign appears on a door of the National Museum of China in Beijing: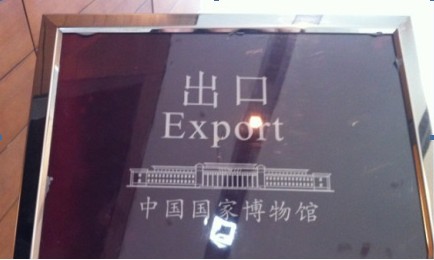 It's probably just as well that the people who affixed the sign to the door didn't translate the wording at the bottom into English. Who knows how badly they might have mangled the seven characters / syllables (three words) of which it is composed:
Zhōngguó guójiā bówùguǎn 中国国家博物馆 (National Museum of China)
The two large characters at the top look innocent and elegant enough, and they constitute one of the most frequently seen words in public spaces, but the Chinglish translation "Export" fails miserably:
chūkǒu 出口
For this Google Translate has the following:
Main translation: Export
Main dictionary entry: Exit
noun: export, exit, outlet, outfall
verb: utter, go out, speak
adjective: exporting
phrase: Way out
(Babel Fish also gives "Export", whereas Baidu Fanyi has "Exit"; neither Babel Fish nor Baidu Fanyi provides any alternative translations.)
For such a bad translation to appear on a door of such a prestigious national institution in the heart of the nation's capital, at the very edge of Tiananmen Square, is a tremendous embarrassment. Moreover, this crude translation clashes with the opulence of the door itself.
How is it possible that the authorities could spend so much money on the construction of this luxuriant new museum building, one that is visited by hundreds of thousands of English speakers every year, but not follow through with a serviceable translation? Jing Wen, who sent the above photograph to me, offers the following suggestions for why this sort of mistranslation happens again and again in China:
I think that the person who made this sign did not know English. He may have looked up the English translation of 出口 in a dictionary and got the word "export".
It is a big problem that there are a lot of translation mistakes on signs in China. I am a little confused. On the one hand, young students in China speak English much better than I did when I was in college. On the other hand, more and more such mistakes appear. I think this phenomenon indicates the chaos of management in China. Nobody is in charge of putting up the right signs.
I agree with Jing. My impression gained from visiting China scores of times during the past thirty-plus years is that the general level of English competence in the population has improved dramatically, especially among those under the age of thirty. Yet Chinglish signs continue to proliferate. Indeed, there seems to be a veritable explosion of Chinglish, since it has become fashionable to include it on signs, announcements, and especially advertisements. Much of it is quite ghastly; it would appear that what is important is simply to display English so as to be au courant. Whether the English is correct does not seem to matter much, so long as it is some kind of English, i.e., Chinglish will do.
---