« previous post | next post »
Lena H. Sun and Juliet Eilperin, "CDC gets list of forbidden words: fetus, transgender, diversity", Washington Post 12/15/2017:
The Trump administration is prohibiting officials at the nation's top public health agency from using a list of seven words or phrases — including "fetus" and "transgender" — in any official documents being prepared for next year's budget.
Policy analysts at the Centers for Disease Control and Prevention in Atlanta were told of the list of forbidden words at a meeting Thursday with senior CDC officials who oversee the budget, according to an analyst who took part in the 90-minute briefing. The forbidden words are "vulnerable," "entitlement," "diversity," "transgender," "fetus," "evidence-based" and "science-based."
I was going to say that words fail me, but that's kind of the point, isn't it?
Presumably the idea is that these are trigger words for the congresscritters and political appointees who will be evaluating the budget plans and supporting documents. They need a safe space where their delicate sensibilities will not be affronted by such politically incorrect words and phrases, though perhaps in some cases the concepts behind them can be safely expressed in carefully framed and hedged euphemisms:
In some instances, the analysts were given alternative phrases. Instead of "science-based" or ­"evidence-based," the suggested phrase is "CDC bases its recommendations on science in consideration with community standards and wishes," the person said. In other cases, no replacement words were immediately offered.
For the moment, at least, the FCC is not intervening to keep these dangerous locutions out of mass media entirely, so the internet and even print and broadcast media will continue to be a perilous experience for members of the Trump administration.
Update — On reflection, the Newspeak echo in the title was a mistake, since the point of those regulations was to change the thinking of speakers and writers, whereas the point of the current rules seems to be to prevent the thinking of speakers and writers from triggering their superiors.
Kevin Drum suggests a complete set of substitutions: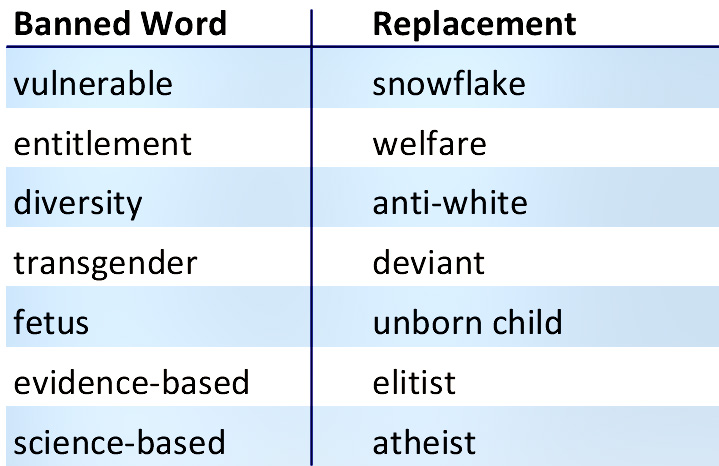 Update #2 — from Anne Harper Charity Hudley on Facebook:

Update #3 — A story in today's NYT ("Uproar Over Purported Ban at C.D.C. of Words Like 'Fetus'") supports the view that the goal is to avoid triggering sensitive Republican lawmakers:
The Times confirmed some details of the report with several officials, although a few suggested that the proposal was not so much a ban on words but recommendations to avoid some language to ease the path toward budget approval by Republicans.
Update #4 — from the New Yorker: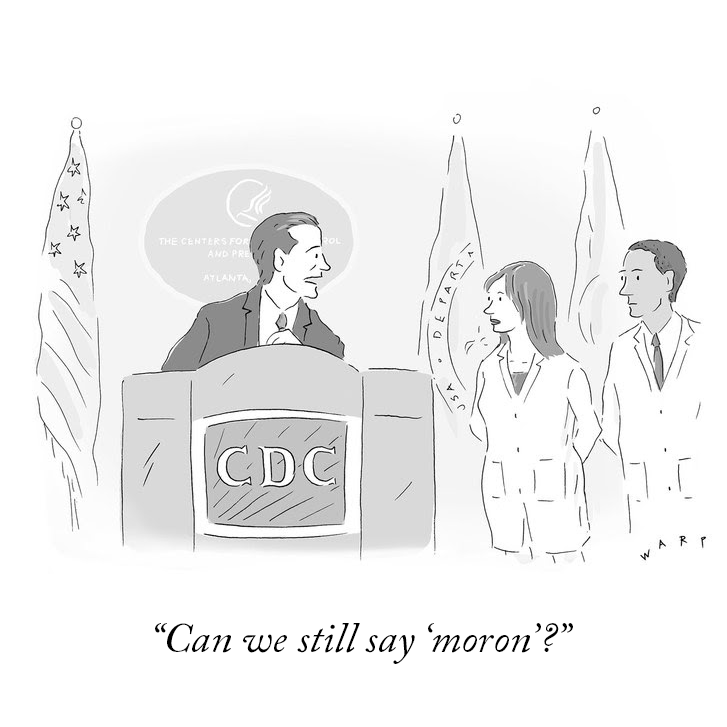 ---