« previous post | next post »
Josh Fruhlinger sends along a sublime crash blossom from BBC News: "Dog helps lightning strike Redruth mayor." Requisite screenshot in case it changes: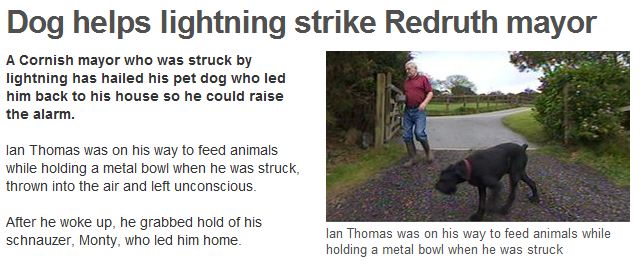 The dog in question doesn't help lightning strike the mayor of Redruth, of course (though that sounds like a great movie premise). Rather, the dog helps the mayor of Redruth, who, in BBC Brit head noun pile style, has been dubbed "lightning strike Redruth mayor" after being struck by lightning.
This one evokes the classic crash blossom, "Squad Helps Dog Bite Victim," but with extra opacity for readers unfamiliar with the noun pileups of British headlines. Coming across a crash blossom this tasty is almost as rare as getting struck by… well, you know.
---