« previous post | next post »
From dako-xiaweiyi:
Some years ago I was hiking in a remote part of Inner Mongolia with some Chinese friends when we came into a larger than normal village with a larger than normal building with the sign in the attached picture: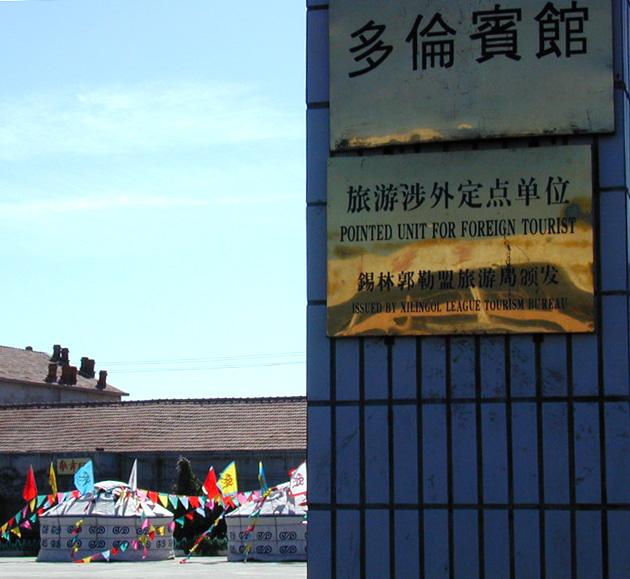 The sign on the wall says:
lǚyóu shèwài dìngdiǎn dānwèi 旅游涉外定点单位
(Chinglish translation: "pointed unit for foreign tourist")
Before trying to figure out what it really means, here are dako-xiaweiyi's reactions to what was written on the sign:
I was in China on a student visa, not tourist, but still thought this had something to do with me.  My friends thought that I probably needed to register or something with the local officials.  We asked the young woman in the one chair at the single bare desk in the reinforced concrete office what I was supposed to do at the pointed unit, and I remember her becoming very flustered and giving answers that were non-sensical bureaucratic gibberish even to my native Chinese speaking friends.  She finally admitted that she had never seen a foreign tourist before and didn't know what they were supposed to do, but she was paid to come to work every day and sit in the office labeled "Pointed Unit for Foreign Tourist."
We ended up going away without me doing anything, and her pretending like I never darkened her doorway.
What was supposed to happen at the "pointed unit?  Was that where I was supposed to get my Friend of China Medal?"
The four large characters — Duōlún bīnguǎn 多倫賓館  — on the top brass plaque indicate that this is a guest house of Duolun County in Xilin Gol League in Inner Mongolia.
Now, to break down the essential components of the problematic designation for this guest house:
lǚyóu shèwài dìngdiǎn dānwèi 旅游涉外定点单位
lǚyóu 旅游 ("tourism; travel")
shèwài 涉外 ("concerning / involving / having to do with foreign [affairs / nationals]")
dānwèi 单位 ("[work] unit", i.e., place of employment) — a characteristic feature of the PRC socialist economy
dìngdiǎn 定点 — this is the hardest part of the designation to grasp, so I put it last and will expatiate upon it at greater length than I did for the other elements.  Dìngdiǎn 定点 is short for zhǐdìng de dìdiǎn 指定的地点 ("designated location").  It indicates an authorized location for conducting business.
In the period of the planned socialist economy, the system of dìngdiǎn 定点 ("designated locations") meant that foreigners were not permitted to stay or even eat or buy things elsewhere than in those particular places designated by the government.  During the 80s, I often ran afoul of the authorities when I tried to stay in unauthorized hotels or eat in restaurants restricted to Chinese citizens or buy things in stores reserved for Chinese.  This was especially the case when I was in some godforsaken place where there were no dìngdiǎn 定点 ("designated locations").  What did they expect me to do?  Sleep on the ground?  Go hunting for food?  No, what they really wanted was for me to go away, get lost.
The places where we foreigners were permitted to frequent were usually called "friendship" stores and hotels.  The English word "friendship" renders the Chinese yǒuyì 友谊, which was the Chinese rendering of Russian druzhba дружба.  To complement these "friendship /  yǒuyì 友谊 / druzhba дружба establishments, China had, in addition to RMB / Yuan (which foreigners were not allowed to hold), a currency (I called it "funny money") that foreigners were forced to use, called wàihuì quàn 外汇券 ("foreign exchange certificates [FECs]").  I hated those FECs with a passion, because they prevented me from shopping anywhere I wished and meant that I paid grossly inflated prices for everything — often ten times or more what Chinese paid for something (including train and airplane tickets and entrance fees to museums, etc.).
A rather harrowing event that I experienced in Xinjiang in the 80s may shed some light on the Chinese thinking for setting up such "fixed points".  Without going into all the gory details (the situation was really tense and almost resulted in an "international incident"), I'll briefly describe what happened.
During the early or mid-80s, I went to Xinjiang with the distinguished Iranian scholar, Richard Frye (1920-2014), to attend what was probably the first international conference on the Silk Road held under PRC auspices.  Except for a famous Japanese art historian, Akiyama Terukazu (1918-2009), Frye and I were the "international" component of the conference.  We were met at the airport and driven to the conference site in the city of Urumchi in a retinue of vehicles and accompanied by television crews.
[This is a highly abbreviated account, mind you.]
As soon as we reached the conference venue, Frye and I were taken to a room, on the door of which it said something like "Office for looking after the foreign guests".  They marched us straight inside and demanded $500 each for conference fees and hotel costs.  Frye and I looked at each other in astonishment, since the organizers of the conference had sent us multiple communications saying that they would "cover all local costs".
Frye said to me, "Victor, we're leaving."
Then it became very ugly.  I should mention that the officials who were tasked with "looking after" us were wearing military uniforms.  I won't recount here how the standoff was defused, but what it really boiled down to, and this takes us back to what happened to dako in Inner Mongolia, is that they wanted their blood money, i.e., greenbacks.  In those days, China was absolutely desperate for foreign currency, above all American dollars.  The economists among us can explain why the Chinese wanted American dollars so badly, but they would do almost anything to get hold of them.
As to how the crisis over the extortion of dollars from Frye and Mair was resolved at that moment when we were among the handful of foreigners in the whole of vast Xinjiang, I'll just put it this way for the sake of simplicity.  Somebody gave those bloodthirsty officials / officers the dollars they demanded, but it wasn't Frye and and it wasn't Mair.
[Thanks to Yixue Yang and Jing Wen]
---