« previous post | next post »
At least, we're five months away from April Fool's Day…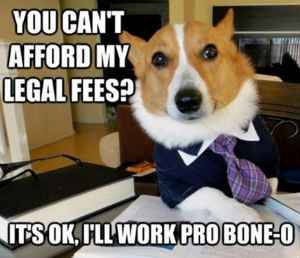 Lydia Wheeler, "Court rules request for 'lawyer dog' too 'ambiguous'", The Hill 10/30/2017:
The Louisiana Supreme Court won't hear an appeal from a man who claimed he told police during an interview to "just give me a lawyer dog," with a justice saying the request was "ambiguous." […]
[D]etectives reportedly advised the defendant of his Miranda rights, and the defendant stated he understood and waived those rights.
The defendant, however, claimed he invoked his right to counsel in a second police interview when he said "if y'all think I did it, I know that I didn't do it so why don't you just give me a lawyer dog cause this is not what's up." […]
"In my view, the defendant's ambiguous and equivocal reference to a 'lawyer dog' does not constitute an invocation of counsel that warrants termination of the interview," [Louisiana Supreme Court Justice Scott Crichton] said.
A non-canine animal comes to mind in this connection.
Is it possible that Justice Crichton is really dense enough to believe what he wrote? Or that the defense attorney was too incompetent to explain clearly what a vocative is? And that the court, which voted 6-1 to deny the appeal, really didn't anticipate the reaction?
Ed Krayewski, "He Said He Wanted a 'Lawyer[,] Dog'; The Court Ruled That Was Too Vague", Reason 10/30/2017:
Even setting aside that this errs on the side of law enforcement rather than on the side of the accused, there is nothing in Demesme's statement that is ambiguous, assuming the officers involved understood Demesme's vernacular. (And they had to have understood—if they didn't, why would they have been assigned to the questioning?)
Cricton's argument relies specifically on the ambiguity of what a "lawyer dog" might mean. And this alleged ambiguity is attributable entirely to the lack of a comma between "lawyer" and "dog" in the transcript. As such, the ambiguity is not the suspect's but the court's. And it requires willful ignorance to maintain it.
---