« previous post | next post »
The following sign may be seen on Chengzong Road in Jiading, Shanghai: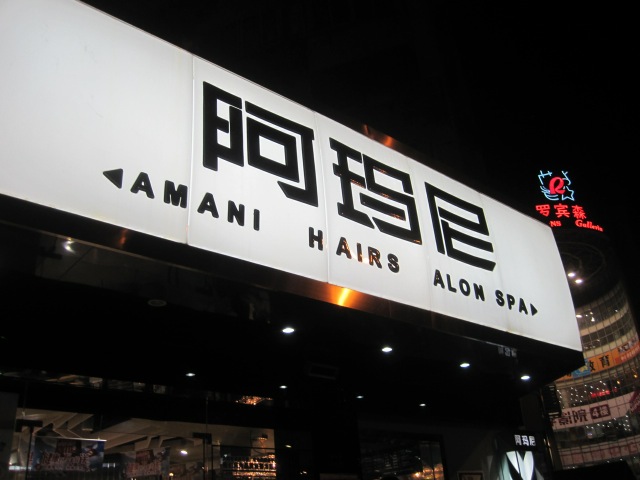 We learn from this expat website that the real name of this establishment is apparently Amani Hair Salon and Spa, and that its "Image Creative Director" is Mr. Frank Taylor, who is said to have previously held the same position at Vidal Sassoon. Since there is at least one more shop with this name at another address (No.15 Wu Jiang Road [near Nanjing Road, Shanghai TV Station]), it would appear that this is a chain. Why Mr. Frank Taylor would permit this sign to remain on his shop for months (it was at the Chengzong Road shop already in September and it was still there earlier this evening) is unclear.
Āmǎní 阿玛尼 is simply the sinographic transcription of Armani (the brand name for Giorgio Armani S.p.A. the international fashion house); the three characters with which it is written carry no semantic weight in this context.
The splitting of "hairs alon" is reminiscent of the "FIRE EXTINGUI SHER BOX" in this recent post.
[A tip of the hat to John Palkovic]
---