« previous post | next post »
License plate of a car in Beijing: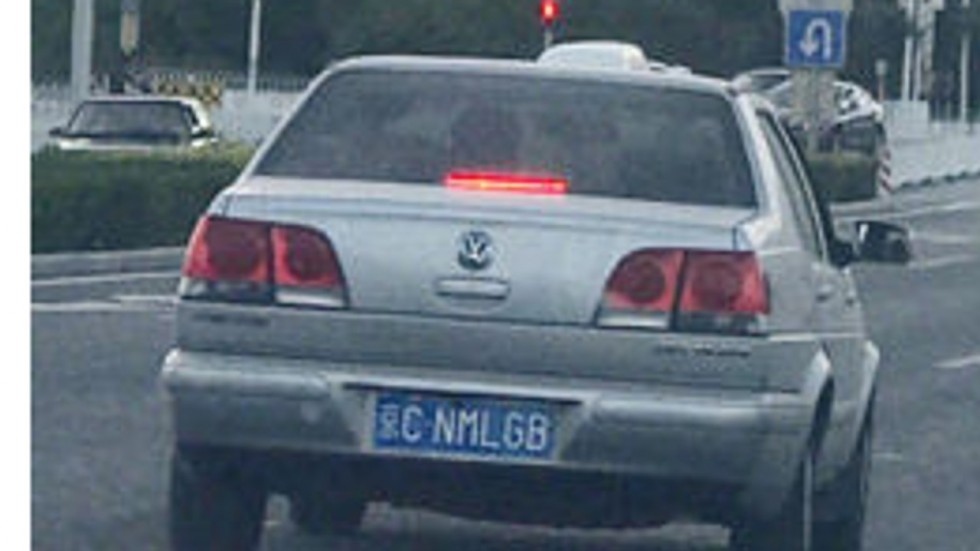 Source of photo:
"Chinese driver arrested for doctoring number plate to spell out obscene phrase:  Motorist added Latin characters to fake plate to make incredibly rude acronym" SCMP (9/28/17)
As you can see in the photograph above, the letters on the phony license plate are "CNMLGB".  That may not mean anything to most people who see it, but to those in the know, it is an acronym for:
cào nǐ māle gè bī 操你妈了个屄
("f*** your mother's ****" — as Laurie Chen translates the profanity in the SCMP)
There are various ways to write the first and last characters (the most vile parts of the phrase), including 肏 and 逼 / 比 / B, and there are variations on other parts of its construction, which I shan't go into here.
For glossary entries on these terms, see chinaSMACK under cào, cǎonímǎ, càonǐmā, and cào nǐ mā de bī.
A few related posts:
The use of CNMLGB and related alphabetic expressions on the internet and elsewhere shows to what extent Hanyu Pinyin has become naturalized in Chinese writing.  This is something Mark Hansell pointed out already in "The Sino-Alphabet: The Assimilation of Roman Letters into the Chinese Writing System," Sino-Platonic Papers, 45 (May, 1994), 1-28, where he shows that the Roman alphabet has long since been fully incorporated into the Chinese script.
[h.t. Jichang Lulu]
---