« previous post | next post »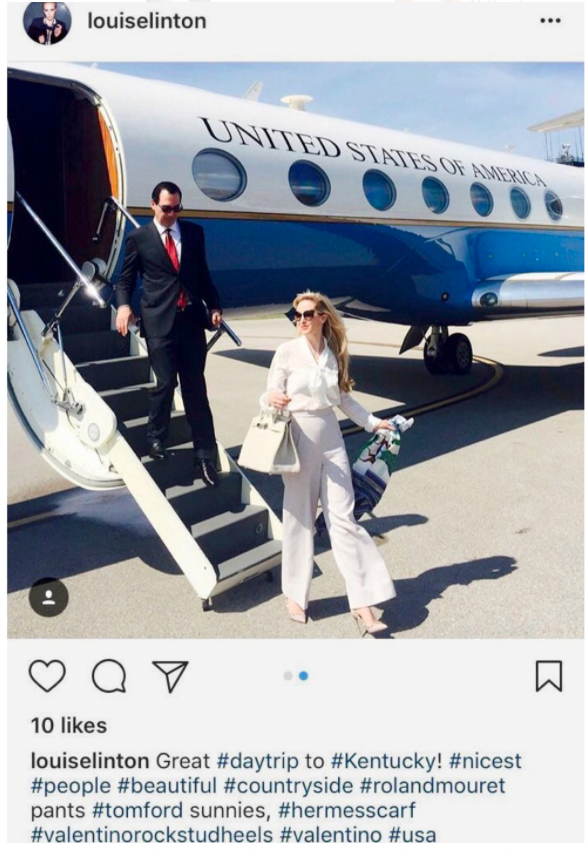 I wondered when this would happen. Jack Shafer, "Week 18: The Further Perils of Paul Manafort", Politico (Swamp Diary) 9/23/2017 [emphasis added]:
Flynn has hired seven attorneys, and his family has established a legal defense fund for him, stipulating that donations from foreign governments or the Trump campaign or business won't be accepted. Isn't it adorable that Flynn, who worked for a United Nations klatch of clients now insists on a legal defense entirely made in America?
In current public discourse, adorable is mostly what young children and small fluffy animals are, with the range of reference occasionally expanded to include young women, courting couples, or old people being childish. A small sample of today's adorable headlines: "Feel the full range of emotions with this adorable baby Orioles fan";  "ADORABLE: Baby calf and baby human make friends during photo shoot"; "Kelly Clarkson's Adorable Kids Come Visit Her on Set of 'Love So Soft' Music Video"; "Phoenix Zoo welcomes adorable baby giraffe"; "Marcel The Adorable Therapy Dog Brings Joy To People With Dementia"; "Inside Mandy Moore's Adorable Engagement Party With Her Besties"; "You Will Never Guess Prince Philip's Adorable Pet Name for Queen Elizabeth"; …
But adorable entered socio-political discourse about a month ago, as a sarcastic insult meant to suggest that ordinary people are small, childish, and unworthy of attention other than as a source of amusement.
Louise Linton, the wife of the U.S. treasury secretary, had instagrammed a picture of herself returning by government jet from a quick trip to Fort Knox to look at piles of gold (yes, really), hashtagging elements of her expensive wardrobe — "#roulandmouret pants #tomford sunnies, #hermesscarf  #valentinorockstudheels #valentino".
In response, Jenni Miller, described by the NYT as "a mother of three from Portland, Ore", commented "Glad we could pay for your little getaway #deplorable", where deplorable is an echo of Hillary Clinton's "basket of deplorables" comment.
Linton seems to have been stung, because she responded at considerable length: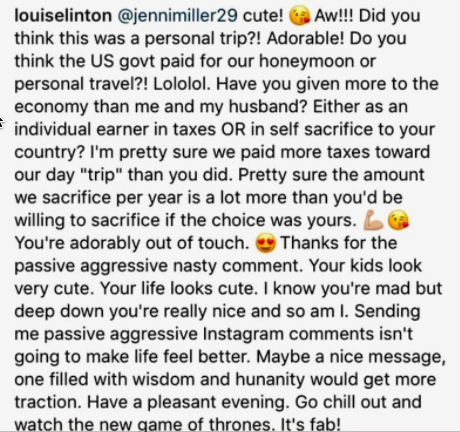 She uses forms of adorable twice:
Aw!! Did you think this was a personal trip?! Adorable! […]
You're adorably out of touch. […]
The meaning in context is clearly sarcastic — Ms. Miller is framed as one of those little people who are so far beneath Linton that she can view their criticism as amusingly cute, like a mischievous puppy chewing on one of her designer sandals.
Presumably Linton's adorable was primed, consciously or not, by Miller's deplorable. But I wondered at the time whether the word, as well as the attitudes it so effectively expresses, might be common in Linton's social circles.  Unfortunately for my curiosity, this word choice clearly communicated more about Linton than it did about Miller, and so given the wave of negative reactions, we're unlikely to see more examples from others like her.
Still, this way of expressing disdain is too effective to be abandoned, and so I've been expecting to see it picked up by others in contexts that are safely distant from Linton's "let them eat cake" effusion.
Michael Flynn is a perfect target, from that point of view — he's not poor, ordinary, small, fuzzy, young, female, elderly, or visually cute. But by suggesting that Flynn's defense-fund appeal is "adorable", Shafer manages to suggest that Flynn is now a powerless and even pitiable player trying in kittenish ways to escape the much larger and stronger forces threatening him.
---