« previous post | next post »
Whitney Calk submitted a request to the state of Tennessee for the following license plate:

According to Nick Carbone, "Tennessee Veggie Lover's Vanity License Plate Banned for 'Vulgarity'", Time 9/16/2011:
A Tennessee woman just wanted to share her love of vegetarian eating. The state thought she was expressing her love for a more explicit activity.
It's a battle of semantics – implied spacing, really. Whitney Calk innocently (or perhaps not) requested a vanity license plate from the state of Tennessee, one that read "ILVTOFU." But her personalized plate reflecting her fondness for bean curds was rejected on the grounds of "vulgarity." There's nothing vulgar about tofu, right?
From a linguistic point of view, this misunderstanding points to a problem that vanity plates share with most orthographic systems. A reader must decide how to group the sequence of symbols, and how to interpret the result.
Even when a writing system clearly marks the division into words, the higher-level chunking is often ambiguous, as our growing collection of crash blossoms illustrates. Is it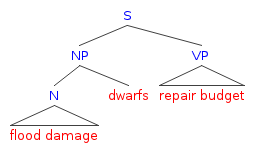 Or is it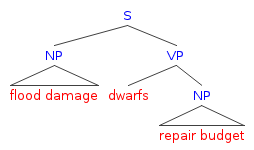 In the case of ILVTOFU, the basic division into words is ambiguous. Shall we read it "I LV TO FU" or "I LV TO F U" or, what Ms. Calk intended, "I LV TOFU"?
This type of segmentation ambiguity is rare in languages such as English whose orthography requires a space between words. In Chinese, however, where the writing system runs all of the syllables of words together, such amphibology is extremely common. Here's a tofu-flavored example: 黄豆腐烂了
could be either
Huángdòu fǔlàn le
"The soybeans are rotten"
OR
Huáng dòufu làn le
"The yellow bean curd is rotten"
N.B.: Lest someone think that such a string of five characters would never occur in real life, it is found several thousand times on the internet. Although these five characters would usually be parsed as "The soybeans are rotten," there really is something called "yellow bean curd", and in some instances of 黄豆腐烂了, the reader does have to stop and think where to break the string.
It is curious that Babel Fish ("The soybean corrupted") and Google Translate ("Soy rotten") basically parse the sentence as one would normally expect, while Baidu Fanyi yields the alternative parsing ("Yellow bean curd broken").
Whitney Calk, the Tennessee tofu-lover, is an employee of PETA, which issued a statement in support of her request. Back in April of 2009, the Colorado Department of Revenue had rejected a request for an identical vanity plate from Kelly Coffman-Lee, who had been a vegetarian for thirteen years and a vegan for the past four years. And in August of the same year, Virginia also denied a request for an ILVTOFU license plate.
Little did those who protest that their request for an ILVTOFU vanity plate has no sexual implications realize that in China, the homeland of tofu, this seemingly innocuous comestible has definite erotic connotations in certain circumstances.
Chī dòufu 吃豆腐 may mean simply "eat tofu," but it often is used to refer to a man flirting or taking liberties with a woman. Mó (mó) dòufu 摩(磨)豆腐 literally means "rub / scrape / stroke (grind) tofu," but it may also signify touching a woman's breasts or other sensitive parts, and frequently is used to signify mutual clitoral stimulation by lesbians. These connotations are salient enough to have been noted when China's president, Hu Jintao, was photographed grinding tofu in a village alleyway.
[Thanks are due to Joel Martinsen, David Moser, Jonathan Smith, Brendan O'Kane, and Zhao Lu]
---