« previous post | next post »
A posthumous collection of Shel Silverstein's poems and drawings has just been published, with the title Every Thing On It. That's also the title of a poem contained in the collection, and Buzzfeed reproduced it in a post today. The verse displays the kind of lightly subversive wordplay that Silverstein is famous for.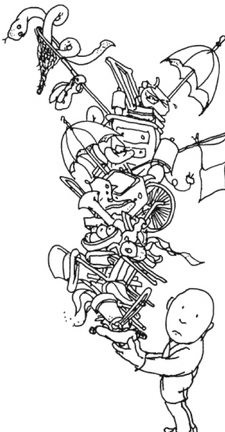 EVERY THING ON IT
I asked for a hot dog
With everything on it
And that was my big mistake,
'Cause it came with a parrot,
A bee in a bonnet,
A wristwatch, a wrench, and a rake.
It came with a goldfish,
A flag, and a fiddle,
A frog, and a front porch swing,
And a mouse in a mask—
That's the last time I ask
For a hot dog with everything.
The way that Silverstein plays with the meaning of "a hot dog with everything (on it)" is reminiscent of the old joke, "The Dalai Lama walks up to a hot dog vendor and says, 'Make me one with everything.'" A variant of this joke, featuring pizza instead of hot dogs, came up here a few months ago in a post by Geoff Pullum, about an Australian TV journalist trying to tell the joke to the Dalai Lama himself. Neal Whitman then gave the joke the full syntactic treatment on his Literal-Minded blog.
The humor of both the Dalai Lama joke and the Silverstein verse hinges on the referential ambiguity of everything. In the context of hot dog vendors (or pizza joints), everything refers to "every topping available." But if the domain of the quantifier everything is willfully misread to refer to "everything on earth" or "everything in the universe," hilarity ensues. Silverstein encourages an absurdly wide construal of everything by spelling it as every thing in the title of the poem, underscoring his move from the everything of conventional hot dog toppings to, well, everything but the kitchen sink.
All of this is somewhat similar to the jokes that were made back in 2006 over the Transportation Security Administration's advice to fliers, "We encourage everyone to pack gel-filled bras in their checked baggage." As I discussed in a Language Log post at the time, a lot of people had fun with this by intentionally misinterpreting the domain of the quantifier everyone. (See that post for further discussion of quantifier domain restriction as a thorny problem in the philosophy of language. [And see also Agustín Rayo, "When does 'everything' mean everything?", Analysis, 63(278):100-6, April 2003; and Timothy Williamson, "Everything," Language and Philosophical Linguistics, John Hawthorne and Dean W. Zimmerman (eds.), Wiley-Blackwell, 2003.])
For another playful take on everything, check out the song "One Everything" by They Might Be Giants, from their 2008 children's album Here Come the 123's:
---