« previous post | next post »
The following signs are posted in the rest room of a cafe in the fashionable Houhai district of Beijing: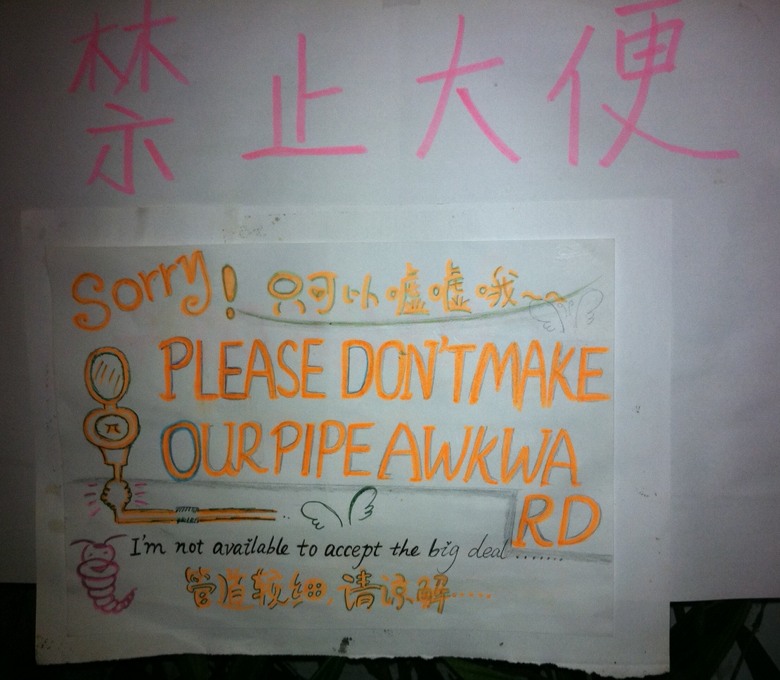 The large lettering in pink at the top decalres:
Jìnzhǐ dàbiàn 禁止大便 ("Defecation [the greater convenience] Forbidden")
The first line in Chinese of the sign in orange lettering below, though cutesy, is fairly straightforward:
Zhǐ kěyǐ xūxū ó
只可以嘘嘘哦
"Yo!  All you can do here is take a pee."
The second line of Chinese on the bottom sign is a bit more challenging to read:
Guǎndào jiào xì, qǐng liàngjiě
管道较细,请谅解
"The pipeline is a bit small; please understand."
What's curious is that the English translation of the second line given on the bottom sign ("I'm not available to accept the big deal……") is not at all a direct translation of the Chinese, but rather an independent paraphrase that playfully personifies the toilet.
This is a definite improvement over some of the other "greater / lesser convenience" signs we've examined in the past:
"Linguistic Advice in the Lavatory: Speaking Mandarin is a great convenience for everyone". 9/11/2007
"Urination is inhuman", 2/6/2011
[A tip of the hat to Maddie Wilcox and Sijie Ren]
---