« previous post | next post »
Yesterday morning, U.S. Representative Emanuel Cleaver (D Missouri) tweeted: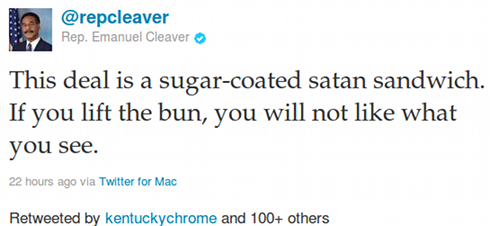 And a bit later, in an ABC News interview, Nancy Pelosi added to the menu:
Audio clip: Adobe Flash Player (version 9 or above) is required to play this audio clip. Download the latest version here. You also need to have JavaScript enabled in your browser.
Diane Sawyer:
As you know, Congressman Cleaver said this is a "Satan sandwich".
Nancy Pelosi:
It probably is, with some Satan fries on the side.
But uh nonetheless, uh it's something that we have to do.

This turn of phrase has spread widely. But despite the fact that most people seem to understand what it means, and why it's an appropriate description for the Budget Control Act now working its way through the legislative process in Washington, the phrase "Satan sandwich" has also been the occasion for a certain amount of puzzlement. Thus Melissa Bell, "A sugar-coated Satan sandwich, with a side of peas, please", Washington Post 8/1/2011:
What is a Satan sandwich exactly? According to a 2004 Urban Dictionary definition, it's "The chiefest of hell's dark delights, it is said that just one bite of it arouses an unspeakable lust of terrific potency."
I'm not sure that's what Cleaver meant, or I've been following the debt debate all wrong. The Twitter peanut gallery is already gleefully embracing the new meal. It seems to be a bigger hit than Obama's peas.
Ms. Bell is probably just being coy, since in fact it's absolutely clear that the Urban Dictionary entry is  irrelevant in this case. Also irrelevant is the one previous occasion for the phrase "Satan sandwich" to be used in the mainstream media (Marc Peyser, "Before They Were TV Stars", Newsweek 1/2/2003):
They seemed almost normal. Sure, the son had a blond mohawk and the daughter wore magenta eye shadow. But they weren't covered in tattoos or anything. No one nibbled on a bat. Even the outrageous dad sat politely in his chair. In January, two months before they would become the year's big TV phenomenon, MTV's Brian Graden introduced the Osbournes at their first press conference. […]
Sharon: "The best neighbor we've ever had is Pat Boone." Pat Boone? "Seriously," Sharon said. "We miss him terribly." Kelly: "We had Pat Boone on one side and Meat Loaf on the other." More laughter. And another punch line. Ozzy: "It was sort of like a Satan sandwich."
Instead, it's obvious that "Satan sandwich" was Rep. Cleaver's sanitized version of the old expression "shit sandwich".
This phrase came to be associated with the football player and coach Joe Schmidt, who was fond of the maxim "Life is a shit sandwich, and every day you take another bite". (The more sanitary end of this saying was used by Larry Merchant for the title of his 1971 football book And every day you take another bite.)
A slightly different continuation was featured on t-shirts a bit later, as in this 1981 magazine ad: "Life is like a shit sandwich. The more bread you have, the less shit you have to eat."
Thus the expression "shit sandwich" has been in widespread use, for at least half a century, to describe a deeply unpleasant experience which is nevertheless something that you're expected to swallow. I certainly heard it more than once in Vietnam.
And the "sugar-coated" part is an obviously appropriate elaboration, also in fairly common use, e.g. this 2007 cri de coeur from the other end of the political spectrum:
It is so refreshing to see that I am not the only one that hasn't been turned into a drooling, non thinking for myself, idiotic, moronic, retard by the politically correct forced diversity sugar coated shit sandwich that the mainstream view bandwagon is forcing everyone to eat these days.
---