« previous post | next post »
Today's SMBC:

Mouseover title: "Dream big, guys."

The aftercomic: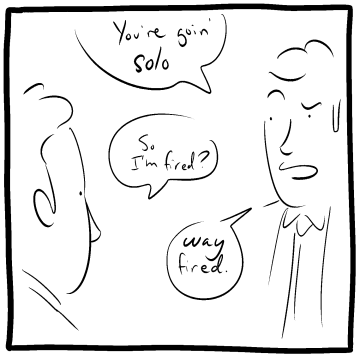 ---
9 Comments
Simon Fodden said,

I'm interested in the use of "danning" as a response, presumably positive or emphatic. Neither of the current definitions in the Urban Dictionary seems to apply to this use.

[(myl) Another victim of the "CLINT Effect"…]

Vincent Henriksen said,

I'm pretty sure it just says "Dannng". I was tricked in the beginning as well.

It all started with Han…

James said,

It's "dannng"

(No 'i')

Noam said,

It's even more impressive with "free solo": https://en.m.wikipedia.org/wiki/Free_solo_climbing (sorry, not sure how to embed a clickable URL).

Martha said,

I would have spelled it "daaang," myself.

Clearly a matter of [dɑŋːːː] vs. [dɑːːːŋ].

Martha said,

Would anyone say [dɑŋːːː], though? I wouldn't.

Arthur Baker said,

The US women's soccer team is very impressive, especially the goalkeeper. Hope she is solo.