« previous post | next post »
I gave a talk a few weeks ago at the Laboratoire de Phonétique et Phonologie in Paris, founded in 1897 by L'abbé P.-J. Rousselot. Antonia Colazo-Simon took this picture of l'abbé and me: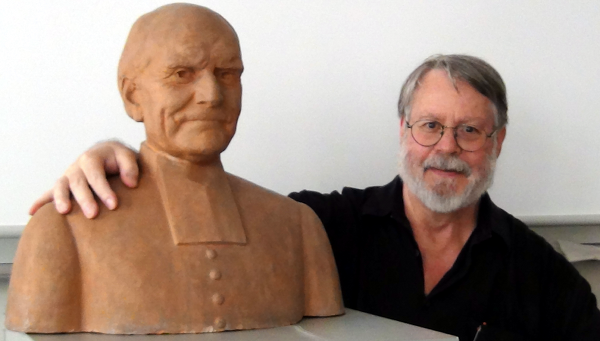 The picture below, from the cover of the first volume of L'abbé Rousselot's Principes de phonétique expérimentale (1897), shows the elegant mechanical complexities that used to be the basis of phonetic measurements: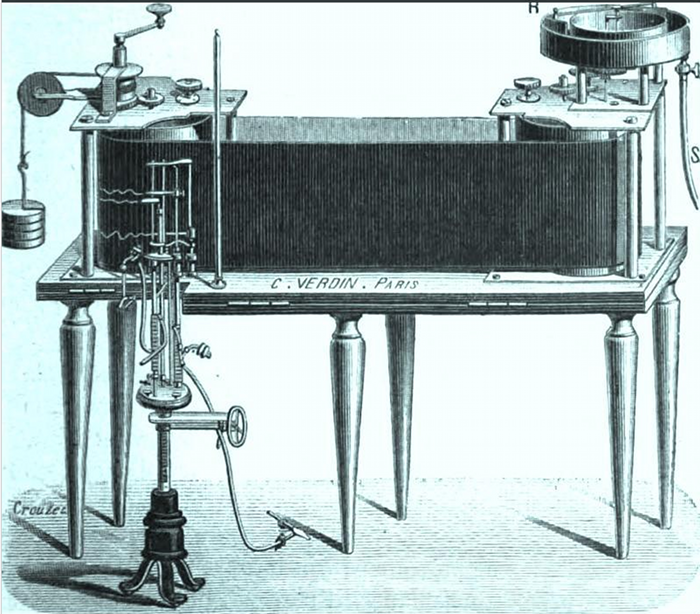 Using an a device of this type, Rousselot was the first scientist to note the lengthening of phrase-final syllables.
The current occupant of L'abbé Rousselot's chair is Jacqueline Vaissière. She is also the director of the newly-formed Projet EFL, which joins the LPP with 13 other Paris-area UMRs ("unité mixte de recherche" = "mixed research unit") in a Laboratoire d'excellence.   EFL is an English acronym —  "Empirical Foundations of Linguistics" — for an organization whose full name in French is Fondements empiriques de la linguistique : données, méthodes, modèles ("Empirical foundations of linguistics: data, methods, models").
This is one of the 100 "Laboratoires d'excellence" ("labex") recently established by the French government. The fact that at least some of these have official English-language names may surprise you. Even more interesting is the fact that the applications for these 10-year grants, submitted last year, were encouraged or perhaps even required to be in English. This is apparently part of the French government's effort to increase the international visibility of French science.
EFL's proposal included this summary of planned research activities:
Planned research activities are organized in seven collaborative strands corresponding to areas where the partnering research teams have already got successful results. The five vertical strands each take on a new challenge, on:
(1) Phonetic and phonological complexity;
(2) Experimental grammar in a cross-linguistic perspective;
(3) Typology and dynamics of linguistic systems;
(4) Language representation and processing from a lifespan perspective
(5) Computational semantic analysis.
The two transversal strands (Language resources; Experimental methods) allow for the
sharing of resources (lexica, corpora, databases), existing methods and platforms. They will foster scientific breakthroughs and innovation through the development of new resources and platforms and corresponding methods and best practice. These transversal strands will play a crucial role for the project as a whole.
[It will no doubt occur to some of you that the English-language acronym "EFL" is already in common use for "English as a Foreign Language". This is not unknown to Jacqueline and others in Paris, though I'm not sure what it means for future modes of reference to the new organization, which is barely getting started. During my visit, I mostly heard it referred to as "le labex".]
---