« previous post | next post »
Rona Barrett interviews Donald Trump in 1980:
This is one of 55 interviews with Donald Trump, between 1980 and 2017, that I've found on youtube or vimeo. I'm planning to look at the evolution of his rhetoric — both content and performance — over the years. This is the first installment.
Rona Barrett:
you are a mover you are a doer
if you could make america perfect
how would you do it?
Donald Trump:
well i think that america is a country that
has tremendous tremendous potential
i think that much like the mind i think that america is using very very little of its potential
i feel that this country with the proper leadership can go on to become what it once was
and i hope and certainly hope
that it does go on to be what it uh
what it should be
Rona Barrett:
what should it be?
Donald Trump:
well it should be a c- it should really be a country that gets the respect of other countries today
Rona Barrett:
is respect the most important thing in your opinion?
Donald Trump:
well respect can lead to other things
when you get the respect of other countries then the other countries tend to do a little bit as you
do
and you can create the right attitudes
the- the iranian situation is a case in point
that they hold our hostages
is just
absolutely
and totally ridiculous
that this country sits back and allows a country such as iran to hold our hostages to my way of thinking
is
a horror
and i don't think they'd do it with other countries
I honestly don't think they'd do it with other # countries
Rona Barrett:
obviously you're advocating that we should have gone in there with troops et cetera and brought our boys out
Donald Trump:
i absolutely feel that yes
i don't think there's any question in it, there's no question in my mind
i think right now we'd be an oil-rich nath- nation.
and i believe that we should have done it and um
very disappointed that we didn't do it
and i don't think anybody would have held us in abeyance
i don't think anybody would have been angry with us
and we had every right to do it at the time
i think we've lost the opportunity
Rona Barrett:
for some people the ultimate goal in life
uh has been becoming the president of the united states – would you like to be the president of the united states?
Donald Trump:
i really don't believe i would rona
but i would like to see somebody
as the president who could do the job and there are very capable people in this country
Rona Barrett:
most people who are capable are not running for office – most men are frightened of politics today
Donald Trump:
it is a shame isn't it
Rona Barrett:
yes
Donald Trump:
it is a shame
the most capable people
are not
necessarily running for political office
and that is a very sad commentary on the country
they had major corporations and they had this and that but they are not running for political office
Rona Barrett:
why wouldn't someone like yourself run for political office – you have all the money that you possibly need –
you've accomplished a great deal even though you are only thirty four
i know there's a lot of things that you possibly can do in the years ahead
why wouldn't you dedicate yourself to public service?
Donald Trump:
because I think it's a very mean life
I- I would love- and I would- I would dedicate my life to this country but i see it as being a mean life and i also see it that somebody with
strong views
and somebody with the kind of views that are maybe a little bit unpopular which may be right
but may be unpopular
wouldn't necessarily have a chance against somebody with
no great brain but a big smile
and that's a sad commentary on the political process
Rona Barrett:
television in a strange way has ruined that process hasn't it?
Donald Trump:
it's hurt the process very much i mean the abraham lincolns of the world- abraham lincoln would probably not
be electable today because of television he was not a handsome man and he did not smile at all
he would not be
considered to be a prime candidate for the presidency and that's a shame isn't it
Rona Barrett:
but if all the men are like you
then when are we going to get somebody who might be good?
Donald Trump:
i don't know i hope it's around the corner but i don't know
i really don't know – what i would like to be involved in is
trying to help choose somebody
or working with a group of people whereby
they put up a candidate who would be acceptable to
be a presidential- you know uh t- to be the president
the country
if we had the one man
and it's really not
that
big a situation you know people say well what could anybody do as president
the one man could turn this country around
the one proper president could turn this country around i firmly believe that
Rona Barrett:
if you lost your fortune today what would you do tomorrow?
Donald Trump:
maybe i'd run for president
i don't know
For now I'll just observe that his median pitch is much lower here — 103.6 Hz — than in the Weekly Addresses I looked at a little while ago: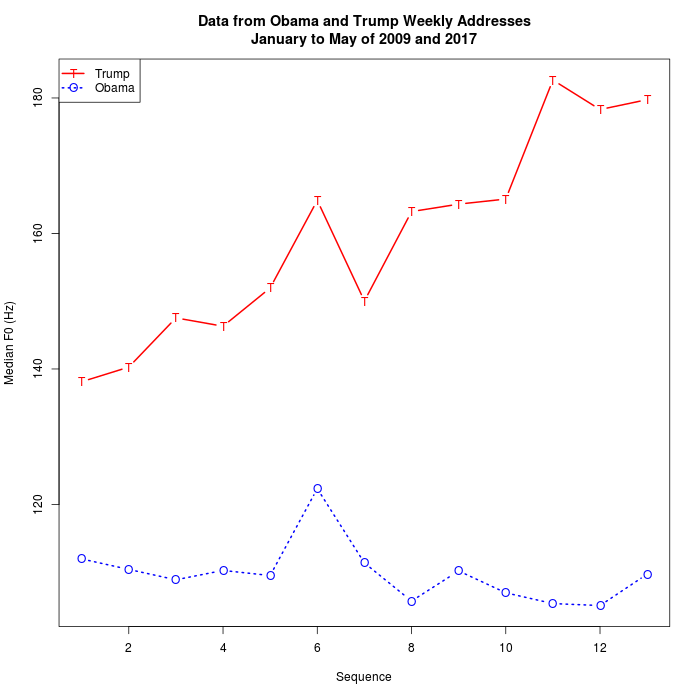 There could be many reasons for this difference. But perhaps we shouldn't discount the effects of what Mr. Trump in 1980 foresaw as "a very mean life".
---