« previous post | next post »
I just asked @DarrellIssa abt the Comey news and he flicked me off — literally gave me the middle finger — and kept walking. Said nothing

— Rachael Bade (@rachaelmbade) May 16, 2017
Sent in with the comment "Who the hell says 'flicked off' instead of 'flipped off'??"

This turns out to be a common question:
"Would you say 'She flipped me off' or 'She flicked me off'?"
"Do you say 'Flip Off' or 'Flick Off'?"
"Which one is correct: 'flip' or 'flick' someone off?"
"I have heard people say 'flipped me off' and 'flicked me off' when referring to the middle finger. Is the origin regionally based? What is the origin of each? Is one older? One more used (I'm guessing 'flipped off' over 'flicked')?"
Google Books ngrams gives the nod to flipped: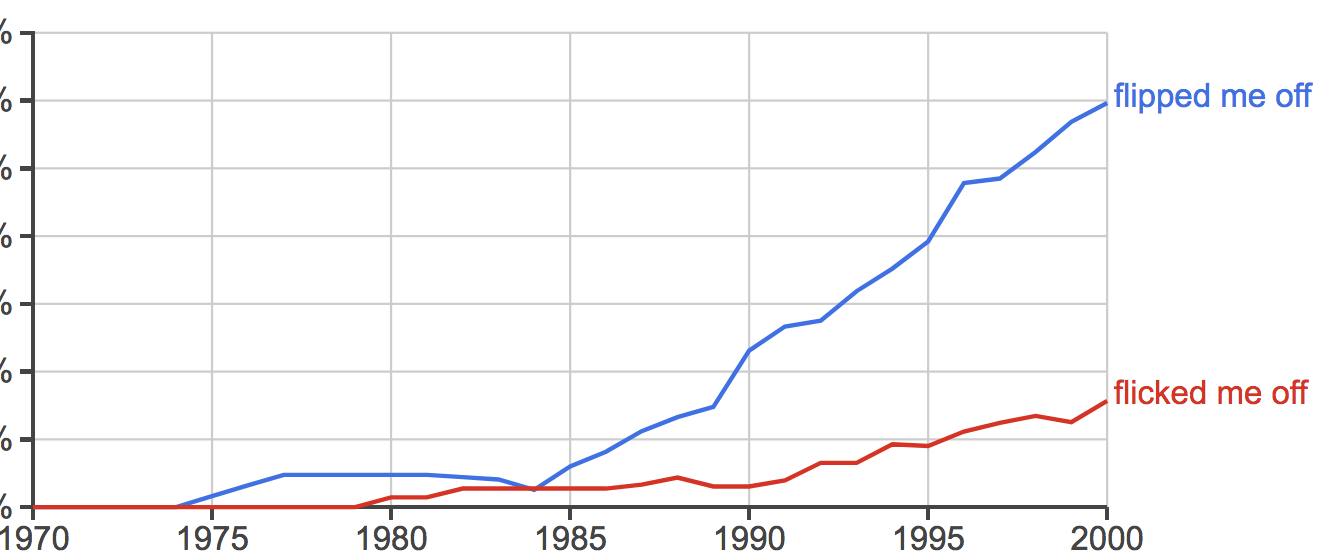 The current Google News index has 283 actual results for "flipped me off" vs. 23 for "flicked me off" (of which 1 refers to the Darrell Issa incident).
So, "flip" is commoner but both are Out There.
Another "Bu?? naked" case — but like the person who sent the query, I can't recall ever having seen or heard "flick off".
---