« previous post | next post »
Another example of extreme singular their, this one from Google+: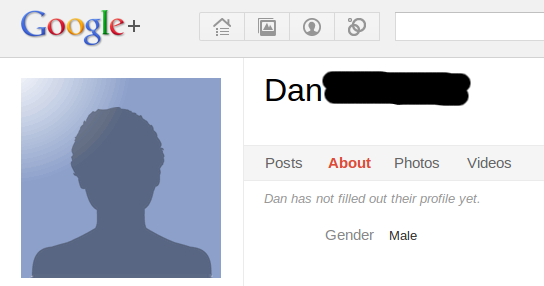 Facebook faced this issue a few years ago: "Singular they on Faceboook" (4/28/2007), "Facebook phases out singular 'they'" (6/27/2008), "New pronoun issues on Facebook" (5/26/2009).
The interesting thing about this case is that Google+ believes that it knows Dan's "gender", but chooses not to use this information in choosing a pronoun.
See here, here, here, here, here, here, and here for some other prior art.
[Tip of the hat to Lane Greene]
Update — as Viktor points out in the comments, this is all explained in a YouTube video:
I guess that the glitch exemplified by the screenshot arises because "Dan" had entered his "gender" as "male" when "he" signed up, but had not yet filled out "his" profile, so that "his" gender-privacy flags were in some kind of mixed state.
---