« previous post | next post »
In the NYT this weekend, Ben Zimmer has a great piece on new horizons in humanities computing:  "The Jargon of the Novel, Computed", 7/29/2011. The article is illustrated with a bar chart of the frequency in COCA of "bolt upright" in various genres: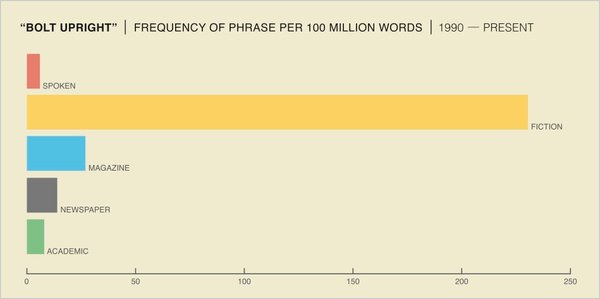 Among the nuggets you can find in Ben's article is an allusion to David Bamman and Gregory Crane, "The Logic and Discovery of Textual Allusion", LaTeCH2008, which alone is worth the price of admission. But the thing that mainly struck me was the possibility that I'd gotten "bolt upright" wrong, all these years.

Here's the clue, in (elliptical) context:
Has a vernacular style become the standard for the typical fiction writer? Or is literary language still a distinct and peculiar beast? […]
When the lexicographer Orin Hargraves was studying collocations for a project at Oxford University Press […], he struck upon a trove of collocations that "would not be statistically significant were it not for their appearance in fiction." […]
Hargraves found peculiar patterns in simple words like the verb "brush." Everybody talks about brushing their teeth, but other possible companions, like "hair," "strand," "lock" and "lip," appear up to 150 times more frequently in fiction than in any other genre. […]
"Bolting upright" and "drawing one's breath" are two more fiction-specific turns of phrase revealed by the corpus. […]
When we see a character in contemporary fiction "bolt upright" or "draw a breath," we join in this silent game, picking up the subtle cues that telegraph a literary style.
Now, there's absolutely no question that "bolt upright" is a feature of literary style. On top of Ben's evidence from COCA, I can add the fact that in more than 25 million words of LDC conversational transcripts, it occurs exactly zero times. But I realized, reading Ben's article, that I had always thought of the role of bolt in that phrase as some kind of weird adverb. I also realized that I could not think of any facts to support this assumption. And I'm certainly aware that bolt is a verb with a plausibly related meaning "to move suddenly" or "to take flight".
So is "bolt upright" really a verb phrase?
It turns out that the OED has an entry for "bolt, adv.", where "The n. and stem of the vb. [is] used to qualify adjectives and verbs", because "The n. is used similatively (cf. snow-white adj. and n., sand-blind adj.)".
All of the examples allegedly modifying adjectives involve "bolt upright" or "bolt uprightness", as I'd expect:
1580 T. North tr. Plutarch Lives (1676) 706   His hair stood bolt upright upon his head.
1635 R. Brathwait tr. M. Silesio Arcadian Princesse 158   Epimonos all this while sat bolt-upright in a chaire.
1824 W. Irving Tales of Traveller I. 87,   I suddenly sprang bolt upright in my chair, and awoke.
1726 N. Amhurst Terræ-filius xxix. 155   That bolt uprightness of mien.
1850 H. B. Stowe Uncle Tom's Cabin xv. 152   Stiffness and squareness, and bolt-uprightness.
There's one lonely archaic case where bolt seems to modify a prepositional phrase:
1651 J. Cleveland Poems 12   On his knees‥With hands bolt up to Heaven.
There are two examples where the OED says that "The vb. stem is used adv. to express a sudden rapid motion; = 'bolting, with one bolt, straight'":
1839 T. Hood I'm not Single Man vi, in Hood's Own 123/2   Bolt up the stairs they ran.
1877 J. S. Blackie Wise Men Greece 121   A pitchy pillar of thick-volumed smoke Shot bolt to heaven.
I'm not clear how it's possible to tell that this is the verb stem rather than the noun.
So at this point I was thinking to myself, could Ben have misconstrued this idiom? But it turns out to be me whose psychological lexicon was wrong, or at least incomplete. The OED also give sense 1.b. for bolt the verb, "To spring or start; esp. with up, upright":
1771 T. Smollett Humphry Clinker II. 108   The patient, bolting upright in the bed, collared each of these assistants with the grasp of Hercules.
1813 Scott Bridal of Triermain ii. x. 67   Screaming with agony and fright, He bolted twenty feet upright.
And despite the fact that the OED qualifies this verbal "bolt upright" as "Obs. or arch.", there are many thousands of recent Google Books results for "bolted upright", "bolting upright", and "bolts upright", indicating that this locution is alive and well in the literary patois:
I bolted upright in bed, torn from sleep, out of breath. (2005)
Kimberly bolted upright from the chair, her braid askew. (2008)
Right about then, in the clown theater of my brain, I bolted upright and shouted "Eureka! (2009)
She bolted upright, heart racing, and saw Jamie in the doorway behind her brother. (2010)
"What," Kate demanded, bolting upright, "do you think you're doing?" (2000)
Bolting upright and snatching her wrap from its hook she hurried out into the hallway where a quivering hand held a candle aloft, revealing the pale face of Mrs. Forsythe. (2003)
"You sound like hell," I said, bolting upright in bed. (2006)
Bolting upright, he grabbed his gun and took aim. (2011)
Live and learn. Oh, and I learned something else as well: the use of similative to characterize the role of nouns in expressions like "snow white" (and "stone dead", "bone dry", "ice cold", "dog tired", etc.).
Update — For some indirect evidence that the contemporary literary usage of "bolt upright" tends to involve bolt as an adjectival modifier rather than a verb, look at this comparison of distribution across forms between "bolt upright" and "sit upright" (counts from the Fiction section of COCA):
| | | | | |
| --- | --- | --- | --- | --- |
| FRAME | "bolt" count | "bolt" % | "sit" count | "sit" percent |
| __ upright | 134 | 63,4% | 26 | 14.3% |
| __ing upright | 1 | 0.5% | 55 | 30.2% |
| bolted/sat upright | 39 | 19.9% | 85 | 46.7% |
| __s upright | 22 | 11.2% | 16 | 8.8% |
| TOTAL | 196 | 100% | 182 | 100% |
And of the 134 hits in fiction for "bolt upright", 112 are instances of the pattern "sit|sits|sat|sitting bolt upright", in which bolt clearly corresponds to what the OED calls a "noun used similatively". The same thing is true of most of the remaining cases, like
even the slightest rustle was enough to bring me bolt upright in bed
He popped bolt upright.
in front of us sat her dad bolt upright
She was bolt upright in one of the old chairs
Blood rushes to my head and I jump to my feet bolt upright.
He stands BOLT upright.
There appear to be only five(of 134) examples where "bolt" is a verb:
A sharp rap on the door caused Larissa to bolt upright,
I bolt upright in bed and call " Mom! " in a quick jerk of breath
Tries to bolt upright. But his ARMS and LEGS. ARE CLAMPED to the bed.
I bolt upright at five A.M.
An ear-splitting THUNDER CRASH causes the boy to bolt upright in bed
Update #2 — I should clarify what seems weird to me about bolt as a quasi-adverb — a "similative" noun — in "bolt upright".
First, the relevant sense of bolt as a noun, meaning "A sudden spring or start", is rare at best — and the OED's most recent citation for it is from 1594.
Second, similar but more common nouns like jump or lurch or leap don't work with upright in the pattern represented by "snow white", "stone cold" and the like:
*even the slightest rustle was enough to bring me jump upright in bed
*He popped lurch upright.
*in front of us sat her dad leap upright
The theory that "bolt upright" might be based on the "crossbow bolt" sense of bolt doesn't really fare any better in analogical cases:
*even the slightest rustle was enough to bring me arrow upright in bed
*He popped stick upright.
*in front of us sat her dad spear upright
So for me, and I think for many of the contemporary writers who use the expression, "bolt upright" is just a idiomatically-modified version of the adjective upright, in which bolt has some semantic resonance with the verb bolt (as in what horses and fugitives do), and maybe with the noun in lightning bolt, but no real compositional path from its constituent parts.
---