« previous post | next post »
The most recent xkcd offers some sound editorial guidance: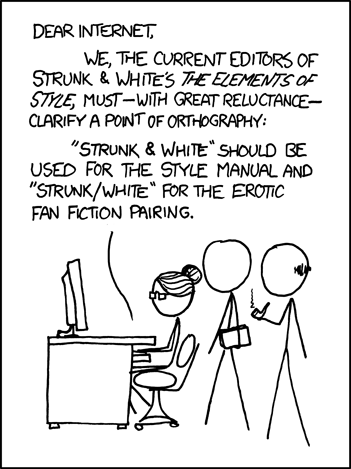 The validity of the strip's title string ("The best thing about Strunk/White fanfiction is that it's virtually guaranteed to be well written") is less clear, for reasons that Geoff Pullum has explained at length in various places, for example here.
[For those of you who are reading this via time machine from the 1950s, I should explain that "fan fiction" refers to stories about characters in popular books, movies, or TV series, written and distributed by fans rather than by the original authors or others authorized by the owners of the original material. "Slash fiction" refers to "a genre of fan fiction that focuses on the depiction of romantic or sexual relationships between fictional characters of the same sex".
Anne Kustritz ("Slashing the Romance Narrative", Journal of American Culture 26(3) 2003) observes that the authors of slash fiction "are almost solely heterosexual women", although the characters in the "noncanonical romantic relationships" are "usually male".
I have not been able to find any non-fictional instances of Strunk/White fan fiction, but we can hope that in the future, references to these names will more often be separated by a slash than by an ampersand. ]
Update — KJ in the comments points us to Lev Grossman, "The Boy Who Lived Forever", Time 7/7/2011. And other commenters contributed several fragments that illustrate the potential for slashing Strunk/White, starting with Dan H:
Strunk fell back, exhausted onto the great number of dead leaves that were lying on the ground.
"That was incredible," he sighed – his voice passive. "I – I can't describe…"
White smiled, and kissed him again. "It's alright, my darling," he said. "After all – you always said we should omit needless words."
Pflaumbaum continued:
"But darling," cried Strunk, "I don't want no-one else!"
"Control yourself, William", said White sternly. "Your negatives are all over the place."
"No, Elwin," he replied, "they're not." And he opened the bathroom door to reveal Fowler, resplendent in White's velvet dressing-gown.
And again:
They lay back and gazed at the stars, in their unfathomable, unsplit infinity.
"Do you ever feel," asked White, "that there's only us two, in the whole of Creation?"
"No," replied Strunk, "Though I do often feel that there are only we two."
"Forget it," said White, getting up and stalking back to the house.
"Uh-oh," said Strunk, "My big mouth and I."
I should point out that there are some potential points of inspiration in the canon, as in White's description of Strunk ("Letter from the East", New Yorker 7/27/1957):
From every line there peers out at me the puckish face of my professor, his short hair parted neatly in the middle and combed down over his forehead, his eyes blinking incessantly behind steel-rimmed spectacles as though he had just emerged into strong light, his lips nibbling each other like nervous horses, his smile shuttling to and fro under a carefully edged mustache.
And again:
I treasure "The Elements of Style" for its sharp advice, but I treasure it even more for the audacity and self-confidence of its author. Will knew where he stood. He was so sure of where he stood, and made his position so clear and so plausible, that his peculiar stance has continued to invigorate me — and, I am sure, thousands of other ex-students — during the years that have intervened since our first encounter. He had a number of likes and dislikes that were almost as whimsical as the choice of a necktie, yet he made them seem utterly convincing. He disliked the word "forceful" and advised us to use "forcible" instead. He felt that the word "clever" was greatly overused; "it is best restricted to ingenuity displayed in small matters." He despised the expression "student body," which he termed gruesome, and made a special trip downtown to the Alumni News office one day to protest the expression and suggest that "studentry" be substituted, a coinage of his own which he felt was similar to "citizenry." […]
He scorned the vague, the tame, the colorless, the irresolute. He felt that it was worse to be irresolute than to be wrong. I remember a day in class when he leaned far forward in his characteristic pose — the pose of a man about to impart a secret — and croaked, "If you don't know how to pronounce a word, say it loud! If you don't know how to pronounce a word, say it loud!" This comical piece of advice struck me as sound at the time, and I still respect it.
---