« previous post | next post »
A couple of months ago, I learned about a new social-media sensation by reading a series of exchanges  on the Facebook walls of teen friends, e.g.:
A: Hey do you know about this? You should join. NOW. DO IT.
B: Ahahahahahahahahahaha C showed me this. It ruined my sleep habits.
A: i know i went on a few weeks ago and now I CANT SLEEP
A: EVER
C: I saw you on it this morning and I'm like whoa
A: you should drop in at my room [URL]
C: I did and I said hi P:
A: huh i didn't see you
A:but HI!
C: yeah you weren't responding
C: I dropped in and awesomed a Deerhunter track some other dude was playing
A: oh okay i think i was derping around on gizmodo for a while so you probably came in then.
That sleep-ruining site is turntable.fm.
It's one of those things where you need to know someone to get in, and it's not available outside the U.S. because of copyright worries (this seems to be a case where the DMCA makes the U.S. more liberal than other countries are), and you might not feel the need of a new way to spend your nights. So you can see some screenshots and get an idea of what it's like from Erick Schonfeld, "This is How Sacca Spends His Friday Nights: Wearing A Space Helmet On Turntable.fm", TechCrunch 5/20/2011, or Eliot van Buskirk, "Can turntable.fm survive its popularity?", Wired 6/27/2011,  or Brenna Ehrlich and Andrea Bartz, "5 tips for spinning on the addictive Turntable.fm", CNN 7/13/2011. Or etc.
But this is Language Log, not Social Media Log, so what's the linguistic angle? Well, the on-going verbification of lame and awesome is getting a boost from turntable.fm's labelled buttons: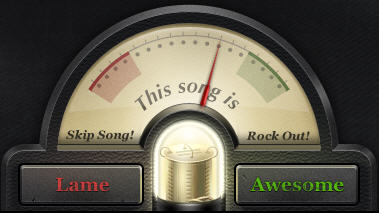 And my search for relevant citations (e.g. "Songs should not be scrobbled unless they're awesomed") reminded me of another neologism that hasn't been discussed here, namely the verb scrobble.
This is one that the OED has missed, but Wikipedia tells us that scrobble means "kidnap or capture":
The term was coined by John Masefield in "The Midnight Folk", published in 1927, and is used extensively in the "Box of Delights", published in 1937, where Cole Hawlings is 'scrobbled' by throwing a black bag over his head and bundling him into a car.
Neil Gaiman also used scrobbling in the same sense in "Neverwhere", published in 1996. Gaiman acknowledges the Box of Delights as the origin of the word.
More relevantly, the term was adopted by last.fm — apparently from its uses by Masefield, Gaiman, and other novels — where
Scrobbling a song means that when you listen to it, the name of the song is sent to Last.fm and added to your music profile.
The Wiktionary entry omits the Masefield/Gaiman history, and also removes the link to last.fm:
(Internet, slang) To publish one's music-listening habits via software, as counted events when songs or albums are played, to selected internet services in order to track them over time, out of curiosity and/or to make them visible to others.
Joseph Wright's English Dialect Dictionary (1904) has an entry for scrobble, variously glossed as "to scratch; to paw, as a dog", "to scramble, climb, crawl on hands and knees, to walk about with difficulty; to struggle",  "to struggle hard for a livelihood", "to entangle; to ravel", "a quarrel, a squabble". And Georgina Jackson's 1879  Shropshire Word-book glosses scrobble as  "a state of difficulty or trouble — generally brought about by folly or ill conduct; a scrape", "a tangle", or "to scramble". These make phonetic-symbolism sense, as well as having obvious affinities with scramble, scrape, squabble, etc., but they don't fit the last.fm usage at all.
Although the OED lacks scrobble, my search in that august publication did turn up the noun scrobicule or scrobicle, meaning "A small pit or depression; spec. the smooth area around the tubercles of a sea-urchin", and the derived adjectives scrobicular "Pertaining to or surrounded by scrobicules" and scrobiculous or scrobiculate "Having many small depressions; furrowed or pitted", which I offer for lagniappe.
---