« previous post | next post »
Banner displayed on the main campus of Huazhong University of Science and Technology in Wuhan, capital of Hubei Province, by members of the women's basketball team: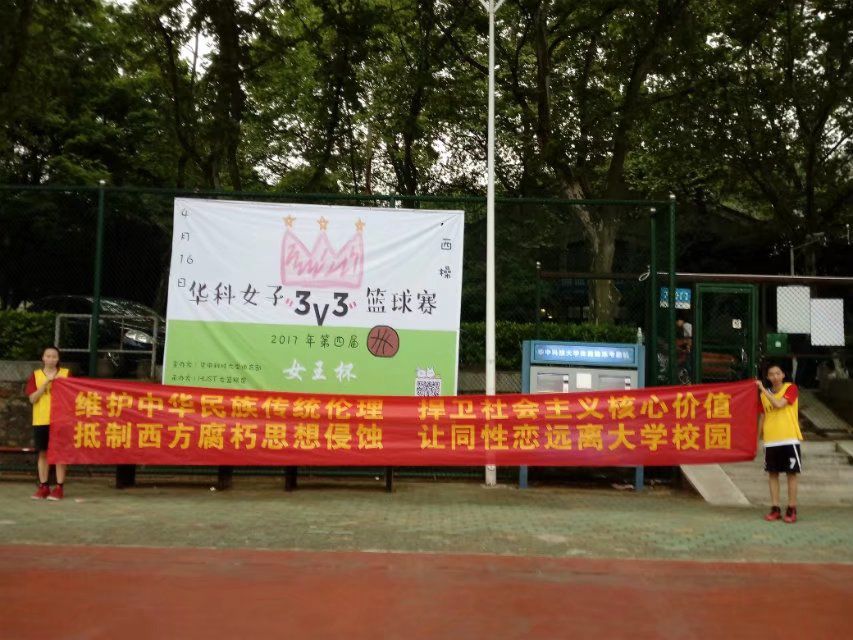 The banner reads:
wéihù Zhōnghuá mínzú chuántǒng lúnlǐ
hànwèi shèhuì zhǔyì héxīn jiàzhí
dǐzhì xīfāng fǔxiǔ sīxiǎng qīn shí
ràng tóngxìngliàn yuǎnlí dàxué xiàoyuán
维护中华民族传统伦理
捍卫社会主义核心价值
抵制西方腐朽思想侵蚀
让同性恋远离大学校园
Maintain the traditional morals of the Chinese people,
Defend the core values of socialism;
Resist the corrosion of decadent Western thought,
Keep homosexuality far from our university campus
When a photo of the students holding the banner was posted online by the team's coach, there was widespread opposition.
"Furor in China Over Team's Banner: 'Keep Homosexuality Far From Campus'" (NYT, Javier C. Hernández, 4/20/17)
"Mothers united to fight against a homophobic banner unfurled at a college in China" (Mashable, Yi Shu Ng, 4/20/17)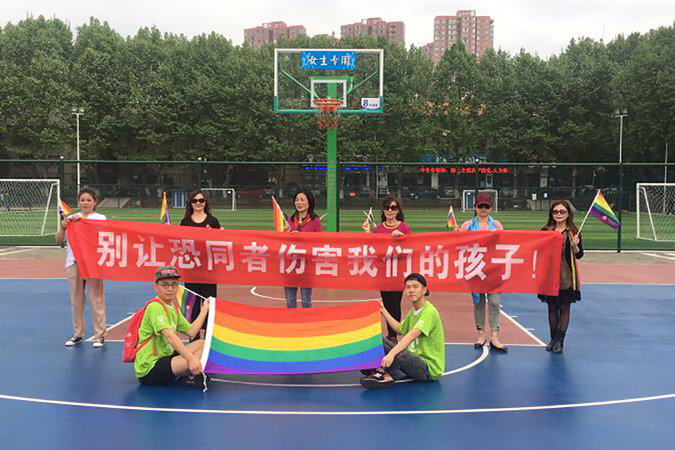 bié ràng kǒngtóngzhě shānghài wǒmen de háizi!
别让恐同者伤害我们的孩子!

Don't let homophobes harm our children!

If only China could have such open debate of opposing opinions on other pressing social and political issues!
---