« previous post | next post »
A competent PR counsel would have advised against this wardrobe choice: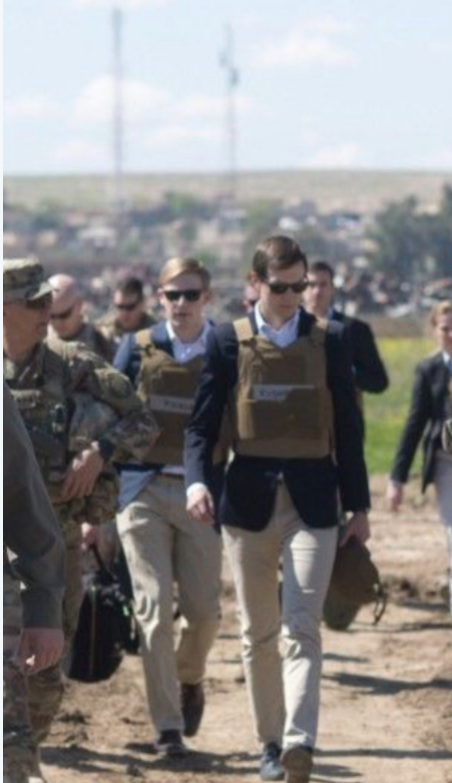 The twitterverse immediately pounced, with captions like these:
Reinforcements from the 101st Fighting Ivies Have Arrived.
From the shores of Burberry, the 82nd heir-born has arrived.
Kush Body Armor by J.Crew. "When you don't know where you are or what you are doing."
Many of the comments were puns, often on movie and TV show themes:
A Farewell to Armani
A Few Good Emoluments
All Quiet On the West Hampton Front
All Tailored On the Western Front
Androgenous Now
Apocalypse Dow
Band of Brooks Brothers
Black Socks Down
Boys in Flack
Bridge on the River Khaki
Brogue One
C*A*S*H
Call of Duty: Modern Banking
Close Encounters of the Thurston Howell the Third Kind
Couture Under Fire
Delta Farce
Empire of the Son
Fedora! Fedora! Fedora!
From Here to Fraternity
Full Metal Blazer
G.I. Joke
Good Morning, Boca Raton
In the Armani Now
Iraq's Next Top Model
Nothing Special Forces
Operation Desert Nordstrom
Ralph Lauren of Arabia
Rambro: First Brood
Saving Private Equity
The Boys in Company LLC
The Day of the Jackass
The Douche of Hazard
The Fog of Dior
The Funds of Navarone
The Red Badge of Privilege
The Shirt Locker
Twee Kings
What Did You Do in The War, Preppie?
Zero Dork Thirty
Unfair to make fun of what someone looks like, in my opinion. But why make it so easy?
---