« previous post | next post »
Frank Bruni, "What Happened to Who?", NYT 4/8/2017:
I first noticed it during the 2016 Republican presidential debates, which were crazy-making for so many reasons that I'm not sure how I zeroed in on this one. "Who" was being exiled from its rightful habitat. It was a linguistic bonobo: endangered, possibly en route to extinction.
Instead of saying "people who," Donald Trump said "people that." Marco Rubio followed suit. Even Jeb Bush, putatively the brainy one, was "that"-ing when he should have been "who"-ing, so I was cringing when I should have been oohing.
It's always a dangerous thing when politicians get near the English language: Run for the exits and cover the children's ears. But this bit of wreckage particularly bothered me. This was who, a pronoun that acknowledges our humanity, our personhood, separating us from the flotsam and jetsam out there. We're supposed to refer to "the trash that" we took out or "the table that" we discovered at a flea market. We're not supposed to refer to "people that call my office" (Rubio) or "people that come with a legal visa and overstay" (Bush).
Or so I always assumed, but this nicety is clearly falling by the wayside, and I can't shake the feeling that its plunge is part of a larger story, a reflection of so much else that is going wrong in this warped world of ours.
According to the 1989  Merriam-Webster's Dictionary of English Usage [emphasis added]:
In current usage, that refers to persons or things, which chiefly to things and rarely to subhuman entities, who chiefly to persons and sometimes to animals. That is definitely standard when used of persons. 
MWDEU explains the history of Bruni's peeve (though not its passionate intensity, for which see "The social psychology of linguistic naming and shaming"):
When that came back into literary use around the beginning of the 18th century after falling out of favor during the 17th, it was noticed with some disapproval […] by such writers as Joseph Addison. Jespersen 1905 points out that the expressed preference for who and which may have come partly from their conforming to the Latin relative pronouns (that having no Latin correlative). Jespersen also notes that when Addison edited The Spectator to appear in book form, he changed many of his own uses of that to who or which.
The 18th century also marks the first appearance of works devoted to the correction of English usage; some, naturally, discussed relative pronouns. McKnight 1928 cites an anonymous 1752 Observations upon the English Language (George Harris wrote it, says Leonard 1929), which condemned the use of that and prescribed who as "the only proper Word to be used in Relation to Persons and Animals" and which "in Relation to Things." It may be that some carryover from the 18th-century general dislike of that has produced the apparently common, yet unfounded, notion that that may be used to refer only to things. Bernstein 1971 and Simon 1980 mention receiving letters objecting to the use of that in reference to persons. The notion persists: we have heard of a professor of political science in California whose class stylesheet (in 1984) insisted that could only refer to things, and William Safire in the New York Times Magazine (8 June 1980) panned an ad beginning "We seek a managing editor that can…." That has applied to persons since its 18th-century revival just as it did before its 17th-century eclipse.
Although examples like those that make Frank Bruni cringe have been normal parts of the English language for more than 500 years, he sees this aspect of Donald Trump's usage as "a reflection of so much else that is going wrong in this warped world of ours", and closes with this (apparently not ironic) apocalyptic vision:
And my fear is that there's a metaphor here: something about the age of automation, about the disappearing line between humans and machines. The robots are coming. Maybe we're killing off "who" to avoid the pain of having them demand — and get — it.
In the first place, it's really not obvious that anything has changed other than Frank Bruni's annoyance level. I don't have time today to program a proper search of historical treebanks for the proportions among who, that, and 0 in relative clauses with human heads. But Google Ngrams searches for some common cases do not clearly show that "we're killing off 'who'":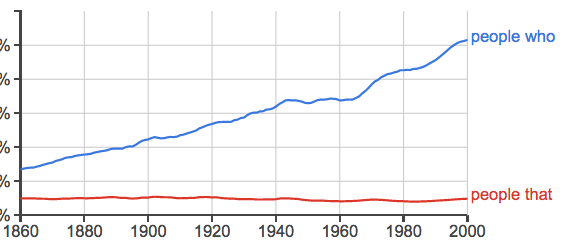 And public figures in the middle of the 20th century, 20 years before Frank Bruni was born, were routinely using that in relative clauses with human heads, even in circumstances of sentimental focus on human connections. Thus Dwight D. Eisenhower, "Homecoming Speech", 1945 [emphasis added]:
Because no man is really a man who has lost out of himself all of the boy, I want to speak first of the dreams of a barefoot boy. Frequently, they are to be of a street car conductor or he sees himself as the town policeman, above all he may reach to a position of locomotive engineer, but always in his dreams is that day when he finally comes home. Comes home to a welcome from his own home town. Because today that dream of mine of 45 years or more ago has been realized beyond the wildest stretches of my own imagination, I come here, first, to thank you, to say the proudest thing I can claim is that I am from Abilene.
Through this world it has been my fortune or misfortune to wander at considerable distance; never has this town been outside my heart and memory. Here are some of my oldest and dearest friends. Here are men that helped me start my own career and helped my son start his. Here are people that are lifelong friends of my mother and my late father, the really two great individuals of the Eisenhower family. They raised six boys and they made sure that each had an upbringing at home and an education that equipped him to gain a respectable place in his own profession, and I think it's fair to say they all have. They and their families are the products of the loving care, labor and work of my father and mother; just another average Abilene family.
But the most interesting thing about Bruni's column is that he does enough research to discover that his peeve is contradicted by the history of English writing, and also by usage authorities  aside from cranks like Mary Norris — but he peeves ever onward.
Maybe he just had a column to push out, and no other ideas on tap.
But impenetrability to fact is a common characteristic of zombie rules —  committed peevers shed counterexamples like hailstones off a tin roof. This resistance to disconfirmation by experience, going well beyond mere confirmation bias, seems to be part of the dynamics of social stereotypes in general, including those that are far more destructive than mere animus against human that.
Still, for those of us outside the fold, here's a random fistful of other examples over the centuries:
Sir Philip Sidney, The Defense of Poesie, 1583:
For as in outward things to a man that had neuer seene an Elephant , or a Rinoceros, who should tell him most exquisitely all their shape, cullour, bignesse, and particuler marks, or of a gorgious pallace an Architecture , who declaring the full bewties, might well make the hearer able to repeat as it were by roat all he had heard, yet should neuer satisfie his inward conceit, with being witnesse to it selfe of a true liuely knowledge […]
William Shakespeare, Twelfe Night, 1623:
I am no fighter, I haue heard of some kinde of men, that put quarrells purposely on others, to taste their valour: belike this is a man of that quirke.
George Chapman, The Crowne of All Homers Workes, 1624:
And without Truth, all's onely sleight of hand,
Or our Law-learning, in a Forraine Land;
Embroderie spent on Cobwebs; Braggart show
Of Men that all things learne; and nothing know.
Izaak Walton, The Compleat Angler, 1653:
There are many men that are by others taken to be serious grave men, which we contemn and pitie; men of sowre complexions; mony-getting-men, that spend all their time first in getting, and next in anxious care to keep it: men that are condemn'd to be rich, and alwayes discontented, or busie.
Daniel Defoe, Moll Flanders, 1722:
As for Women that do not think their own Safety worth their own Thought, that impatient of their present State run into Matrimony, as a Horse rushes into the Battle; I can say nothing to them but this, that they are a Sort of Ladies that are to be pray'd for among the rest of distemper'd People, and they look like People that venture their Estates in a Lottery where there is a Hundred Thousand Blanks to one Prize.
John Cleland, Fanny Hill, 1748:
I being actually hired under the nose of the good woman that kept the office, whose shrewd smiles and shrugs I could not help observing, and innocently interpreted them as marks of her being pleased at my getting into place so soon.
Jane Austen, Northanger Abbey, 1803:
It was too dirty for Mrs. Allen to accompany her husband to the pump-room; he accordingly set off by himself, and Catherine had barely watched him down the street when her notice was claimed by the approach of the same two open carriages, containing the same three people that had surprised her so much a few mornings back.
Jane Austen, Emma, 1815:
She is a woman that one may, that one must laugh at; but that one would not wish to slight.
Alfred, Lord Tennyson, "Ulysses", 1842:
Death closes all; but something ere the end,
Some work of noble note, may yet be done,
Not unbecoming men that strove with Gods.
Charles Dickens, Dombey and Son, 1848:
'And as you've known me for a long time, you know,' said Mr Toots, 'let me assure you that she is one of the most remarkable women that ever lived.'
Herman Melville, Moby Dick, 1851:
I know a man that, in his lifetime, has taken three hundred and fifty whales.
Mark Twain, Roughing It, 1872
He was one of the best and kindest hearted men that ever graced a humble sphere of life.
Mark Twain, Life On the Mississippi, 1883
Then the man that had started the row tilted his old slouch hat down over his right eye; then he bent stooping forward, with his back sagged and his south end sticking out far, and his fists a-shoving out and drawing in in front of him, and so went around in a little circle about three times, swelling himself up and breathing hard.
Mark Twain, Huckleberry Finn, 1885:
Because you're brave enough to tar and feather poor friendless cast-out women that come along here, did that make you think you had grit enough to lay your hands on a man?
Bram Stoker, Dracula, 1897:
It was as though my memories of all Jonathan's horrid experience were befooling me; for the snow flakes and the mist began to wheel and circle round, till I could get as though a shadowy glimpse of those women that would have kissed him.
Joseph Conrad, Nostromo, 1904:
Their sentiment was necessary to the very life of my plan; the sentimentalism of the people that will never do anything for the sake of their passionate desire, unless it comes to them clothed in the fair robes of an idea.
G.K. Chesterton, The Innocence of Father Brown, 1911:
They were English hands that dragged him up to the tree of shame; the hands of men that had adored him and followed him to victory.
Edgar Rice Burroughs, Tarzan of the Apes, 1912:
The Moors were essentially a tolerant, broad-minded, liberal race of agriculturists, artisans and merchants—the very type of people that has made possible such civilization as we find today in America and Europe—while the Spaniards—
Ernest Hemingway, The Sun Also Rises, 1926:
At the gate of the corrals two men took tickets from the people that went in.
Margaret Mitchell, Gone With The Wind, 1936:
[I]f you weren't always so busy looking for the good in people that haven't got any good in them, you'd see it.
Ernest Hemingway, For Whom the Bell Tolls, 1940:
He was violating the second rule of the two rules for getting on well with people that speak Spanish; give the men tobacco and leave the women alone; and he realized, very suddenly, that he did not care.
Josephine Tey, Miss Pym Disposes, 1946:
Even in Larborough, it was to be supposed, there were people that one might conceivably be going to see.
---