« previous post | next post »
Gil Scott-Heron died yesterday at the age of 62 — a remarkable performer whose politically charged combination of music and poetry had an enormous influence on the development of hip-hop culture. One of my favorite spoken-word performances by Scott-Heron appeared on the 1978 compilation, The Mind of Gil Scott-Heron: " The Ghetto Code (Dot Dot Dit Dot Dot Dit Dot Dot Dash)." It's full of linguistic play, including an explanation of "old-fashioned ghetto code" used to mask phone conversations from snooping authorities.
The code involved infixation of "ee-iz" [i:ɪz] between the onset and nucleus of stressed syllables. So-called "[IZ]-infixation" would later become popular in rap music (particularly as used by Snoop Dogg), though OED editor at large Jesse Sheidlower has found examples back to a 1972 glossary on New York drug slang. There was also a predecessor in the talk of carnival workers (carnies), with the word carn(e)y represented in the code as kizarney. (See Joshua Viau's "Introducing English [IZ]-Infixation: Snoop Dogg and bey-[IZ]-ond" for some background.)
You can hear the whole performance on YouTube here. The relevant part starts at about 6:28:

I've isolated the audio here.
Audio clip: Adobe Flash Player (version 9 or above) is required to play this audio clip. Download the latest version here. You also need to have JavaScript enabled in your browser.
My attempted transcription (corrections welcome):
Old-fashioned ghetto code, you remember, you used to jump on the telephone, say, "Hey, bree-iz-other mee-iz-an, how you fee-iz-eel?"
(Laughter.)
"Is everything all-ree-iz-all-right? Well, why don't you, uh, why don't you tell me about this pee-iz-arty to-nee-iz-ight? You goin'? Wee-iz-ell, why don't you bring me a nee-iz-ickel bee-iz-ag?'
(Laughter.)
"Yeah, and if you get [???] why don't you bring some bee-iz-am-bee-iz-oo so I can ree-iz-oll those up. I appreciate it."
I know whoever it was they was paying to listen in on my phone had to be sayin', well, "Dot-dot-dit-dit-dot-dot-dash, damned if I know."
Scott-Heron published a shorter version of "The Ghetto Code" in the anthology, Now and Then: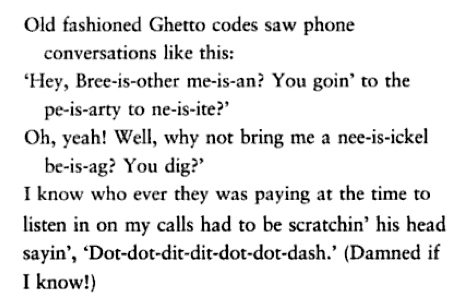 ---